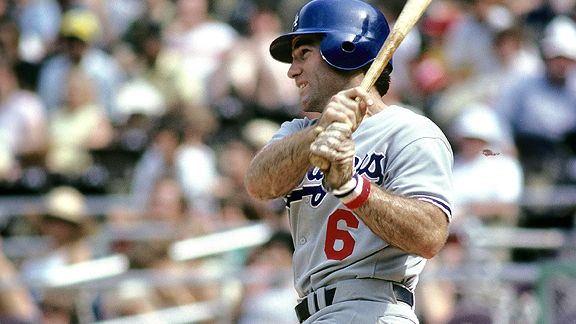 Focus on Sport/Getty Images
No. 6, Steve GarveyThe Dodgers, with only one exception, only retire the jersey numbers of Hall of Famers. So that's why the 34 of Fernando Valenzuela doesn't hang in the pantheon with Jackie Robinson's 42, Sandy Koufax's 32 and the like.
Valenzuela's 34 is in unofficial retirement, having not been worn by a Dodger since the team released the lefty before the 1991 season, but "unofficial retirement" is as equivocal as it seems. Steve Garvey's 6, for example, was unofficially retired for 20 seasons, only to be taken out of the safe for none other than Jolbert Cabrera in 2003. Since then, others to wear Garvey's number are Brent Mayne, Jason Grabowski, Kenny Lofton, Tony Abreu and Joe Torre. (For that matter, the No. 6 was originally made famous for the Dodgers by Carl Furillo.)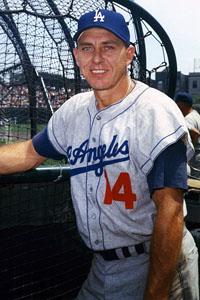 Rogers Photo Archive/Getty Images
No. 14, Gil HodgesI've never had a problem with the Dodgers' retired-number policy, which was only ignored following the emotional passing of longtime Dodger player and coach Jim Gilliam during the 1978 playoffs. Ten numbers have been immortalized, and that has seemed like a plentiful number, one that spreads the honor around without diminishing it.
But over the weekend, I began thinking about the possibility that some of us might never see a Dodger uniform number retired again in our lifetimes. Think about it:
Since Don Sutton reached the Hall and had his number retired by the Dodgers in 1998, the only likely future Hall of Famer to wear a Dodger uniform for more than a couple of seasons is Mike Piazza. Do you retire the number of a player who spent only seven years in Los Angeles?

Oldtimers like Gil Hodges and Maury Wills have been trying to get in the Hall for years, to no avail.

The only current Dodger whom one can even conceive of building a Hall of Fame career is Clayton Kershaw, but of course, odds that we'll be attending his uniform retirement ceremony depend on him stringing together about 10 or more remarkable seasons without leaving Los Angeles.
Certainly, any year could bring a future Dodger Hall of Famer, but chances are strong that in, say, 2028, we'll be marking the 30th anniversary of the last Dodger uniform being retired if the current policy remains.
So I just got to wondering whether it might be worth it to institutionalize a new era in retiring numbers. This is just brainstorming, but one idea I had was that every 10 years, one Dodger great who isn't in the Hall would have his number retired.
I'm curious about what your thoughts are on this subject, and also – if, hypothetically, my idea came to pass, which number you'd like to see retired next?
Click Here for PollOnline Survey
Conjoint Analysis
| Polls
| Email Marketing