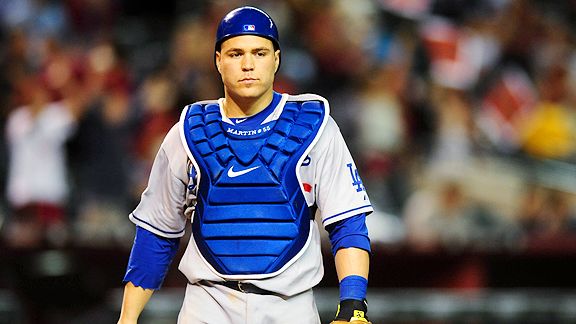 Mark J. Rebilas/US Presswire
Russell Martin
He was something special. And then he wasn't.
It happens to the best of 'em, but I can't believe it happened this fast.
It is most certainly a non-tender night. The Dodgers have parted ways with 27-year-old Russell Martin, at least for now, by not offering him a 2011 contract. Again, the reason: They would have had to guarantee the slumping and injured catcher at least 80% of his 2010 salary, and risk paying him even more – easily over $6 million – if they lost an arbitration hearing.
If it were simply a case of Martin's offensive struggles, I think Dodger general manager Ned Colletti would have guaranteed his contract, as they have done today with James Loney. But the uncertainty over his recovery from his hip injury made Los Angeles that much more guarded about spending all those millions. Wrote Tony Jackson of ESPNLosAngeles.com:
... the Dodgers' first choice was to bring Martin back if an agreement could be reached on a contract that would have paid him a lower base salary than what he received in 2010. Colletti said that in the final minutes before the 9 p.m. PST deadline, Colleran lowered Martin's asking price to a simple $5 million guarantee, but the Dodgers weren't willing to go that high.

"We were willing to get to the same point with performance bonuses, but not with a guaranteed $5 million," Colletti said.
This isn't necessarily the end of Martin's Dodger career – he is free to negotiate with the Dodgers, as with all 29 other teams, for any contract, and Colletti told reporters that they would still talk. (Among other things, Jackson wrote that the Dodgers were interested in Martin in a utility role.)
But given that the parties couldn't come to terms by this point, it seems unlikely to me that they would at any other. And that was made even more the case when, as Jackson reported, the Dodgers moved closer to signing Rod Barajas to a one-year contract.
"I think we are on the cusp of getting something done in a different direction," Colletti said. "I wasn't going to go to sleep tonight without a big league catcher here besides [backup] A.J. [Ellis]. We're pretty far down the road with something, and it should come to fruition in a short period of time. This is somebody who, if the season were to start today, would take the lion's share of [playing time], with A.J. in a backup role."
The rest of the Dodgers' decisions today went according to form. George Sherrill, like Martin, was non-tendered (as was September call-up Trent Oeltjen), while Loney, Hong-Chih Kuo and Chad Billingsley all were guaranteed 2011 contracts.