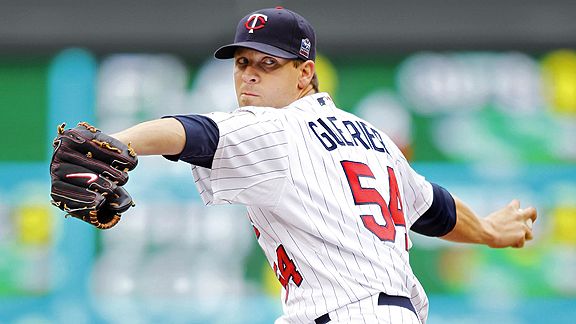 Bruce Kluckhohn/Getty Images
Matt Guerrier
The Dodgers are about to give a three-year, $12 million contract to Matt Guerrier, writes Tony Jackson of ESPNLosAngeles.com. The deal was first reported by Newsday's Eric Boland in a tweet.
Guerrier, who came up with the Minnesota Twins in 2004, has had a pretty fine career as a reliever, with a career ERA of 3.38. He has averaged 75.5 appearances the past four years. But the 32-year-old righty's strikeout rate has dropped below six per nine innings over the past two seasons, and as Eric Stephen of True Blue L.A. points out, his fielding independent ERA was over 4.00 last season, indicating he's benefited from some luck. Add to that a batting average on balls in play over the past two seasons of .224, which is exceedingly lucky — and a warning sign considering that, as David Pinto of Baseball Musings writes, he'll have a poorer defense behind him in Los Angeles.
So you know, there's some stuff that's good with Guerrier, and there's some stuff that's less good. With the exception of 2008, when his ERA soared above 5.00, the results have been there. The main concern might be asking him to continue being this productive from ages 32-35.
Since the Dodgers' last won a World Series, according to Baseball-Reference.com, the following pitchers have had an ERA below 4.00 with a K/9 rate below 7.00 for three consecutive seasons after turning 32, pitching a minimum of 50 innings: David Weathers, Steve Reed, Paul Quantrill, Terry Leach, Chris Hammond, Ryan Franklin and Jeff Reardon. I realize that ERA isn't a very good way to measure the quality of relief pitching, but I'm just exploring the possibility of someone being good, not making any definitive statement.
So you have that. He might be good, maybe for a long time.
Against that, though, I would still offer that relievers are simply, unavoidably, notoriously inconsistent. We've detailed this frequently in the past, but to sum up, it's exceedingly rare that relievers don't go through bad spells, and when you try to jump on the bandwagon of one that's been successful for a while, the odds grow against you.
There have been 66 pitchers for the Dodgers in the Ned Colletti era, from Jonathan Broxton to Mark Loretta. The highlights in the bullpen have been the low-risk investments, coming up through the farm system or coming in as cheap free agents, who have paid dividends. Perhaps, based on the failures of the 2010 bullpen, Colletti has decided he can't play that game anymore, though you'd think George Sherrill might dissuade him from placing such a big bet on Guerrier.
Guerrier joins a bullpen that, if the season were starting today, would include Broxton, Hong-Chih Kuo, Kenley Jansen, Vicente Padilla, Blake Hawksworth and Ronald Belisario, with Ramon Troncoso, Carlos Monasterios, Travis Schlichting and Scott Elbert among those waiting in the wings. That's a deep bullpen, indicating at least one of three things — Colletti doesn't see any hope for additions to the Dodger offense, he doesn't intend to tolerate any weakness on the pitching staff, or someone's being lined up as trade bait.