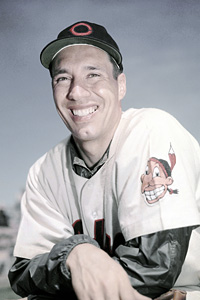 AP
Bob Feller
There's so much good material online on the life of Bob Feller, I'll just start you off by linking to Joe Posnanski's remembrance. Then there's David Wade at the Hardball Times, Tim Kurkjian at ESPN.com, mulitple pieces by Rob Neyer at ESPN.com and Keith Thursby at the Times. Don't skimp on your reading ...
* * *
Further to Wednesday's points about the dangers of offering relievers multiyear contracts comes this piece from Dave Cameron at Fangraphs.

Daniel Burke, co-owner of the Dodgers' Double-A affiliate in Chattanooga, is ailing — an emotional situation for the family, and tangentially, one that could affect the Dodgers' future with the team. David Paschall of the Chattanooga Times Free Press has the story (brought to my attention by a Dodger Thoughts commenter).

Sons of Steve Garvey points us to this New York Times article about gadgets and such that might be coming to baseball, including this little slice of heaven:

At one booth, Brian Traudt explained his company's innovation, which could improve the fan experience at stadiums, unless some people actually enjoy waiting in line for three innings for a cheeseburger. The product, Bypass Lane, is a kind of E-ZPass for concession stands that is administered through an application on a smartphone.

The user enters the stadium and confirms its location via GPS. Once the section, row and seat number are included, the application identifies all the concession stands and provides menus. The fan orders — and pays — from the phone. When the order is ready, the fan receives a text message to pick it up at a lane dedicated to Bypass Lane orders. The fan can skip the longer lines — though perhaps not the jealous glances of other fans.

I hope you caught Wednesday's MLB Network rebroadcast of Game 7 of the 1960 World Series. I was able to see the final six innings, and that was just a heap of fun.