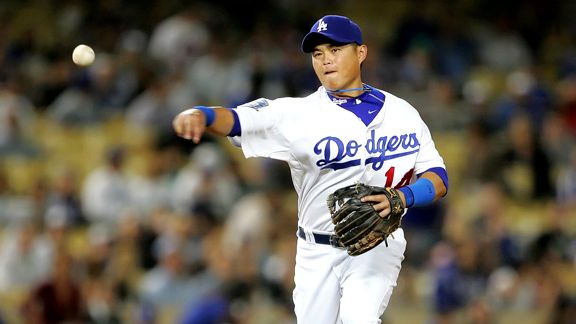 Gary A. Vasquez/US Presswire
Chin-Lung HuChin-Lung Hu's days as a Dodger prospect are over. After eight years in the organization, Hu (27 in February) was traded today to the New York Mets for 25-year-old minor-league lefthander Michael Antonini.
Antonini has primarily been a starting pitcher in the minors and was exclusively so in 2010, posting a 4.32 ERA with 7.3 strikeouts per nine innings in 23 Double-A starts and a 5.11 ERA with 6.1 strikeouts per nine innings in six Triple-A starts. This does not compare favorably, for example, with the credentials John Ely had when he was acquired by the Dodgers a year ago, so I wouldn't count on Antonini being much of a factor in 2011. But you never know.
Hu hasn't shown any potential with the bat since 2007, when he had an on-base percentage of .364 and slugging percentage of .507 in Double-A and Triple-A combined. In his major-league career, Hu has a .241 OBP and .283 slugging over 191 plate appearances. Nonetheless, he could be Juan Castro for some team, and I always thought the Dodgers could be that team.
Ultimately, Hu was out of options and there were doubts he'd make the Opening Day roster, so this is a way of salvaging something for him, given the odds against him.
Hu leaves Los Angeles with the most plate appearances (191) of any Taiwan-born player in major-league history, ahead of Hong-Chih Kuo (36) and Chin-Feng Chen (25).