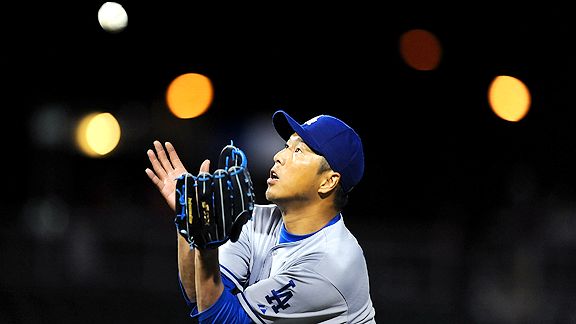 Norm Hall/Getty Images
Hiroki and His Amazing Technicolor DreamcatchReds 3, Dodgers 1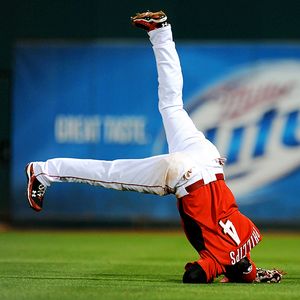 Norm Hall/Getty Images
Brandon Phillips stands on his head until his ears are turning Red.Highlights:
Jerry Sands had two singles and an RBI, making him 3 for 7 in Spring Training. Let the (ir)rational exuberance begin!

Ivan De Jesus Jr. had a single and is also 3 for 7.

Rubby De La Rosa struck out three of the six batters he faced and picked off the only one who reached base, though none of the six were Reds regulars.

I learned the proper way to pronounce "Rubby," and it doesn't rhyme with "tubby."
Lowlights:
After stranding three runners in his first two innings, starting pitcher Hiroki Kuroda was touched for three more hits and two runs in the third. "I didn't have all my pitches tonight," Kuroda told The Associated Press. "My breaking ball wasn't there."

The first four hitters in the Dodger lineup – Rafael Furcal, Casey Blake, Juan Uribe and Jay Gibbons – went 0 for 11 with a walk.

Batting as the tying run in the eighth and ninth innings, Justin Sellers and JD Closser each hit into double plays.

The Dodgers are averaging 3.1 runs per game, worst in the Cactus League.
Sidelights:
On a Thursday in early March, it doesn't get much more exciting than this: Ken Gurnick of MLB.com writes about how similar Kenley Jansen is to Mariano Rivera.

The Dodgers offered a minor-league contract to a player from their annual all-comers tryout: Randy Keisler, a 35-year-old lefty who last pitched in the majors in 2007. He has a 6.63 ERA in 150 2/3 career innings, and his only 2010 action was seven starts in the Mexican League with a 3.98 ERA.

De La Rosa and Luis Vasquez won the Dodgers' "American Idol"-like singing contest, writes Dylan Hernandez of the Times.

Despite a career .341 on-base percentage in the majors, ex-Dodger Willy Aybar, who turns 28 next week, hasn't even signed a minor-league contract this spring, notes MLB Trade Rumors.

Juan Castro did not hit a three-run homer.