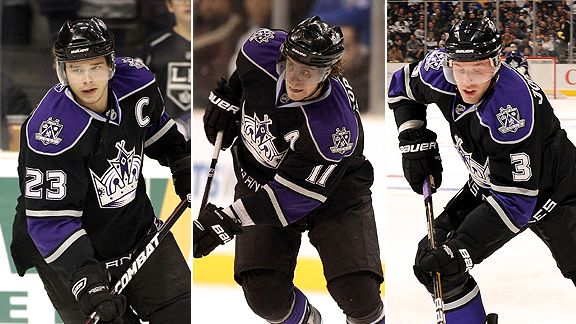 Getty Images
Dustin Brown, Anze Kopitar and Jack Johnson have a few of the keys to the Kings' hot start.
Dean Lombardi arrived in Los Angeles in the spring of 2006, taking over as president and general manger of the Kings and bringing with him an eye for talent and a track record of success.
He had his work cut out for him.
Right from the start, Lombardi spoke of a five-year plan that involved restocking the roster with young talent and bringing in veterans who could lead by example. Still, it was a painful renovation, as the Kings finished no better than fourth in the Pacific Division the next three seasons.
"It was tough coming in here," said defenseman Jack Johnson, who joined the Kings as a rookie in 2007. "You wanted to win every game and you ended up being the team that was expected to lose."
But the pain and sacrifices are paying off. The Kings qualified for the playoffs last season for the first time since 2002 and began this week with the best record in the NHL.
"The rebuilding part is over now," said Anze Kopitar, one of only two Kings who were on the team four years ago. "Everything is clicking for us."
The overhaul arrived in stages.
Lombardi brought in skilled veterans with a strong presence in the dressing room, such as forwards Jarret Stoll, Justin Williams, Ryan Smyth and defenseman Matt Greene, and said goodbye to players such as Sean Avery, Rob Blake, Michael Cammalleri and Patrick O'Sullivan, who may have seemed more interested in a paycheck than being part of a rebuilding process.
He nurtured the young players he inherited, including Kopitar and Dustin Brown, both first-round draft picks, and locked them into long-term contracts.
He also retooled with his own draft picks, snaring third-line winger Wayne Simmonds in the second round in 2007, then taking defenseman Drew Doughty with the second overall pick in 2008.
Finally, he brought in a coach with a no-nonsense attitude and a preference for strong defensive play. Terry Murray inherited a team in the summer of 2008 that had allowed a Western Conference-leading 266 goals the season before. The Kings trimmed that number to 234 during 2008-09, then 219 last season.
"Our defensive zone was a concern when he came in, and it has been greatly improved," Brown said. "He hammered it home the first couple years."
Lombardi agreed that the combination of drafts, trades and hirings have played a role in bringing the franchise back into the upper echelon of the NHL, but he said the final piece of the puzzle was developing camaraderie.
"Twenty-three guys that have learned to like each other every day," he said. "That might sound simplistic, but in this day and age that's a huge thing."
The players wholeheartedly agree.
"We've grown together over the last three or four years," Brown said. "It makes it a lot easier when you know each other really well off the ice."
Kopitar said the team's closeness in age also has factored into the good chemistry.
"We don't have much of an age difference, and even the ones that are a little older, they fit in really good," he said. "Five years ago when I got here, we had older guys and real young guys. There wasn't that soft middle."
Not every move has turned to gold for Lombardi, but he is quick to admit his mistakes and find a way to correct them.
Lombardi drafted goaltender Jonathan Bernier No. 11 overall in 2006, then named him the starter in the fall of 2007, when Bernier was still only 19 years old. He lost three of his first four starts and much of his confidence, causing him to be shipped back to his junior team. Lombardi has admitted that starting Bernier was one of the "top five dumbest decisions" he has made since arriving in Los Angeles.
But even that move has come with a bright side. Bernier is back with the club this season, and although he's in a backup role, he and starter Jonathan Quick give the Kings one of the best one-two combinations in the league.
The veteran group of Stoll, Williams and Smyth has emerged as a rock-solid second-line scoring threat, producing 34 points in the 11 games they've been aligned and taking some of the pressure off first-liners Kopitar and Brown.
The defensive unit also has showed off its depth by covering nicely while key blueliners Greene and Doughty missed a handful of games because of injury, and it isn't expected to miss a beat while offseason acquisition Willie Mitchell recovers from a broken wrist.
"Right now, we're riding that wave," Kopitar said. "Hopefully, we can keep on going."