With the weight temporarily lifted from their shoulders, the Kings should skate a little taller tonight in Dallas.
They sacrificed a homestand Saturday night and may have saved a season with a 5-2 victory against the visiting Edmonton Oilers.
They came into the game with their confidence lying on the basement floor of Staples Center, 1-6 on the season-long eight-game stand and losers of seven of eight overall for the second time this season.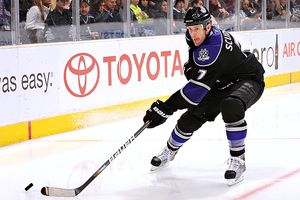 Andrew D. Bernstein/Getty Images
Will Rob Scuderi see 100% from his teammates in Dallas?
The Oilers entered last in the Western Conference but their standing was of little importance to the Kings. They needed a victory just to stop the madness.
Coach Terry Murray spoke to players about compartmentalizing the game into successful individual shifts, rather than focusing on the 60-minute result. That seemed to do the trick, as they improved their puck management and kept any mistakes from snowballing.
Without identifying the culprits, Kings veteran defenseman Rob Scuderi had previously said teammates weren't giving 100% throughout games. Murray was a little less tacit, publicly criticizing Marco Sturm, Alexei Ponikarovsky and Michal Handzus for their lack of intensity.
Now, it appears Murray has grown impatient with goalkeeper Jonathan Quick. In a move that might seem both desperate and logical, Murray announced Sunday that he would start backup Jonathan Bernier in goal against Dallas, the first time this season he'll start back-to-back games. Quick is 4-1 in his career at Dallas, but has lost five of his last six starts after opening the season 10-1.
Quick hasn't been the same since Dec. 29 at Phoenix, when he allowed six goals over 1 1/2 periods and was removed in the 6-3 loss. That marked the beginning of the team's latest slide as well.
Bernier, who shut out Edmonton over the final two periods Saturday for his fifth win in 12 starts this season, can take giant strides toward regaining a starting role that seemed destined to be his when he was drafted 11thoverall in 2006. Bernier was rushed into service as the team's No. 1 goalie at the start of 2007-08, then was sent down after four games and didn't return until the end of last season.
In his first stint in a backup role, Bernier has struggled to find consistency but his overall skill set might be more polished than Quick's.
Moving forward for the entire team, the next step is maintaining a consistent level of play from shift to shift, period to period and game to game. As Scuderi said after a loss last week, the Kings have the system, the players and the coaching staff to be a playoff team. They just need every player to be all in, all the time.
Dallas should provide the ideal test. The Stars are third in the Western Conference but 0-2 against the Kings this season. The last game Nov. 11 at Staples Center was especially hard-hitting, with Kings rookie Kyle Clifford dropping Brandon Segal with one punch, and Adam Burish earning a game misconduct and five-minute major penalty for boarding Kings defenseman Drew Doughty, a week after he returned from a concussion.
Then it's onto St. Louis, which won both meetings against the Kings this season, the latest just four days ago in Los Angeles.
The Kings nearly made it through their most injury-free week of the season, until third-line wing Wayne Simmonds suffered a lower-body injury against the Oilers during a second-period scrum. Murray said Simmonds would undergo an MRI on Monday and wouldn't join the team on the two-game trip.
The Kings have gone down this road before. They've performed well despite injuries, and they've played poorly with their entire team. As players have repeated, the success and failure of the Kings will depend on effort an execution, something they can control.
That's the good part. The bad part is they still need to prove they can bring it night after night.