NEWARK, N.J. -- Before the Los Angeles Kings took the ice for Game 5 of the Stanley Cup finals, Dustin Brown smiled and said that since the Kings had to fly back home after the game anyway, they might as well bring the Cup with them on the long flight.
Although the trophy was once again in the building, for the second straight game the Kings left the ice empty-handed, destined to drink out of regular cups instead of a silver chalice on their flight to L.A. on Saturday night.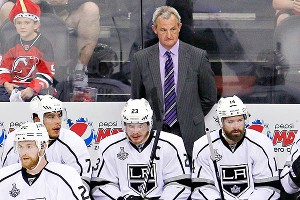 Jim O'Connor/US Presswire
Since taking a 3-0 series lead against the New Jersey Devils and being in position to win the Cup, the Kings have failed to take the lead in each of the past two games.
"We want the Cup!" has become a rallying cry around Los Angeles over the past couple of weeks, but maybe the Kings need to forget about the trophy they are playing for. Ever since the Stanley Cup has arrived at the arena they are playing in, they have seemingly crumbled in its presence. Since taking a 3-0 series lead against the New Jersey Devils and being in position to win the Cup, the Kings have failed to take the lead in each of the past two games. Suddenly this team's mystique is beginning to fade as quickly as its lead in this series.
For the first time in more than two months, the Kings returned to a visiting locker room and took off their white uniforms in defeat. It was a feeling so foreign to most players, they didn't quite know how to react.
Kings goaltender Jonathan Quick got defensive when a reporter said this was the first time this postseason that the Kings had been tested or faced adversity.
"I thought we were tested pretty hard in the first, second and third rounds," he said. "Just because we were able to come out on top it doesn't mean we weren't tested. If you don't think we were tested in those series, you should be covering a different sport."
Well, it was the first time the Kings had dropped a road playoff game in nearly 14 months. The Kings have won an NHL playoff-record 10 straight road games this year, and 12 straight dating back to their first-round series against San Jose last year. They had always responded to a loss with a win, until now.
So now the question is how the Kings will respond to their first back-to-back losing streak of these playoffs, in the first Game 6 they will have to play after closing out each of their previous three series in four or five games.
"I think that's why they have seven-game series, unless they change it to five or something," Kings coach Darryl Sutter said. "We don't know about next year in the new agreement. Long series, that's why they call it four out of seven."
That's what Sutter has preached to his players. He consistently has said you don't get anything for winning three games in a playoff series and that he expects every series to be a long one. The fact that the Kings closed each previous series within five games was nothing more than a pleasant surprise.
"It's disappointing," Kings defenseman Matt Greene said when asked about failing to clinch Saturday. "They don't hand out this thing out. It's difficult. It's hard to do. It's a test and you have to be the better team to close this thing out. We're still up 3-2."
But as much as Sutter and the players want to treat the loss like any other, it was clear by the look on the Kings' faces as they left the ice and left the Prudential Center that it was different. Even the Devils seem to be sensing a difference; now they're the team to score first and control the game.
"It's a matter of us now going into a tough environment in L.A. to try to ruin the party again," Devils goaltender Martin Brodeur said. "I think they're so close to winning the Stanley Cup that I'm sure it's getting to them a little bit, to be able to have all these chances and not capitalize on them. We're looking to just stay alive."
It's a philosophy the Kings might want to adopt before Monday night's Game 6 in L.A., where the Stanley Cup will once again be in the building, waiting for the Kings to accept it for the third straight game.
"I'm disappointed, we had two chances to close it out and hoist that Cup and accomplish our dream and we haven't quite gotten it," Kings right winger Justin Williams said. "Like I said, we got two more chances and we're going home. I don't care where we do it as long as it gets done."