As part of our look ahead at the Lakers' projected roster next season, we continue to work our way from the bottom to the top of the rotation. Next up...
Player
Andrew Bynum
Salary
$13.7 million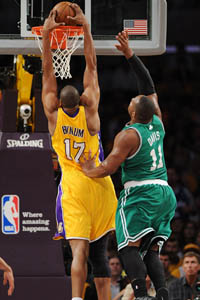 Noah Graham/NBAE/Getty Images
Can Andrew Bynum be the sort of consistent (meaning healthy, as much as anything) force this season as he was on this dunk? 'Cause it was pretty forceful.
Role in 2010-11
He remains the single element on the Lakers most capable of elevating them from "consecutive championships good" (which ain't half bad) to "damn near bulletproof" (which is even better). A healthy, engaged Bynum means there isn't a team in the league able to effectively match up with L.A.'s three-headed frontcourt monster of Bynum, Pau Gasol, and Lamar Odom.
More than anything, even more than Kobe Bryant, it's what makes the Lakers unique.
The abundance of length makes it tough to score down low- one reason L.A. was among the tougher teams to score against inside 10 feet- and provides a steady supply of high percentage points on the other end in the form of putbacks and lobs. The latter are particularly profitable for Bynum, both because he moves well on that end without the ball and his hands are Air Supply soft. It's a luxury the Lakers exploit fully, to the point of near-recklessness. His teammates often toss the ball at the rim haphazardly, understanding Bynum's go-go-Gadget arms will get to nearly everything.
At the other end of his body, Bynum's feet are improving, adding technical know-how better able to generate clean looks and use his size effectively on the block. His range has extended as well, bumping up his percentages on longer shots relative to two season back. If the trend continues, Bynum will truly force the opposition to account for him in those moments he drifts to the high post, opening up more opportunities for Gasol or other teammates on the low block.
Of course, talent has never been the issue.
He played throughout the playoffs on a knee torn up to the point he needed off-season surgery was required to repair it. His impact was hardly consistent, but just the ability to put Bynum on the floor for reasonable stretches of time benefited the team, even near the end when it was clear he had very little left to offer. He displayed grit, determination, and toughness, traits some wondered if he had in necessary quantities.Perhaps more importantly, Bynum proved something to himself on a personal level. It was incredibly important for him to play, bringing whatever the knee could muster from night to night.
Don't think his teammates didn't take note.
Unfortunately, the context only emphasizes his most glaring weakness, because bravely playing through injury by definition demands a player be injured. For Bynum, the torn meniscus- and before it an Achilles strain- put focus on a continuing inability to stay healthy. While his 65 games represented a boost over the two previous years, it was the third straight season in which Bynum missed significant time. Even he was willing to call himself injury prone, something I've never heard an athlete do.
This year, look for Bynum to try and carve out whatever additional space, however limited, is available to him in the Lakers offense. Every piece of production means less heavy lifting for Kobe Bryant and Gasol, and only adds to the difficulty in defending the Lakers. Bynum would love to make his first All-Star team, something that seemed inevitable last year when he averaged nearly 20/10 while Gasol was sidelined with his hamstring injury, but before Bynum's production plummeted in December. For that to happen, he'll need to make an impact every night.
But scoring won't be the only means available for him to turn heads. Once again, the Lakers will ask him to rebound. With Odom and Gasol around him and likely playing about 30 minutes a night, it'll be hard for Bynum to grab 12 a night, but an improvement in his rebound rate, about the same over the last two seasons, would be a place to start. The Lakers hope Bynum continues elevating his attention to detail on pick and roll defense and other positional matters on that end of the floor.
Of course, all of this is built on the notion of Bynum staying healthy, a little like planning your retirement around the Powerball drawing. At least he's improved his games played by 15 each year in that span, meaning after the aforementioned 65 from last season, Bynum should be good to go for 80 this year. Coming off his surgery, he's expected to ease his way into camp. Currently, there's no reason to believe he won't be ready when the regular season rolls around.
That won't stop fans from crossing their fingers, toes, arms, legs, and anything else similarly crossable.
Best Case Scenario
Powerball! While a healthy Yao Ming likely has the starting gig for the Western Conference wrapped up when the All-Star Game lights up L.A. this season, Bynum's performance is good enough to get him on the team. His field goal percentage gets back above 60 percent, the rebound rate noses a little higher, and Bynum becomes almost impossible to leave off, despite the level of talent around him. More importantly, the good play sustains itself through an 82-game regular season... in no small part because Bynum plays in nearly all of them. Come playoff time, Bynum, unencumbered by injury, is a genuine force.
Worst Case Scenario
Pick a body part, pick an injury, pick a diagnosis measured in months. Two hands worth.
Previous Roster Breakdowns
Luke Walton
Matt Barnes