As far as keynote addresses go, it was 100 percent Artestian, strewn with diversions, tangents, and stories including an eclectic array of characters from his extended network of family and childhood friends.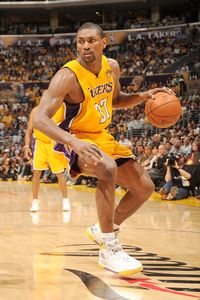 Andrew D. Bernstein/NBAE/Getty Images
To the long list of things Ron Artest has been called through the years, it may be time to add another: Mental health advocate.
But Thursday, speaking to a crammed auditorium at Eastmont Intermediate School in Montebello, Ron Artest wasn't graded on the elegance of his delivery, just his willingness to speak openly about a subject so many, adults and children alike, are uncomfortable addressing: mental health. Yes, Artest is aware of the irony: "I know no parent wants their kid to be hearing from the guy who was on the Jimmy Kimmel Show in his boxers," he joked from the podium, after admitting to concerns he wasn't exactly the expected source for an important message.
Artest was there in support of Rep. Grace Napolitano (D- Norwalk), author of a bill which would provide additional funding for mental health services in schools across the country. And he was not simply lending his name. While details are still to be ironed out, Artest said Thursday he's investigating ways to put the championship ring he chased for over a decade up for auction to help raise funds for more psychologists and services for students. Calling him a policy wonk is a strech, but Artest's belief in the value of counseling is real, reflected in a consistent refrain to the students: Nothing is weak or weird about seeking help if you need it. Talk to someone. Anyone.
"I don't think you have to be afraid," he told them.
Artest spoke openly about seeing his school counselor, his experience in marriage counseling, and how a sports psychologist helped him focus his anger and aggression more constructively on and off the court. He was plain about his shortcomings. "As a kid, I had a temper," he said. "As an adult, I was a bad father."
Constructive outlets for communication and, more importantly perhaps, a willingness to accept help, have been common threads in the positive chapters of Artest's life. "I know when I did communicate as a kid it worked for me," he told the kids. "When I didn't communicate for me as a kid, it did not work for me. The same thing applied even in the years when I was in Indiana professionally, playing basketball. When I didn't communicate, it did not work for me."
After spending so much of his life bottling things up, the version of Artest entering his second season as a Laker seems to have come full circle, now lacking any sort of inner monologue. Nothing is kept inside. It's a gift for fans and media, but also contributes to his reputation as an odd character. Artest is unquestionably wired differently than most, and has over the years been stuck with more labels than well-traveled luggage. Maybe being so frequently stigmatized makes it easier to speak about mental health, an area in which stigma is still so strong. Regardless, the openness with which he now speaks of his own shortcomings, and particularly the need and value of asking for help, is unique among professional athletes, who tend to avoid signs of weakness (real or perceived) at all costs.
It's also extremely valuable. Artest is hardly the only athlete, amateur or professional, able to benefit from help for emotional issues. Writes Scott Howard-Cooper of NBA.com:
"...Mental health is the most under-covered issue in college sports, and now Artest will be raising awareness for parents and students at an earlier age. (A prominent sports psychologist once estimated 20 to 25 athletes in Division I attempt suicide each year, an assessment others in the field have backed. Again: Just athletes, just Division I, each year.) Experts who have studied the crisis have long said any attention on the topic will remove the stigma associated with emotional issues. To have a prominent person at the forefront, that would be too perfect..."
Artest is as self-aware and open about the negative aspects of his personality as anyone I've ever encountered. It'll be interesting to see what sort of influence he has on his peers.
In the meantime, he should be applauded for sending an extremely positive and important message to kids.