With training camp around the corner, we asked a group of local and national roundball experts to weigh in on some of the big Lakers questions heading into the 2010-2011 season. Call it a preseason prognosticationpallooza.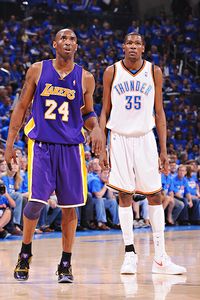 Andrew D. Bernstein/Getty Images
It's a close call, but the majority of our experts panel see Kevin Durant and the Thunder as the team most capable of knocking off the Lakers in a seven-game series.
Our panel: Andy and Brian Kamenetzky (ESPNLA.com Land O'Lakers Blog), Elliott Teaford (L.A. Daily News), Kevin Ding (O.C. Register), Kevin Arnovitz (ESPN TrueHoop), Eric Pincus (Hoopsworld), Chris Clark (Silver Screen and Roll), J.A. Adande (ESPN.com), Darius Soriano (Forum Blue and Gold), Kurt Helin (ProBasketballTalk.com), Mark Medina (L.A. Times.com), Arash Markazi (ESPNLA.com), and Dave McMenamin (ESPNLA.com),
Today's question:
Which Western Conference team has the best chance to beat the Lakers in a seven-game series?
The Results:
Oklahoma City- 5.5 votes
Portland- 3.5 votes
Dallas- 2 votes
Houston- 1 vote, but a lot of love as a serious dark horse
Nobody- 1 vote
My Take: Two teams -- Oklahoma City and Portland -- stand out. Both have the ability to make life difficult for the Lakers. A healthy Blazers team has backcourt strength (Brandon Roy), a stong wing defender (Nicolas Batum) and frontcourt depth (Greg Oden, LaMarcus Aldridge, Marcus Camby, plus Joel Przybilla, if he recovers from knee surgery). We saw last season what OKC was capable of, and if the Thunder get decent play from Cole Aldrich and more development from Serge Ibaka (thus beefing up the frontcourt), I'll give them the slightest of edges over Portland, probably because it's hard for me to picture a healthy Portland team.
The wild card? Houston, with Yao Ming, Kevin Martin, Aaron Brooks, and the standard dose of Houston grit, would be no picnic to face.
Other responses:
Andy Kamenetzky: This time last year, I beat the Blazer drum like a bloggin' Keith Moon whenever this question was posed. On paper, Portland's combination of length, perimeter defenders to throw at Kobe, change-of-pace point guards and Brandon Roy matches up nicely against the Lakers. An injury bug of absurd proportions poisoned that promise. This season begins with question marks about the health of Greg Oden and Roy, but (perhaps stubbornly) I still think this team has its best shot with everyone present and accounted for.
Teaford: I know everyone has been saying Oklahoma City, but I'll say that a healthy Portland Trail Blazers team could give them serious trouble. But the real answer is nobody.
Ding: Dallas. No other team in the West has enough talent and experience to threaten.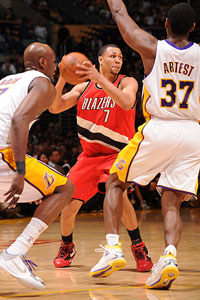 Noah Graham/NBAE/Getty Images
Another major threat to the Lakers? A healthy Portland squad led by Brandon Roy.
Soriano: I've been high on Houston all offseason, so I'll go with the Rockets. Health is obviously a key factor as Yao and Martin are not known as iron men. But if the Rockets do stay injury free they have all of the ingredients to really push the Lakers including a strong post presence on both offense and defense as well as a mental and physical toughness that can really push the Lakers. Plus, I really can't think of a Western Conference team that has given the Lakers as much trouble as the Rockets over the past few seasons. Healthy or not, this group just gives the Lakers fits and this may be the season that things break their way.
Medina: Oklahoma City. As the Lakers saw last season, the Thunder have the youth and athleticism to give the Lakers a good test. OKC is now more experienced, including Kevin Durant and Russell Westbrook putting work in with Team USA during the 2010 FIBA World Championships. The fact OKC pushed the Lakers to six games in the first round last season surely gives the Thunder confidence they can further push the envelope.
Markazi: Oklahoma City Thunder. They took them to six and nearly seven without knowing exactly what they were doing. I think one year later they'll have the Lakers on the ropes again, but this time in the Western Conference finals.
Pincus: Oklahoma City. It's the youth factor. A number of teams in the West have potential against the Lakers, including the Rockets, Nuggets and Blazers -- but the Thunder have those young legs.
Helin: If the Lakers are completely healthy, there is nobody in the West that beats them. Portland, Oklahoma City and, if completely healthy, San Antonio can push Los Angeles, but not beat them. One team that should scare Lakers fans a little is a healthy Houston Rockets. If Yao Ming is 100 percent come the playoffs, with a backcourt of the speedy Aaron Brooks and sharpshooter Kevin Martin, plus great role players like Shane Battier and Luis Scola … that's a really good team. More than any team, they match up well with the Lakers. But you'd need a fully healthy Yao to make it happen.
McMenamin: Dallas. With Brendan Haywood and Tyson Chandler (who looked like a new man at times during Team USA's gold medal run), the Mavericks have the size to compete with the Lakers' length in Andrew Bynum, Pau Gasol and Lamar Odom. Add in the fact that this might be Jason Kidd and Dirk Nowitzki's last real shot at a championship and consider that Kobe's buddy, Caron Butler, will get the benefit of a full training camp under Rick Carlisle's system and you have a seven-game series battle on your hands. The next two teams that challenge the Lakers in my eyes are the Nuggets and the Thunder. But Oklahoma City just isn't there yet unless Serge Ibaka and Cole Aldrich develop faster than Polaroids, and Denver has too many question marks (K-Mart's health; Melo's wanderlust) to make me think they'll be a problem come playoff time.
Previous Preseason Expert Panels