Unless you've been living under a rock unequipped with Internet, cable TV or merely an AM radio feed, it's no secret LeBron James is negotiating the worst image fallout this side of Mel Gibson. The King has an uphill battle ahead of him, as illustrated by a recent report from CNBC's Darren Rovell about James' Q Score (which measures consumer appeal):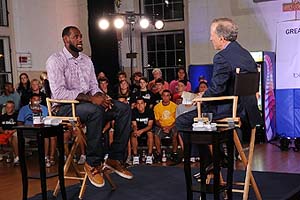 Larry Busacca/Getty Images
This sitdown worked out, shall we say, poorly
for LeBron.
In January 2010, The Q Scores Company took a poll of the general population and found that 24 percent of people thought of James in a positive light, compared to a 22 percent negative opinion. Henry Schafer, executive vice president of the company, told CNBC that the average sports personality has a 15 percent positive score and a 24 percent negative score.
"LeBron's positive score at that time was the highest we had ever seen it," Schafer said.
But since "The Decision" show on July 8, things have gone seriously downhill for the NBA star. LeBron's Q Score today? Schafer says that now only 14 percent of the general population see him as a positive figure, a 41.6 percent drop, while 39 percent view him in a negative light, a 77 percent decline.
This sharp tumble left LeBron with the sixth-highest Negative Q, which was better than I figured. The top five was a mostly predictable lot: Michael Vick. Tiger Woods. Terrell Owens. Chad Ochocinco.
And rounding out the top five: Kobe Bryant.
That I did not see coming.
Five years ago, I'd have considered this finish a given. Maybe even three. But not in 2010, when the super-marketable superstar's jerseys fly off American and overseas shelves, "MVP" chants greet him on the road, and a Harris Interactive Poll is topped (ironically, with Tiger) for most popular athlete. Brian and I have spent the last few seasons beating the "Kobe is no longer polarizing, he's actually just popular" drum. Thus, Bryant's standing threw me for a loop.
To get some perspective and maybe even an explanation, I gave Schafer a call for more details. While I the mystery wasn't solved, the information shared was nothing if not interesting:
-- The Q Scores Company actually conducts two polls for athletes. The first is the one cited by Rovell, a twice-yearly sampling of America's general population, including casual sports fans who may not know much about a player beyond a general perception. (The perception largely created by the media, as I'm sure many fans will label it.) As mentioned, Kobe didn't do so hot in the negative Q. There is also, however, a positive Q Score with the general population. Kobe rated a 16 here, slightly above average (15) and 68th out of 198 sports personalities.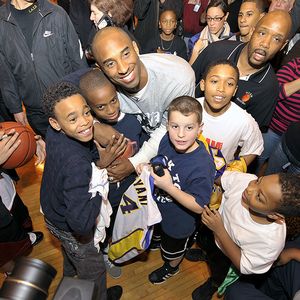 David Dow/NBAE/Getty Images
Despite being hip with the kids, Kobe's popularity apparently still runs hot and cold.
Again, I would have expected a higher clip, given what has struck me as tremendous P.R. strides of late. But as Schafer noted, Colorado hasn't been easy to shake, and coupled with a persona often less than sunshine and rainbows, work remains before Kobe endears himself to the average citizen. Still, it is worth noting Kobe began 2010 with a 14 score, so he's trending, if slowly, in a direction Lakers fans would prefer.
-- As I mentioned, there is an additional athlete poll. Known as the Sports Q, the annual survey (conducted most recently in the spring of 2010) tracks the opinion of 500 sports personalities among 2,000 sports fans. Among the armchair jocks focused on achievement, Kobe's positive Q score was considerably better... to a point. He notched a 24 (what else?), well above the 16 average. However, Bryant's negative Q score measured out at 35, well north of the mean (27).
But again, the Mamba faithful can find a silver lining.
When Kobe's public perception was at its absolute worst (around 2003-2005), Schafer says the guard's negative Sports Q was around a 60, which is just silly terrible. Since then (with the radio tour wedged in to boot), Kobe's numbers now mirror his clip before Eagle and the Shaq feud reached an absolute boiling point. Wins, rings and an improved rep as a teammate have all paid dividends, even as some continue to view Kobe in a poor professional light.
"Winning helps, but it's not always the only thing that comes into play when it comes to how you're perceived as a person," says Schafer.
-- In either poll, Q scores are assessed through a polling demographic reflective of the Census results. In other words, the makeup of the U.S. is the makeup of those surveyed.
-- Schafer offered a general take on Kobe's struggle to scale the mountain of positive public perception: "From my own professional opinion, it's always about the personality of the personality. When it comes to image and marketability and just the overall impression that is given to the public, he seems to have that kind of personality that doesn't come across in a very personable way."
-- As far as Sports Q goes, LeBron's positive (34) and negative (20) were pretty enviable. Then again, those numbers were issued pre-LeDebacle and the accusations of wimping out by joining the Evil Super Team. Like Schafer, I'm curious to see how James' Sports Q shakes out in the next survey.
LeBron's results are fairly cut and dry -- I sensed image problems brewing well before "The Decision" -- but what does it mean for Kobe?
Honestly, I don't entirely know. Like I said, I would have guessed better results. But at the same time, Kobe isn't the world's most inherently likable guy, even with his strides acknowledged. That's just reality. Maybe it's a matter of Kobe being loved (and I do mean loved) by his loyalists, but more coldly respected and admired by casual sports fans. (Like the line in "A Bronx Tale," "Is it better to be loved or feared?") Maybe it's a matter of too many scowls and not enough smiles on the court. Maybe it's a matter of people sick of seeing him win, sick of seeing him dare to threaten the legacy of Michael Jordan.
Or maybe it's simply a matter of people having made up their minds. They just don't like the guy, and even if softened aspectes were recognized, there is no impetus to flip the script. Kobe's carved out a unique space in sports, and that world isn't about to change anytime soon. Never say never, of course. Kobe's steadily tracking in a more positive direction. Tastes can and often do shift. But for the time being, Bryant is apparently still capable of making fans take sides. And the opposite of love is in fact hate.
As Schafer noted, "he's still pretty polarizing."
Even if it doesn't always feel that way.