With training camp around the corner, we asked a group of local and national roundball experts to weigh in on some of the big Lakers questions heading into the 2010-2011 season. Call it a preseason prognosticationpallooza.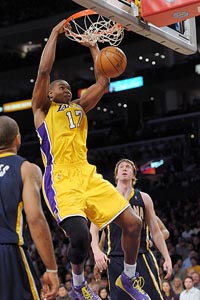 Kirby Lee/US Presswire
Andrew Bynum definitely has the
talent to be an All-Star...
Our panel: Andy and Brian Kamenetzky (ESPNLA.com Land O'Lakers Blog), Elliott Teaford (L.A. Daily News), Kevin Ding (O.C. Register), Kevin Arnovitz (ESPN TrueHoop), Eric Pincus (Hoopsworld), Chris Clark (Silver Screen and Roll), J.A. Adande (ESPN.com), Darius Soriano (Forum Blue and Gold), Kurt Helin (ProBasketballTalk.com), Mark Medina (L.A. Times.com), Arash Markazi (ESPNLA.com), and Dave McMenamin (ESPNLA.com)
Today's question:
Will this be the year Andrew Bynum makes the All-Star team?
The Results:
Yes: 7
No: 3
Non-committal: 3
My take: Tough call. Amare Stoudemire migrated east, but Yao Ming, armed with a country of voters, should be healthy again. While Drew is definitely among the conference's best reserve candidates, Marc Gasol, Al Jefferson, Chris Kaman, and Nene could present viable challenges. (Pau, Timmy, Dirk, 'Melo, and Durant are all locks as forwards, so there probably isn't room for two backup fives.) Bynum also needs to stay healthy and look more consistently comfortable alongside El Spaniard. Gun to my head, he gets the nod, but it's not a given.
Other responses:
Brian Kamenetzky: If Yao stays healthy, he's a shoo-in to start, so it's about the backup positions. If Bynum stays healthy, why not? Stoudemire is out of the conference, so that leaves... Greg Oden (makes Bynum look like an iron man)? Kaman (overcoming his Clipperness is no easy task)? Al Jefferson (good, but not invincible)? If Bynum plays well and the Lakers thrive, enough people will understand why his raw numbers may be lower. I say... yes, he gets there.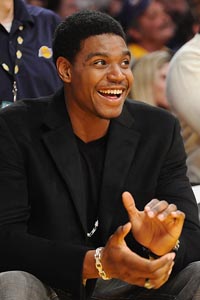 Win McNamee/Getty Images
... but unfortunately, he spends too many games with an outfit like this as his "uniform."
Ding: Yes. Some advice: Draft him for your fantasy team, no matter how much talent surrounds him on the Lakers.
Clark: Doubtful. If Drew really holds an All-Star berth as a high goal of his, he missed his best opportunity last year when Yao Ming was out. With Yao (hopefully) healthy and backed by the People's Republic, he's a shoo-in to start, meaning Drew will have to compete with a host of decent centers for one backup spot. Since Drew is normally his team's 3rd option, it might be hard for him to once again put up competitive numbers, even though I do think he's the 2nd best center in the West.
Soriano: Yes. I think Bynum plays 75+ games and averages a double-double (I think 15 points, 10 rebounds is fair) and he gets recognized for his consistent play by being a pick of the coaches.
Helin: Yes. If healthy Yao Ming will be lifted by votes from China into the starting lineup (he should be there anyway, best center in the West) and that means Tim Duncan can play the forward he is listed at. Then it comes down to Bynum vs. Chris Kaman and Marc Gasol. That's a battle Bynum can win.
Medina: Yes, if he's healthy. Unfortunately for Bynum, that's a big if. Regardless of what happens this year, Bynum turned a corner during the 2010 post-season simply because of his willingness and ability to fight through injuries. It's something teammates surely noticed and helped Bynum realize he can still provide a huge presence to the team simply if he's willing to chip in with the little things. If Bynum is resigned to that role again because of further injuries, the team will respect it, but it won't be enough for an All-Star berth.
Markazi: Yes. I think he makes it mainly because there are no other other all-star centers out West. Amare Stoudemire (who wasn't even a true center) has moved to New York and I don't think Chris Kaman will have the same kind of season he had last year. Bynum gets the nod by default if he is healthy, which is still a big if.
McMenamin: This is a good question only because making the All-Star team actually does mean a lot to Drew and it is a goal of his to secure a perennial invite to the mid-season party. Having said that, no, I don't think he makes it next year. The voting is based on the first 35 games or so of the season, when Bynum will be coming back from another off-season knee surgery and looking to find his conditioning, let alone his rhythm. Add in the fact that Yao Ming is back (supposedly) healthy, and one of the two center spots are spoken for. Bynum's primary competition for the backup spot will probably be Chris Kaman for the second straight year, but don't forget about David Lee in Golden State and Al Jefferson in Utah, who both could end up on the ballot as fives.
Will Andrew Bynum make the All-Star team this seasonMarket Research
Previous Preseason Expert Panels