With training camp around the corner, we asked a group of local and national roundball experts to weigh in on some of the big Lakers questions heading into the 2010-2011 season. Call it a preseason prognosticationpallooza.
Our panel: Andy and Brian Kamenetzky (ESPNLA.com Land O'Lakers Blog), Elliott Teaford (L.A. Daily News), Kevin Ding (O.C. Register), Kevin Arnovitz (ESPN TrueHoop), Eric Pincus (Hoopsworld), Chris Clark (Silver Screen and Roll), J.A. Adande (ESPN.com), Darius Soriano (Forum Blue and Gold), Kurt Helin (ProBasketballTalk.com), Mark Medina (L.A. Times.com), Arash Markazi (ESPNLA.com), and Dave McMenamin (ESPNLA.com)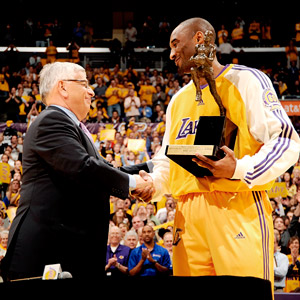 Andrew D. Bernstein/NBAE/Getty Images
Lakers fans would love to see Kobe win this
trophy at least one more time during his career.
Today's question:
Where will Kobe Bryant finish in the MVP voting?
The Results:
1st: 2
2nd: 3
3rd: 3
4th: 2
Non-committal: 3
Who cares: 1
My take:Kobe takes first in a very close race with Kevin Durant. Durantula's numbers ain't dropping anytime soon, and his supporting cast is less flashy, which will sway voters religious to "Player X gets too much help, so I can't vote for him." But I suspect the Miami backlash will help Kobe. Yes, he wanted to bail a few years ago, but it's still impossible to picture Bryant manufacturing a better future with two other A-Listers. I'm predicting there will be new appreciation for Kobe's competitiveness and remorse over just one previous trophy. Similar to Jeff Bridges winning an Oscar for "Crazy Heart," a combination of sentiment and merit will push Kobe over the top.
More responses:
Brian Kamenetzky: Fourth (or worse), behind (in order): Durant, [Dwight] Howard,and [LeBron] James. He's past the point of trying to put up the numbers necessary to snag a season-long award.
Teaford: Oh, man, who cares, right? I mean this season is going to be all about the three-peat and sending Phil Jackson out with his 12th title and the Lakers tying the Celtics with their 17th overall championship. The rest is fluff.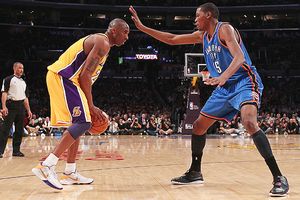 Stephen Dunn/Getty Images
Could Kevin Durant stand in the way of a
second MVP trophy for Kobe?
Ding: Second. Even though Durant should lead the league in scoring, I'm not at all certain Oklahoma City will meet the out-sized expectations to get him to that MVP perch already. Someone such as [Dirk] Nowitzki, James or Howard will get a lot of support if his team does very well, as is likely.
Pincus: Given LA's depth, I'm not sure Bryant will have as dominant a season offensively as a player like Kevin Durant. LeBron James isn't likely to win again which could put Bryant in the top two – but I'm not sure he gets the award.
Clark: 3rd. I don't think Kobe has another MVP season in him, and I don't think I want him to. Let the young kids worry about trying to carry the team night in and night out. The Lakers don't need that from Kobe (until the playoffs) and if he tries to be that guy over the full 82, I don't think he'll make it the full 82 (or more importantly, afterwards). I think Kevin Durant has the inside track, with one of LeBron, Chris Paul, or Dwight Howard also edging out Kobe.
Soriano: I think Kobe finishes in the top 3 of MVP voting for the 3rd straight year with a legitimate chance of winning. I expect a fair amount of backlash towards LeBron and a strong push to anoint Kevin Durant as the MVP, but if Kobe can put together another high level year (which I think he will) and the Lakers lead the league in wins (another strong possibility) I think he'll be right there in the MVP voting at the end of the year.
Medina: I'm picking Kobe second behind Kevin Durant for various reasons. I still believe Kobe's finger will affect him to some degree. Though I don't think it will be as egregious as last year, a less than healthy index finger will surely negatively hurt Kobe's shooting numbers. I don't buy into the whole "Kobe is too old" argument. Injuries slowed him down last season, not age. Nonetheless, given Bryant's supporting cast and the fact he's more accepting in not always pushing the issue, he won't be as fixated in scoring. As much as I think Bryant would delight in proving to the outside world he's very well capable of compiling another regular-season MVP, he's more worried about winning another championship.
Markazi: I know everyone is high on Kevin Durant with LeBron James going to Miami but if the Lakers finish with 60-plus wins and the best record in the league like I think they will and Kobe is a top five scorer, which I think he will be, I think he wins it.
McMenamin: If the Lakers finish with the best record in the league, I say Kobe has a better than even chance at winning the second MVP trophy of his career. If they somehow win 70 games, I say he definitely wins it. Another big if, of course, is if Kobe can stay healthy enough to play 70+ games in what will be his 15th season and not let injuries derail his chances. I actually think LeBron is the favorite to win his third straight Maurice Podoloff trophy by averaging close to a triple double down in Miami and I'd put Kobe, Kevin Durant, Dwyane Wade and Dwight Howard as LeBron's primary competition.
Where will Kobe Bryant finish in the MVP voting?Market Research
Previous Preseason Expert Panels