For a team to enter training camp lacking overwhelmingly juicy subplots generally means the squad is either very bad (there are loads of questions, but the answers don't matter) or very good (there aren't many questions to begin with).
With consecutive titles, three straight NBA Finals appearances, and strong odds to earn a fourth, the Lakers are the obviously the latter. While the 2010-11 season undoubtedly contains some compelling storylines, very few will start to play out this early. Meanwhile, most of the regular "camp stuff" other teams deal with before the start of the regular season doesn't apply to the purple and gold. The rotation is fairly well established, there are no significant positional battles, no new system to absorb, no major issues integrating new guys on the roster.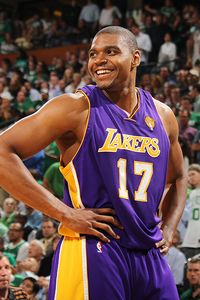 Nathaniel S. Butler/Getty Images
The Lakers don't have many concerns heading into training camp, but at the top of the list would be Andrew Bynum's surgically repaired right knee.
This is a good thing.
But while you can take in the weeks before the real games start on Oct. 26 comfortable in the knowledge all is well in El Segundo, it doesn't mean there's nothing to watch for. Here are some of the bigger subplots to mind as camp begins:
1. Knees, knees, knees.
Start with Kobe Bryant's. The Lakers announced in late July Kobe had stealthily undergone an arthroscopic procedure on his right knee. Nothing all that serious, apparently, and he's supposed to be ready when camp opens Saturday. Dispatches from teammates, whether via Twitter or Lakers.com, indicate all is well, but there will still be plenty of focus on the joint until it's abundantly clear the only thing to fear is fear itself. Kobe isn't expected to miss any time, but the Lakers won't push him. He's hardly a guy who needs eight preseason games to work himself into shape.
Of greater concern is Andrew Bynum, who's torn meniscus, which plagued him through the postseason, was repaired about eight weeks ago. After his surgery, the Lakers announced Bynum would be limited at the start of training camp, but is expected to be ready to go when the real games start Oct. 26 at home against the Rockets. David Aldridge of NBA.com reports Bynum will not play any preseason games, and is questionable to start the season. Maybe he'll bend that curve a little, maybe he won't. Either way, even if Aldridge is correct it doesn't necessarily mean Bynum won't be productive during the season... except Andrew Bynum's inherent Andrew Bynumness makes it tough to feel confident. His injuries have been plentiful, the recovery times long, meaning fans won't believe he's healthy until they see it (at which point they can return to waiting for him to get hurt again).
Obviously, it's not all that important for Bynum to be dominating in October and early November (aside from the weight a good start would give his All-Star bid), it's his health in April that matters. During camp, the definition of good news for Bynum will be the absence of bad news.
2. Rookie, rack that ball!
Last season, the Lakers were rookie-less. Two seasons ago, poor Sun Yue was the only newbie on the squad. Before that, only one of the two freshmen on the roster to start the season (Javaris Crittenton, Coby Karl) was still there at the end. You have to go all the way back to 2005-06 to find the last time the purple and gold had multiple rookies -- Bynum, Devin Green, Von Wafer, and Ronny Turiaf -- on the roster for a full season.
That should change this year, with Devin Ebanks and Derrick Caracter.
It's an ideal situation for the Lakers. They have a couple young players who look like keepers, but, short of bad things, won't need to rely on them in the quest to three-peat. Caracter is likely to slide into the Josh Powell role, playing spot minutes here and there when circumstances (generally foul trouble) demand, or filling in if a player misses a game here or there. There will be plenty of DNP-CD's, but Caracter will probably spend more time in uniform than Ebanks, behind Ron Artest, Bryant (when he slides to the 3), and Matt Barnes at small forward. Both, especially Ebanks, are good bets to visit the D-League.
Meaning the best chance to see them in action, if preseason basketball can be called that, comes before the opener. Each acquitted himself well during summer ball in Vegas, but the team's eight exhibitions will nudge the rooks closer to the level of competition they'll see in actual NBA games, and gain some of the necessary confidence required should circumstances demand regular-season minutes in bulk. But more than putting up numbers in games, Ebanks and Caracter will need to perform well in practice. Day to day, how are they absorbing the system and the culture? Here's the basic to-do list: Show up early, leave late, run hard, say nothing.
Oh, and carry a lot of luggage and rack a lot of balls.
3. Small questions at small forward.
Last season, the Lakers had Artest at the 3 ... and not much else. Luke Walton spent the season in and out of the lineup thanks to a serious back problem, and though he could easily miss some -- perhaps most -- of this season, the Lakers will no longer need to use Kobe as the primary backup. He'll still get minutes on the wing, but thanks to the presence of Barnes (and to a much lesser extent, Ebanks), the Lakers will have the luxury of using him there when they want to, rather than being driven as much by need.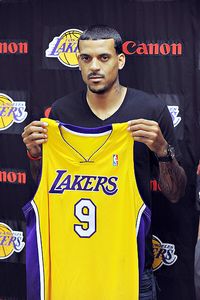 Noah Graham/Getty Images
How much is Matt Barnes going to play? The preseason might provide a few clues.
But it gets to an interesting question about the rotation, probably the only reasonably significant one facing Phil Jackson and Co. How many minutes is Barnes going to get? Over the past four seasons, he's averaged no fewer than 19.4 and as many as 27. I don't see how he gets that many this season with the Lakers. He's not well suited to play the off-guard spot, and short perhaps of those moments when the Lakers go extremely small, won't play power forward here, either. I mentioned Kobe, who will still get time at small forward, and in his exit interview last season, Lamar Odom expressed interest in picking up a few minutes there, too.
So to find PT for Barnes in a context going beyond simply looking for ways to shave a few ticks off his starter's collective workload, Jackson will need to get creative. The preseason could provide a few clues on how he plans to do it, and in what lineup combinations.
Other things to watch:
Lamar the leader? Fresh off his successful run with Team USA at the World Championships in Turkey, we're all a little curious whether the experience will positively benefit Lamar Odom this season. Here, he's unquestionably an emotional leader of the team, playing a key role in the locker room. This summer, though, the leadership profile has expanded. Nobody expects a completely different LO to meet the media Saturday afternoon -- there are guys on the roster to fill the role Odom played with Team USA -- but through training camp and into the season, we'll all be looking for signs, subtle or not, of change.

P.J.'s energy. How's he moving? Last season, we were all struck by how spry the guy looked after getting more work done on some of the more important moving parts in his 64-year-old body. What will he look like this season, heading into -- at least in theory -- his last campaign? Will the knowledge this is the last one add a little more pep to the step?

Labor relations. A lockout is looming, and we're all a little nervous (especially those who cover basketball for a living and have a contract up for renewal next winter...). At least getting the latest news won't require a road trip. Derek Fisher is the president of the player's association, and the vice president is newly inked backup center Theo Ratliff. Maybe the Lakers brought in Ratliff as a gesture of goodwill from management toward the union? You know, so D-Fish doesn't have to run up his cell phone bill. Any potentially positive sign is worth celebrating, right?

Sasha's mood. Clutch Game 7 free throws notwithstanding, Sasha Vujacic suffered through a brutal 2009-10 season filled with injuries and short on minutes. He tried to put a brave face on things, succeeding sometimes and not in others. This season, Sasha's path to PT is similarly obstructed, his name more significant as a trade chip than an on-court contributor. How will he handle it?