During our ESPN LA.com Media Day broadcast, there may have been no more interesting -- and potentially controversial -- exchange than one involving Andrew Bynum. By then, it was old news his offseason knee surgery revealed more damage than expected and his anticipated absence during the preseason could extend into the regular season. Bynum is targeting late-November for his return. Delaying surgery until mid-July to accommodate an overseas vacation was endorsed by Phil Jackson and the front office alike, as all signs pointed towards a relatively minor procedure and rehab.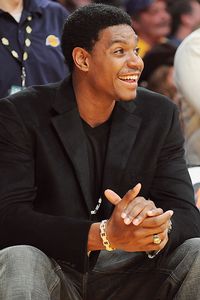 Win McNamee/Getty Images
Andrew Bynum missing games has become as inevitable as death and taxes.
But we wondered, knowing what Bynum knows now, if he would have altered his time line? He said he wouldn't:
"Nope. I had to have the surgery when I was ready for it. I was coming off the emotional high of going out and winning your second championship. I just kind of needed a little me time. Me and the family. I just took it from there. I went to go see the World Cup, it was a great time for me, one of the best of my life. I got to stay on safari. And then when I got back home, I took care of business."
This unfiltered wasn't what either of us expected to hear. We debated the issue the following day during a Sunday broadcast of ESPNLA.com On Air, my brother somewhat undecided on how he felt and me okay with the decision. Since then, Brian has expressed unhappiness with Bynum's call.
I remain okay with the decision.
Before I present my opinion, I want to make clear my expectations of being in the minority, along with my awareness of the legitimate reasons for displeasure with Bynum's statement. The Lakers are attempting to keep this championship train rolling, and Bynum is a big piece of the puzzle. These missed games could affect the team's overall record, which could jeopardize home court advantage throughout the playoffs. Bynum has already missed considerable time due to injury throughout his career, which has possibly affected his growth as a player and without question limited his comfort level playing alongside Pau Gasol. These are legitimate issues.
Plus, for many fans, there is a principle involved. Yes, Bynum isn't even 23 yet, and most folks have a lot of growing up to do at such a tender young age. However, they're typically not offered an eight figure salary as an incentive for rapid maturity. Players making $14 million are expected to be accountable professionals, which in this case means exhibiting a thorough concern for the team employing them. At face value, I understand why fans might label Bynum's willingness to delay the surgery, even in the face of games missed, as something showing questionable dedication to the Lakers.
But looking deeper, I'm reminded of Bynum gutting through the playoffs on one leg last season. And I'm compelled to examine Bynum's words explaining himself; how he needed to be "ready" for the surgery, how he expressed a desire for "me time" after coming off an "emotional high," and talked about the importance of being with family and about taking "care of business" once he returned home.
I'm sure Bynum felt a World Cup and European jaunt would be a unique and fun experience, but I wonder if the trip may not have been about indelible memories as much as it was about what he needed to forget:
Basketball.
Nobody is more aware of Bynum's mental state than Bynum himself. It seems clear after two consecutive seasons playing with increasingly severe injuries (the most recent proving even more difficult than initially imagined), and however many rehabs, over the last three seasons, he felt some downtime was necessary for his well being. Yes, playing through pain and rehabbing your body is part of a professional athlete's gig, but that doesn't mean everyone reacts to the grind in lockstep. The process is more taxing for some than others, and as much as we love to see athletes "tough out" any challenge, they remain human beings who sometimes yearn for time away from their jobs.
Just like you and I often yearn for time away from our jobs. It's a universal desire, even among those who consider themselves company men through and through.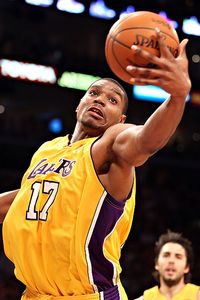 Ronald Martinez/Getty Images
Bynum didn't seem like an indifferent athlete during the playoffs.
I suspect Bynum felt like going (more or less) straight from the playoff grind to the operating room to the rehab center to the Staples Center without some time devoted to recharging his batteries would put him at risk of being mentally fried at some point during the season. Maybe he felt this would ultimately render him less productive on the whole, especially during the playoffs, than taking the summer break. Maybe he felt to be as fresh as possible when it counts the most, he needed to risk sacrificing the games that, relatively speaking, mean the least. Maybe he feels his professional life is most productive when his personal life is balanced.
If that's the case, I don't know if I'd go so far as to say I "condone" the decision, since it's an undeniably complicated question. But because I can imagine where Bynum might be coming from, I also don't feel enough indignation to condemn it.
Mind you, if Bynum hadn't just toughed out this postseason so admirably, I would absolutely join those questioning his dedication and priorities. However, since Drew didn't attempt to have his cake while eating it, I'll cut him some slack. Nobody endures such discomfort and pain unless they care about their team and its success.