During Lakers Media Day, Brian and I were lucky enough to secure interview time with nearly every member of the team. But "nearly every" isn't quite "every," so we've been trying to run down the players who managed to avoid our table. Yesterday, Brian posted his conversation with Derrick Caracter. For the next installment, a few minutes I spent with Shannon Brown.
Question: Talk about your offseason, the process of narrowing down your options, and eventually deciding to stay with the Lakers.
Shannon Brown: I don't really know too much to say about it. Like I said, weighing my options, seeing what the best situation was for me. Obviously, it was the Lakers. You got a chance to come back here and do something special and make history and win three NBA championships in a row. I don't really know about all the rumors (about other teams). People were telling me about them. I don't even know about those. I just know this is the place where I was meant to be.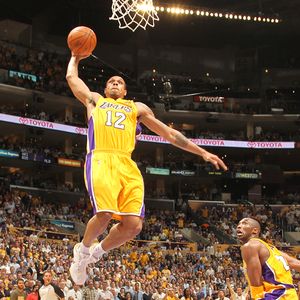 Nathaniel S. Butler/Getty Images
The Lakers are counting on Shannon Brown to
progress beyond highlight-reel athleticism.
Q: Did you anticipate as much attention being paid to your decision? Like you said, there were a lot of rumors.
SB: I can't worry about what other people say or think. I've never been a person like that. I was just trying to make the right decision for me and my family.
Q: In the end, was it impossible to picture yourself not being a part of a Three-peat attempt?
SB: Yeah. Any time you get a chance to do something special. There were other ideas going through my head. For the most part, I tried to keep it business-like, man. This is a business.
Q: What was the rest of your offseason like, beyond just this?
SB: Tried to let my body rest a little bit. Let my thumb rest up a bit. We've been going, pushing it to the limit for the past two years. That was my first time really experiencing something like that. I got a chance to vakay a little bit. A lot of great things have been happening for me.
Q: Where is your thumb at now?
SB: It's 100 percent. 100 percent. It feels good. I don't think about it. Don't notice it. Just go out there and try to play.
Q: Was this the hardest injury you've ever played through?
SB: Nah. Not at all. I got hurt my rookie year. I had some bleeding down into my ankle from my shin. Something like a real deep bone bruise. But it was definitely because of my hand (last season), I really couldn't shoot, dribble, pass, catch. I couldn't do the fundamental things that were natural for me.
Q: Did it ever affect your decision-making on the court?
SB: On the court? Of course. Every time you shoot the ball or shoot the ball or dribble the ball and there's pain, you think about it. So it definitely affected me on the court. I tried not to let it affect me mentally, but it was tough playing through it. But I made it.
Q: What specifically did you work on during the offseason to improve your overall game?
SB: Pretty much a lot of skill work. Ball handling, stuff like that. Now it's just the process of getting everyone on the same page with the triangle. Being able to go out there and get a consistent run. Knowing where shots are gonna come from. Knocking down open shots. Pretty much working on everything. Stuff like that. Right now, it's just getting in the flow of everything.
Q: Where is your comfort level with the triangle now?
SB: I'm comfortable with the triangle. Now I'm one of those guys that's trying to help other guys with the triangle, and that's a good thing.
Like I said, it was a short conversation, but a couple of important nuggets still managed to surface.
For starters, Shannon's right thumb is completely healed, which is a very big deal. Before he damaged the ligaments last season, I felt he was demonstrating the steady improvement hoped for with any still-raw player. Then came the injury, which affected Brown not just physically, but mentally as well. Beyond just the difficulty of ignoring pain, I have to imagine functioning in general becomes tough when you don't truly trust your shot, handle, or grip. Throw in a system still being grasped and many of the bad decisions from Shannon over the second half of the season were predictable. Hopefully, better health will alleviate this issue.
For that matter, increased familiarity with the triangle could also bear fruit. Steve Blake's presence confirms once and for all the Lakers see Brown as a shooting guard, not a point guard. Still, that doesn't mean Shannon won't ever be asked to initiate the offense, and at the very least, he needs to understand backwards and forwards. Being comfortable enough in the system to tutor the new guys is a promising sign, and continually reminding folks where they're supposed to be further accelerates his own learning curve.