Saturday at media day, Andy and I managed to speak with just about everyone on the squad. Just about. Never happy to tolerate loose ends, I caught up after Tuesday's practice with one of the guys who, in a surprisingly savvy, veteran move, escaped our broadcast table: rookie forward/center Derrick Caracter.
Q: So a few days in, is this what you were expecting?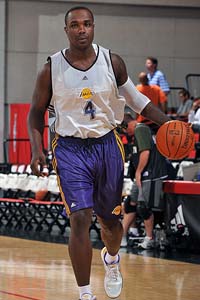 Garrett W. Ellwood/NBAE/Getty Images
With Andrew Bynum on the shelf, Derrick Caracter could get more PT than expected early in the year. Will he be ready?
Derrick Caracter: Definitely. I'm out here playing, and they say [Phil Jackson] likes to condition with basketball activities, so that's what we've been doing, and I've just been trying to take it a day at a time, and compete, and play as hard as I can.
Q: Has your approach changed knowing Andrew Bynum is going to miss some time?
DC: No, but I know that I have to be even more prepared now, with possibly playing more minutes. I really have to focus in on all the different options. I know the triangle, but all the options, the reverses, and the lingo- how he says it- I just have to keep continuing to work at it and pick it up.
Q: Do you feel you already know it pretty well?
DC: The basic triangle, when we're playing out of that. But the terminology- peg, lags, reverse action- just the different calls itself, that's something I need to keep working on.
Q: How much do you feel yourself still thinking? During the scrimmage, I saw a lot of good stuff, but there were also some near-turnovers and other mistakes.
DC: A little bit. It's been better each day. Now, as far as catching the ball into the triangle, just working my footwork, getting low, and using the muscle memory of when to turn, how to turn, when to pass, what passes to use, and all that stuff.
Q: I saw you had a very good entry into Theo Ratliff from the perimeter.
DC: Even though I got it to him, that may have been a better time to use the left hand, just in case. If I'd had a better defender on me, where he'd have deflected the ball since I threw it in my right. Throwing with my left, around the defender or a bounce pass, would have been an easier pass for Theo to catch.
Q: So it was a good idea, but you still did it wrong?
DC: Yeah, exactly.
Q: I heard Coach Cleamons in your ear a lot, especially defensively during the scrimmage. What more than anything are they trying to emphasize with you?
DC: To be a total, all-around pro. Since I'm a rookie and it's a veteran team, they're trying to catch me up as fast as possible. They said in the next thirty days, they're just going to throw a lot of information to me at once, so just be a sponge and soak in as much as I can. Listen, and keep learning.
Q: Is the bigger challenge offensively or defensively?
DC: I think it's pretty equal with both. I think I just need to continue working on both parts. Like, a couple times I had the ball in the post today, there's moves I know I can make and do, but I'm not really offensive minded right now. I'm just thinking about crashing boards and learning the offense. So when I get the ball and they're [calling something set for me], I'm like, "Damn!" I wasn't even thinking I was going to be in this situation. So things like that. When I shoot, to continuing to hold my follow through. Things like that I've been taught and learned. [With] more repetition, I'll be alright.
Q: How hard is it not to overthink everything?
DC: That's pretty easy. I love the game of basketball, and I think I have a pretty good I.Q. for the game. So it's not too crazy for me where I'm thinking, thinking, thinking. It makes sense, the spacing of it, all the fundamentals. So it makes sense. It's not like [when] coach Jackson said to Theo [Ratliff], it's like trying to teach an old dog new tricks. All this stuff is pretty fresh to me, and I'm just learning day by day.
Q: There was a period of ten days or so where it was almost like LA was absorbed in the Derrick Caracter Weight Watch, to see if you'd make the weight to guarantee your contract.
DC: Yeah, I know.
Q: Was that strange for you to go through?
DC: No, because my first two years at Louisville, that's all coach [Rick Pitino] talked about. I was just like, alright. Even with all the people talking or texting me, I was just like, it's not going to be an issue. I'm at 275 (lbs.) which I think is a great weight, and during the season I think I'll be 270.
Q: And you dropped a lot of the weight before you even got here.
DC: Yeah, just working out and changing my eating patterns. So it wasn't like a crash diet.
Q: What has it done for you on the floor?
DC: My mobility [is much better]. Something I continue to work at is to keep opening my hips, my mobility to be able to guard wing players, and things like that. As time keeps going on, playing Ron [Artest], playing Lamar [Odom], and those different guys out there, and the big guards, hopefully I can keep expanding my game.
Q: It's been a season since this team had a rookie, and a few since they had multiple rooks. Are you expecting to be put to work? A little hazing?
DC: They said it wouldn't be too much, but you never know. When you're on the road they might. Some of the guys told me to stay away from Kobe if he says "Let's go out to eat," or one of those guys who would take me out to eat and leave me with the bill.
Q: You heard what the Cowboys did to Dez Bryant, right?
DC: No.
$55,000 dinner tab.
DC: Damn!
So be careful.
DC: I'm not making anything near Dez Bryant, I know that.
While he's more likely now to recommend a budget friendly restaurant should the need arise, Caracter seems to have a good attitude about whatever awaits in the hazing department. Certainly he and Devin Ebanks have taken well to their basic rookie post-practice duties of towel stacking, ball racking, and water bottle throwing away-ing. By the time they're done, the place is spotless! Best it's looked in years, no disrespect to the efforts of Sun Yue.
When it comes to the more important stuff- attitude, work ethic, etc.- Caracter seems to be on a solid path, as well. I'm not a professional scout, but in the times I've managed to watch him play (clips, Vegas Summer League, Tuesday's scrimmage), it's clear the guy has talent. He's a guy who came out of high school as one of the country's hottest prospects, and with his weight down to a manageable level it's easy to see why. Quick feet, soft hands, tangible skills.
The Lakers hope enough of them show in whatever minutes he picks up in Bynum's absence. He doesn't have to be a Rookie of the Year candidate. Using last year's roster as a guide, Caracter fills the Josh Powell role on the squad, and I'm fairly confident he'll do it at least as well as Powell, whose greatest attributes were his work ethic and intangibles as opposed to pure skill.