Tonight, Ontario (California, not Canada) offers the last of the Lakers' preseason. We've been previewing each game, but this given how this comes 24 hours removed from competition against the same Golden State Warriors, that feels pointless. Beyond Kobe playing, how much changes? The Warriors are who they are (nothing to brag out), and don't figure to throw many, if any, curve balls. Save the unexpected injury, we've probably seen every wrinkle the exhibition season will offer.
With that in mind, instead of breaking down GSW again, I've opted to examine what we've learned in the preseason:
Kobe Bryant is not going to be 100 percent for a little while
Sunday's Finals match of the Staples Center Shootout was a glorious evening because... well.. it's the Shootout. Hel-lo! But beyond majestic settings, the third quarter featured a colder-than-Hoth Kobe Bryant going batty from the field. Seven makes in eight tries for 19 points, with The Mamba reaching into his trick bag and pulling out all the stops. Coupled with an increasingly lively step, this appeared perhaps a sign Bryant had turned a definitive corner in recovering from knee surgery.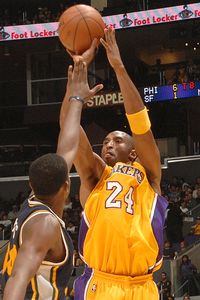 Noah Graham/NBAE/Getty Images
Patience, Grasshopper. Kobe's shot will return in time.
A two-for-13 followup in Anaheim and sitting out of last night's game (albeit purely as a precaution) says otherwise.
Mind you, Kobe's poor shooting doesn't concern me whatsoever. His track record as a player and rehabber equals an iron-clad benefit of the doubt. But initial expectations should be tempered and patience exercised. Phil Jackson revealed a plan to limit Kobe's minutes, which is exactly what I hoped he would do. Overdoing things would be a mistake. As long as Kobe continues to look fluid (yep) and there appear to be no physical setbacks (nope), I stand by our recent "mid-December" declaration as the earliest point to even debate fretting 24.
The new guys should fit in fine
Judged purely by cohesion, the combined forces of Matt Barnes, Steve Blake and Theo Ratliff has offered mixed results. The bench played terrific in the last two games, but Saturday against Denver, Jackson was disappointed enough to question the team's depth without Andrew Bynum. It will unfortunately take some time (and perhaps eventual member Lamar Odom) to discover a steady second unit flow. In the meantime, we've seen tangible evidence of what each guy brings to the table.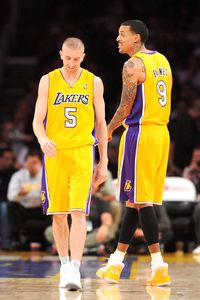 Noah Graham/Getty Images
Barnes and Blake have already shown the potential to
contribute.
Blake only recently snapped a severe shooting slump, but his triangular comfort is as good as any newbie guard of recent memory. His actions look decisive, and he's clearly prioritizing responsibilities towards a well-organized bench over "getting his." Barnes' shot has also come and gone, and his body language is more tentative than Blake's. But his nose for offensive rebounds and ability to play off ball have offset these issues. As for Ratliff, he's been able to assert his presence protecting the rim and has looked generally more spry than I expected. I'm not enamored at the idea of him playing a major role all season, but "Minerals" should help hold down the fort as Bynum recovers.
Still...
Andrew Bynum's presence is missed
LO has played extremely well as a starter and history has proved he and Pau Gasol are more than capable of carrying a championship load as the primary bigs. But Bynum changes the equation, whether you're talking size, rebounding or simply the options on Jackson's plate. The Lakers will survive while he heals, and it's much more important Drew be healthy come April and beyond. But the void will be noticed.
It remains to be seen if Pau Gasol can be the leader PJ wants.
PJ has steadily prodded Gasol to play take more ownership of the slack with Drew out and Kobe limited. His last few games were steps in this direction, and I particularly liked his fourth quarter efforts against Utah as the Lakers tried to claw out a win. Still, his coach wants more, and he's correct in labeling it a necessary step in the evolution of Pau as a truly elite player. The skills are unquestionable, but breathing rarefied air is about the entire package.
Ron Artest understands what's going on
The hot outside shooting is fantabulous, but I'm even more excited by the clarity exhibited. Ron looks less confused about where to go, how to create for others, spots to find buckets, etc. He's been making plays from the corner, the lane and the baseline, all the while delving into less "dribble-dribble."
No doubt, this being Ron Artest, there will be moments of head-scratching "huh?" That's just how our man rolls. But fingers crossed, we'll see him bogged down considerably less by a learning curve.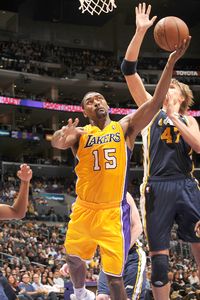 Win McNamee/Getty Images
It's been a strong preseason for Ron-Ron.
Shannon Brown looks ready to take a noticeable step
Not "Most Improved Player" or "Sixth Man of the Year" stuff, but rather a step solidifying his status as a quality rotation player. Beyond his shot falling and the more confident handle (healthy ligaments on your dominant hand will do that), Shannon just looks more mature and under control. No doubt, he remains prone to over-dribbling and gets shot-happy after consecutive makes, but even excess seems to come from a more grounded place. Shots or decisions aren't as rushed, and Shannon has mentioned a better understanding of the system and his teammates. Hopefully, this will culminate in a year of growth for a developing player.
Sasha Vujacic is getting married
First things first, congrats to Vujacic for getting Maria Sharapova to say yes and popping the question in style. (TMZ reports the ring is roughly the size of Slovenia.)
Engagement is an exciting time, but also a frantic one. As someone barely a year removed from taking the plunge, I remember vividly how much work lies ahead. There's never enough free time. But thankfully, being at work shouldn't prevent Sasha from carefully mulling halibut or salmon as a seafood option. He'll have that time on the bench.
Despite Thursday's excellent performance (nine points in 15 minutes, four makes in five tries), starting in Kobe's place only solidifies his fifth guard standing. Similar to when he started the second half in London, it's the move least intrusive towards what appears to be Phil's rotation. If Jackson were still debating between Shannon and Sasha as the guy behind Bryant, I figure he'd get a better look at Sasha with the reserves. That he doesn't seem terribly curious feels like a telling sign.
The competition for minutes behind Kobe has gotten so out of control, Sasha and Shannon are getting engaged to one-up each other.
Okay, I made this up. But the timing is kinda funny, if likely pure coincidence.
The Lakers are not going to treat the preseason with consistent urgency
Which only makes Tuesday's regular season kickoff against the Houston Rockets all the more tantalizing. Seriously, is it too much to ask to fast forward to Tuesday?