It's commonly said the triangle offense doesn't require the services of a "true" point guard. Certainly over the course of his 11 championships, Phil Jackson hasn't made a featured player out of any of those at his disposal, and most have been atypical compared to the ball-dominant, lightning bug types generally featured around the league.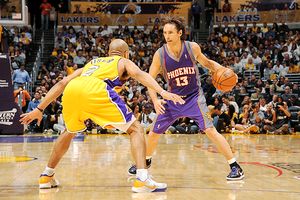 Andrew D. Bernstein/Getty Images
We all know what it looks like when Steve Nash plays against the Lakers... but what if he played with them?
That's how it's been, but why? Is it a chicken/egg deal, where P.J. hasn't made stars out of his point guards because he hasn't had star caliber players to choose from, or does the triangle truly favor Ron Harper/Derek Fisher/B.J. Armstrong types? With Phoenix on the docket for Friday night, I asked Brian Shaw Thursday at practice what would happen if they dropped two-time MVP Steve Nash into L.A.'s system.
"It would look the same," he said. "[Nash] would probably explore things differently than some other guys that we typically have out there. There are certain areas of the offense- for instance that Kobe [Bryant] manipulates to get himself at the elbows or down at the post to take advantage of his size or his athletic ability over his defenders. Somebody like Steve Nash can put himself in situations where he could create more screen and roll. We have everything that he's running in Phoenix, or in Dallas and the teams he's played for, we have the ability to do that out of our offense. We don't, because we don't have that type of player. But if we did, we would just incorporate those aspects of it for someone like him."
Q: So it would be a question of him learning the spots in the offense where he could best work a two man game, or find a driving lane, or whatever?
Shaw: "Exactly. Lamar [Odom], for instance, with his size and his ability, the way that he plays when he's in the game with Pau [Gasol] is different, because we put him out at the guard position. So he plays differently when he's bringing the ball up, than he does if we had him at a wing or a typical position that you'd have a 6'10" player. That was just another way the offense was manipulated to use his skills to the best of our advantage."
Q: Some people will say there's such a thing as too much point guard in the offense. Would you agree?
Shaw: "In respect that we don't even use the term. We call it a lead guard, because when you think of point guard, it's at the point. This offense is run with a two guard front. It gives you the luxury of not having to draft or go after that kind of guard, that's going to dominate the ball. Because in this offense, 80 percent of the time you're playing without the ball. So some players, it may frustrate them. I don't know how Chris Paul would work, for instance, because he likes to have the ball and direct all the time, and that's not something that this offense really [allows]."
Q: But Nash dominates the ball in that offense, as well.
Shaw: "For sure. It could work. But you don't have to feel like you have to get a player like that in order to get the offense to move."
Q: "In the end, a more prototypical point guard would have to adjust his game?
Shaw: "Yes."
Obviously this is an exercise in the hypothetical, because the Lakers are extremely unlikely to add any sort of ball dominating superstar PG for the next couple seasons at least. Doesn't make the hypothetical any less interesting, though.