The quest to go 82-0 chugs along.
Game of the week
Sunday vs. Trail Blazers, 6:30
For two seasons, I've been beating Portland's drum as the western squad best positioned to make the Lakers sweat. (Relatively speaking, of course, since I don't think any team in the conference is truly at their level.) 2010 fell short of my expectations, but blame injuries, not mediocrity. The Blazers carved out 50 wins and a Western Conference Semi-Finals appearance despite a honkin' 311 regular games missed due to injury.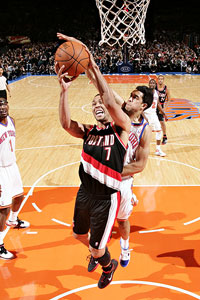 Nathaniel S. Butler/NBAE/Getty Images
Brandon Roy is a handful to control.
This speaks to the squad's enviable depth and collective resolve.
This season, the Blazers are off to a strong 3-0 start, despite the absences of Greg Oden and Joel Pryzbilla. As a team, they're racking a sound 101.3 ppg while simultaneously boasting the league's 7th best defensive efficiency rating (96.6). That's a nice formula for getting 'er done. Individually, Portland matches up well against the Lakers, between their length and rebounding (LaMarcus Aldridge, Marcus Camby), perimeter defenders (Nicolas Batum, Wesley Matthews), outside shooting (Batum, Rudy Fernandez) and play-making (Andre Miller). Plus, three-time All-Star Brandon Roy can help in every way mentioned while chipping in 25 points a night.
The Blazers represent the first truly legitimate test the Lakers will face this season: A team widely expected to make a playoff run, and totally unafraid to battle the purple and gold. It should be a terrific game and I wish we could borrow Adam Sandler's magic Tivo remote to get there ASAP. (But without Sandler tagging along, because I find him very annoying.)
Other games
Tuesday vs. Grizzlies
I could describe the familial emotions whenever los hermanos Gasol square off, but wouldn't you rather hear Pau's take?
Yeah, I thought so, too.
Wednesday @ Sacramento
If the Kings were a stock, now would be the time to buy low. They're not yet a truly good team, but unlike some teams hoping to finish .500, the future is bright and the direction is clear. Sacto's foundation is a burgeoning star wing (2010's Rookie of the Year Tyreke Evans) and a big hopefully following suit (rookie DeMarcus Cousins, averaging an impressive 13 points and seven rebounds in 25 minutes). The duo is surrounded by a well-selected supporting cast providing size (Jason Thompson), shooting (Francisco Garcia, Omri Casspi), play-making (Beno Udrih) and toughness (Carl Landry).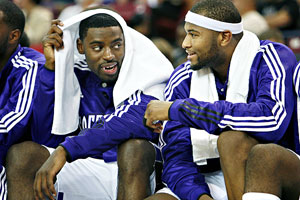 AP Photo/Steve Yeater
Evans and Cousins could become one of the
best duos in the NBA.
They're not quite good enough to beat the Lakers firing on all cylinders, but they're definitely dangerous enough to beat the reigning champs if taken lightly. In any event, the Kings are once again a fun team to watch, which makes the Pacific division by extension that much more entertaining.
Friday vs. Raptors
The post-Bosh era in Dinosaur country may not be immediately fruitful (nor profitable, if two home games are a proper indication for ticket sales down the pike). It is, however, remarkably international. The NBA's only Canadian team has players from Italy (Andrea Bargnani), Lithuania (Linus Kleiza), Spain (Jose Calderon), Brazil (Leandro Barbosa), Australia (David Anderson) and Nigeria (Solomon Alabi), plus nine Americans.
What does this have to do with creating wins? Not much, but it's probably a fascinating locker room, even if the on-court product lags by comparison.
Player to Watch
Ron Artest
It's typically Ron-Ron's job-job to cover an opponent's best perimeter threat, and this week offers him a smorgasbord. Against the Griz, he'll shadow the uber-athletic Rudy Gay (and perhaps even the uber-athletic O.J. Mayo, should the situation present itself). Evans is a tank, even for a guy as strong as Artest. And when he's not muscling defenders, Sacto's combo guard is often leaving them in a dust cloud. As for Roy, Artest famously declared him the league's toughest cover during the 2009 playoffs. That about says it all.
Meanwhile, our neighbors across the northern border don't feature a high profile wing. Still, I could see Artest on Kleiza, Barbosa and DeMar DeRozan at various points, which offers respective challenges of outside shooting prowess, speed and athleticism. Variety is the spice of life, as the saying goes.
Two Thoughts
1) Luke Walton could be inching closer towards the green light for suiting up. If so, I'm wondering how quickly he'll be added to the active roster, and whose spot he'd take. The likeliest candidates would be Devin Ebanks or Sasha Vujacic, and no matter what course of action Phil Jackson takes (including not dressing Walton at all), we're talking about three guys unlikely to sniff much court time anyway. It's hardly an earth shattering conundrum, but I'm curious to see how it plays out.
2) The first three games take place over four days, with the opening pair in back-to-back fashion. On the flip side, they're also against teams not even remotely in the Lakers weight class. Thus, the resulting grind is largely in the Lakers' hands. Play focused, smart ball and this shouldn't be horribly taxing for the starters. Play down to the level of competition and we could be looking at a very tired bunch come Sunday when the Blazers roll in.