Staples Center was filled Sunday with any number of goblins, witches, dudes in prison garb, bumble bees, cowboys, cowgirls, a fella in a Mr. Incredible outfit, another dressed like that Hamburger Helper hand, and superheroes, plus someone dressed like Trevor Ariza (actually, that was Devin Ebanks).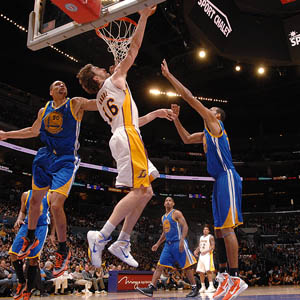 Noah Graham/NBAE/Getty Images
Pau Gasol was once again a monster inside for the Lakers, scoring 26 points to go with 12 rebounds and four assists. Sounds like a full night.
It was, of course, Halloween, but while there was all sorts of spookiness in the air, plus ghost-shaped cookies in the media room, none of the scary stuff extended to the court for the Lakers. They raced out of the gate, opening up a 20-point lead after one, and tossed it in cruise control from there.
All in all, a very strong night. One even in which Kobe Bryant proclaimed his knee 100 percent (so stop (beeping) asking). Is he telling the truth? Doubtful, but it's certainly reasonable to believe he's bending the curve in the proper direction. Here's the box score, and the Lakers Live! replay. Read on for the breakdown.
Three Up:
The first quarter -- The Warriors entered Staples Center feeling a little saucy. Two wins in two tries to open the season, which given their recent history constitutes quite a Dear Diary moment. That said, there's no way they should beat the Lakers in their building, particularly with Stephen Curry on the sidelines because of a bum ankle. But just in case the Warriors were dreaming big, the Lakers dropped the hammer early and extinguished virtually all hope for the visitors. L.A. ripped off a 14-2 run over the first 4:11, and finished the quarter up 34-14. Lamar Odom led the way, hitting the first shot of the game, and a triple at the top of the key to finish the first 12, en route to 11 points. For good measure, he dished out four assists and grabbed seven rebounds, including five on the offensive end. Odom's work was a huge reason the Lakers, who shot only 45 percent, were able to extend enough possessions to build the lead. Defensively, the Lakers held Golden State to 36.8 percent from the field, and forced five turnovers.It's almost impossible to overstate how good Odom has been through the first three games. His impact has been massive, similar in some ways to his season two years back, when Odom was an adjusted plus-minus giant. Even then, though, he didn't post these sorts of numbers. It's unfair to expect him to post near trip-dubs night in and night out, but the strong play can certainly continue.

Pau Gasol -- He got off to a sluggish start, missing six of his first eight shots, but from there found his mojo. Gasol was 8-for-11 over the final three quarters, finishing with 26 points and 12 rebounds, plus four more assists. Even the early misses were productive. Gasol drew so much attention in the post, he opened up a ton of space on the glass for teammates, who were able to turn his errant shots into points. For Gasol to aggressively shoot in the face of that much attention is a calculated move. He knows if there are three guys moving to him, someone will be uncovered.

Another breezy night for Bryant -- He hardly was a clock puncher, registering 20 points on 8-for-16 shooting, seven rebounds, and a pair of assists. The best number in his line, though, was the 27 minutes he logged. That's a sweet number for the Lakers, the kind hopefully paying dividends as the season wears on. On the court, the work of Odom and Gasol (as well as Derek Fisher, who missed only one shot on his way to 14 points) mitigated the need for Bryant to do much heavy lifting. It was a similar scene for Bryant in Phoenix, where the Lakers were very effective distributing the ball through their bigs in the post and saved Kobe heaps of labor, except Sunday's run was even less stressful. On any given night, it's great for the Lakers to find ways to limit his minutes. It's also a plus if other guys are able to lighten his load. To get both in consecutive games?
Sweeter than any Halloween candy (note the organic holiday reference).
Three Down:
Second-quarter run for the second unit -- When Theo Ratliff, Matt Barnes, Steve Blake, Shannon Brown, and Ebanks took the floor to start the second quarter, the Lakers were up 34-14. When Phil Jackson replaced nearly all of the group at the 6:36 mark, they were up 36-27. That's not good. The seconds, so good through the first two games, stalled offensively, and while it did no real damage in the end, 13-2 runs for the other team aren't exactly welcome. In one particularly bad sequence, the Lakers turned the ball over three times in barely more than 90 seconds. After the game, Brown pointed to spacing issues, and Barnes acknowledged Phil Jackson was likely experimenting a little, giving the subs a chance to run without a starter to anchor them. 20 point leads allow that sort of luxury. Things improved as the game went on -- Barnes was particularly good, finishing with seven points, six boards, four assists and a steal -- but their first bit of burn was a bust.

Ron Artest's shooting -- Every once in a while, Artest is still prone to those "Really, Ron?" shooting nights, where it seems his decision making is lost in the fog. Sunday was, to say the least, one of those. Not all of his 11 shots were bad, but too many were. An ill-advised triple in semi-transition in the first half, bookended by a very strange stepback jumper off the dribble. He eventually put a couple buckets down, but not until the fourth quarter, and only after missing his first seven shots.

Punt. The Lakers won by 24, crushed an inferior opponent on the boards, led by as much as 32, held Golden State to a good percentage (40.0), and shared the ball. No need to pick nits.