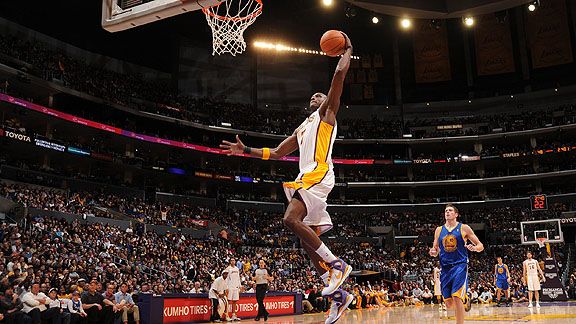 Noah Graham/NBAE/Getty Images
Lamar Odom scores a basket, but it was his defense -- and that of other Lakers -- that dazzled Golden State coach Keith Smart.
The Lakers smothered the Golden State Warriors with defense Sunday, holding a team that came into the game averaging 120.5 points per game on the season to just 83 points on 40.9 percent shooting.
Warriors head coach Keith Smart marveled at the Lakers' perimeter defense in particular.
"They're difficult because when those guys are playing at a high level, one, they kind of take you out of where you want to get the ball from," Smart said. "You have a point guard in [Derek] Fisher who makes you work to get the ball in a scoring area; you have Kobe [Bryant] who will make an off guard work to get the ball in his area; you have [Ron] Artest who is going to do the same thing and then you have the length of [Lamar] Odom. They have a group out on the perimeter that can take you out of the comfort zone that you want your offense to be in."
And Smart didn't even get around to mentioning Los Angeles reserves Shannon Brown, Steve Blake and Matt Barnes who are all tough on-ball defenders in their own right.
The perimeter defense helped create 10 steals, many of which created transition opportunities for the Lakers. Los Angeles outscored Golden State 15-13 in fastbreak points, which is a staple of the Warriors offense.
Welcome to the NBA
He had to fidget through two games on the bench, waiting for his name to be called to enter the game, but Lakers rookie Devin Ebanks finally made his NBA debut Sunday.
"It was like any regular game really," Ebanks said. "I just tried to hit the shots and stay ready."
Ebanks said the wait to play started to wear on him a little.
"I got a little antsy, a little anxious, I think it reflected in my game a little bit," Ebanks said. "But, those are just little jitters. I got them out and I'll be ready for next game."
Ebanks, a second-round draft pick out of West Virginia, was a breakout star during training camp, earning praise from coaches and teammates alike, but his first taste of real NBA basketball was more of a learning experience than impressive display.
Ebanks started the second quarter and along with four other substitutes let a 20-point Lakers lead dwindle down to nine when he was taken out after picking up an offensive foul with 7:03 remaining in the quarter. The 6-9 forward finished with four points, one rebound and one steal in 12 minutes, going 0-for-4 from the field, but 4-for-4 from the foul line.
"I just [need to] slow down," Ebanks said. "When I'm out there I'm going 100 miles per hour, so I just need to slow down, calm down and let the game come to me."
Ebanks missed one wide-open shot from the short corner, shooting it clear over the basket and costing fellow rookie Derrick Caracter an assist after he passed it to him.
"That's a shot that I usually hit," Ebanks said. "I'll hit it next time."
Like Theo, I Wanna Be Like Theo
There was a photo of Theo Ratliff resting in his locker before the game -- nothing out of the ordinary about that. What makes the photo interesting is it was affixed to the label of a bottle of Rebound Fx with the words "All-Star Theo Ratliff" below it. Move over Lamar Odom, there's a new Lakers pitchman in town.
"I'm a long-time user of minerals and that's a form of it," Ratliff said about the "Tropical Tirade" and "Citrus Punch" flavored bottles. "The minerals replenish the body while you exercise and also bring you energy while you're playing."
The 37-year-old center said that "just about the whole San Antonio team" used the product last season when he was on the Spurs. Ratliff added that he has yet to approach his teammates about the drink, in part because Derek Fisher already has a tie to an energy drink called FRS which is used by several members of the team, but several players have inquired about Ratliff's concoction.
Dave McMenamin covers the Lakers for ESPNLosAngeles.com. Follow him on Twitter. http://twitter.com/mcten.