After Sunday's win over Golden State, Matt Barnes mentioned how he'd gone out to buy some t-shirts a the mall near his place earlier in the week and quickly found himself the center of attention, surrounded by enthusiastic Lakers supporters. Barnes isn't a star, and thought he could run some errands under the radar. Nope. Not in this city.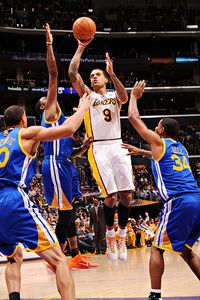 Noah Graham/Getty Images
Thanks to a skill set based on hustle and vision, Matt Barnes has made a solid impact in his first week as a Laker.
He's fitting in well with fans, and more importantly, with the Lakers. Through three games, despite a continuing crash course in triangle 101, Barnes is averaging eight points, 5.3 rebounds and two assists a game, in 19 minutes.
Bringing in Barnes was a move completely without downside for the Lakers. He added badly needed depth at small forward, one of the only structural weak points on the roster. Practically speaking, the Lakers functioned last season with Kobe Bryant as the backup three. Given his rather weighty responsibilities, that ain't a good idea. That said, I wasn't exactly sure how the Lakers would use Barnes on a very crowded roster, particularly once Andrew Bynum becomes available, adding another (more or less) 30 minute player to the rotation. I still don't really know. Neither does he. "It's kind of been up and down a little bit, because sometimes I come in the first [quarter], sometimes I come in the second," Barnes said after Sunday's win. Nor has he been given a blueprint for what might come down the road.
Early signs indicate Barnes will find his minutes.
He's a good, but not great shooter. Doesn't quite have the size to play the four in any semi-conventional system or the handle/jumper to operate as a two. Good at a lot of things, but not necessarily great at much. What he does excel at is half skill, half will: Barnes is excellent off the ball. "He likes to cut. He's a slasher. He's an outside shooter, but he also likes to make cuts," Phil Jackson said Monday. "This offense is really generated towards that. Guys who like to cut, make hard cuts to the basket. So that's really important that he continues to do that."
The triangle is hardly the only offense in which moving without the ball is a virtue, but given the natural learning curve it comes with, Barnes' natural aggressiveness filling the lane and attacking the glass (two of his five rebounds a night are offensive) can paper over some holes in his understanding of the system and help extend his playing time. The glass work on both ends is hardly a fluke- Barnes was third in the league last season among small forwards in rebounds per 48 minutes.
He was, notes John Hollinger in his preseason scouting report, 12th in True Shooting Percentage at his position, despite modest totals from the perimeter thanks mostly to finishing hustle plays near the bucket or making himself available off a double team. He's certainly aware playing along side L.A.'s frontcourt talent won't limit those opportunities. "With Pau being such a great passer and so much attention on everyone else, those corners get wide open. Definitely being able to cut and find the little spots is something I've been able to pick up quick," he said Sunday night.
Not surprising, really. As Evan Dunlap of OrlandoPinstripedPost.com notes, when he was with the Magic, Orlando's broadcast team would periodically say that Barnes' full name was really "a cutting Matt Barnes."
Barnes joked after the Golden State game how his presence only complicates things on the defensive end, because now there are three guys- himself, Kobe Bryant, and Ron Artest- all vying to guard the opponent's best player. Most nights, Barnes will probably lose out, but the defensive versatility, like the rebounding and off-ball movement on the other end, will only enhance Jackson's ability to use him.
I was a big fan of the signing, in part out of respect for what Barnes can bring as a role player off the bench in L.A.'s system, but more for the depth he added at a position of need. Teams as good as the Lakers don't often get a crack at late-summer luxury signings, and that's what Barnes was. But while the latter is obviously huge, it's very possible I underestimated the former.