Sunday, the NBA lost a beloved and revered member of its fraternity with the death of Maurice Lucas. The power forward, a critical part of the Portland Trail Blazers' 1977 championship team, was 58 when he died after a long battle with bladder cancer. One of Lucas' title-winning teammates was Hall of Famer Bill Walton, who thought so highly of "The Enforcer" he named one of his children in his honor.
You know that child as Luke Walton.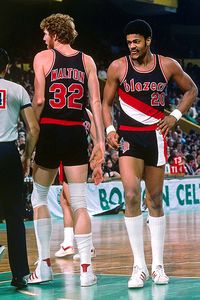 Win McNamee/Getty Images
Walton and Lucas forged a close friendship on the way to winning a title.
After Monday's practice in El Segundo, I caught up with Luke to get some thoughts about his namesake. He offered some touching memories and details about growing up around a man he knew as a gentle giant.
Andy Kamenetzky: How well did you know Maurice Lucas growing up?
Luke Walton: We knew him pretty well. He used to spend, not a lot, but a good amount of time down in San Diego. He'd come down with his family. Over the last couple of years, the only time I really saw him was when we were in Portland. But we always made a point to talk with each other for a while before and after the games. That type of stuff.
AK: Obviously, your dad thought a lot of Maurice to name you after him. How did he used to describe Maurice to you, during his playing days and off the court?
LW: He always told us the greatest two teammates he ever had were Larry Bird and Maurice Lucas. He had nothing but great things to say about him, on and off the court. His character. The person he was. It's obviously tough, knowing my dad just lost one of his best friends. He always spoke very highly of him and every time we saw him, he was always great to us. A lot of fun to talk to. To hang out with. A big, loving, caring type of man.
AK: He had that enforcer reputation on the court, but off the court, he was known for being the polar opposite.
LW: Yeah. We used to watch highlights of him and stuff and you could see it. He was an enforcer, which was funny to us, because we knew him as the nice big bear that used to joke around with us and hang out at the house. Go swimming with us. That type of stuff.
It was kind of weird to see him in that other role, as kids that didn't know any better.
AK: Do you have any particular memories of him as a kid? Interactions with him?
LW: Just thinking how massive he was. He'd come to the San Diego house in the summer and we'd always get excited he was coming down. He always enjoyed it. It was me and three of my brothers, so we were always trying to get into trouble and have wrestling matches. He'd be right there in the middle, encouraging it, and having fun with us. I have great memories of Maurice.
AK: Fans used to do the same "Luuuuuuke" chant for Lucas that you get during games. It's interesting, with the namesake connection.
LW: Yeah, and I had no idea. The first time they did it to me, I was high school and I didn't know what was going on. My dad was loving it. He was like, "They used to do that for Big Luke!" They called him "Big Luke" and me "Little Luke." I had a poster in my room that he had signed for me of him stuffing somebody. It was a "To my namesake" kind of thing. "Good luck, Maurice Lucas." And that was always in my room growing up. But my dad loved it the first time he heard me get my "Luke" call.
AK: Did your dad ever mention what it meant to him that you were named after Maurice?
LW: Not really, but it's pretty obvious, I think, how highly my dad thought of him, to name one of his sons after him. It was right after they stopped playing together, so he obviously holds him in the highest regards as a person.
AK: What do you think the NBA lost with Lucas passing?
LW: The NBA is a family and they lost a big member of it. He was a great player. He was getting into coaching. A huge part of the NBA. And whenever we lose anybody like that, it hurts. He definitely [had] a huge role in making it what it is today.
For more tributes to Lucas, read the following pieces by Jack Ramsey (ESPN.com) and Zach Lowe (The Point Forward), plus any of fine articles at The Oregonian. Also, here is a clip of an infamous sequence from the 1977 Finals involving Lucas and Daryl Dawkins. Considering the league now suspends players one game for leaving the bench during a fracas, I can't even imagine the penalty for this in 2010.