It's still early enough in the season for the Lakers to run through a few "firsts." Wednesday in Sacramento, it was the first time they ran in on the wrong side of a back-to-back. Granted, they prepped pretty well for it, waxing Memphis so badly Tuesday night that all the starters got plenty of rest. Still, it's two games in two nights. There was at least some curiosity as to how the Lakers would fare against an energetic Sacramento team that had started the season 3-1.
Questions answered. The Lakers ran their record to 5-0, with a 112-100 win in our state capital. Here's the box, and the Daily Dime Live Replay. Below, some of the good and bad stuff...
Three Up:
1. Kobe Bryant -- If one measure of a player's greatness is his ability to make the game look easy, then Bryant showed once again he's really, really great. We're used to seeing him take over games, taking a flagging team and tossing it on his back, grinding through double-teams and making shots from impossible angles. Wednesday, though, was different. Bryant basically put the game on a string and controlled it without seeming to work all that hard in the process. He hit his first shot -- a 3-pointer -- and from there completely dominated the first quarter, scoring or assisting on four of L.A.'s first five buckets and factoring into 10 of 15 scoring plays. In the second quarter, he elevated on another triple while absorbing a foul from the very large body of Tyreke Evans, a good sign for the knee we're not supposed to talk about, noted ESPNLA's Dave McMenamin during the DDL chat. By halftime, Bryant had 21 points, six boards and eight assists, the last coming on a great full-court pass to Matt Barnes just before the buzzer.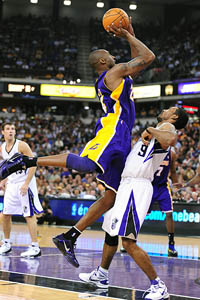 Kyle Terada/US Presswire
Kobe Bryant didn't have to bend all that much to log his first triple double of the 2010-11 season.
Bryant's second half was a little quieter, but still noteworthy. When the Kings brought double-teams, Bryant found the open man. When they didn't, he attacked the basket or took the jumper. The final line -- 30 points, 10 rebounds, 12 assists -- was damaged a touch by a rough patch in the fourth quarter, but obviously it was a great game. (By the way, he went into the 47th minute before registering a turnover.) Is there such a thing as a bad triple-double?
That's a rhetorical question. Don't answer.
2. Derek Fisher -- Like a crocodile lurking in the reeds (or wherever crocodiles lurk), Fish was quiet for much of the night. Only two shots and four points at the half. You wouldn't have noticed him much in the third quarter, either. But in a critical stretch of the fourth after the Kings had closed a lead once as large as 20 to eight, Fisher struck, grabbed the game in his jaws, pulled it under water and thrashed it around until it was good and dead (or something like that). Between the 4:09 and 3:14 mark of the final quarter, Fisher ran the length of the floor after grabbing a rebound and drew a shooting foul at the other end. Two trips later, he drilled a 3 from the corner, followed by an and-one on L.A.'s next possession. All seven of his post-halftime points inside a minute, effectively icing the game.
Seems like we've seen this movie from him before, in a few different forms.
3. LaPau Gasodom -- Kobe was the star, but one reason he was able to make things seem so effortless was support from the other two-thirds of the team's acting Big Three. As has been the case through the first four games, both Odom and Gasol were huge for the Lakers on Wednesday night (40 points and 19 rebounds between the two). After absorbing some enthusiastic and effective play early from Sacto's DeMarcus Cousins, Gasol took it to the rook in that cool, smooth Gasol way, dropping jumpers, drop steps, and cool finger rolls on him. Odom continued his red-hot outside shooting as part of an 8-of-12 shooting night, including a clutch step-back 3 in the third that helped quash a mini-run from the Kings.
When those two are that good -- Ron Artest chipped in with 17, it should be noted -- Kobe is impossible to stop. Which makes Gasol and Odom impossible to stop, as well. Everyone wins.
Honorable Mention: Six turnovers. On the road. Well done. Want to keep an inferior-but-perky team at arm's length? That's how.
Three Down:
1. Defensive Rebounding -- I mentioned before the game that the Lakers have struggled on the defensive glass thus far. Tonight was no exception, particularly in the first half. The Lakers held Sacramento to 40.8 percent shooting over the first 24 minutes, but allowed nine offensive rebounds, allowing the Kings (particularly Carl Landry -- go figure) to earn some second- chance points and keep the game within reach for the home team. It wasn't a disaster, given the nine-point lead L.A. took to the locker room, but more attention to rebounding could have easily pushed it to 15 or more.
2. Forcing Turnovers -- The Lakers did a great job taking care of the ball, but didn't do much to take it away from Sacramento. While they held the Kings to a reasonable percentage from the floor (44 percent), the Lakers forced only eight turnovers.
3. Malaise -- I'm not one to harp on a lack of killer instinct, or crush a team for not "stepping on the neck" of an opponent. This is the NBA. If a team builds a 20-point lead, that's pretty good. For it to fall down to eight at one point isn't great, but it's also not an emergency. Awards are not necessarily given for point differential (except by computers). Still, the Lakers had a chance to polish off the Kings without having to tax their starters deep into the fourth, but didn't. When opportunities like that slip by, there's at least a little disappointment. On the other hand, only Gasol (43) played anything approaching heavy minutes.
Overall, another strong game from the Lakers, who move to 5-0 ahead of Friday's visit by the Raptors.
More to come...