Here are 10 things to take away from the Lakers nabbing win No. 5 by beating the Sacramento Kings by 12 points Wednesday ...
1. Lamar Odom banged his bandaged left thumb in the second half when Francisco Garcia inadvertently backed into him. He winced in pain on the court. Kobe Bryant put his arm around his shoulders. Lakers trainer Gary Vitti pulled up the glasses that dangle around his neck and put them on his face so he could examine L.O. Fans watching at home thought this would be the end to Odom's fantastic start to the season.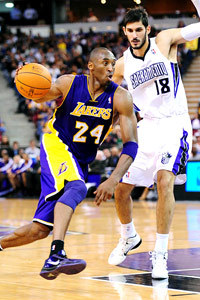 Kyle Terada/US Presswire
Kobe Bryant recorded his 17th career triple-double with 30 points, 12 assists and 10 rebounds.
Only it wasn't that bad. But it sure sounded bad.
"It kind of like popped in," Odom said before imitating the sound. "[Garcia] caught [my finger] pretty good."
Odom didn't even sub out of the game, shaking off the pain through a timeout and not long after nailing a 3-pointer, his second of the game, to close out the third quarter.
"We thought maybe hurting his left hand might have helped his shooting," Lakers coach Phil Jackson said before the game about Odom's recent shooting stroke. "It's given him a little more conscious thought about really shooting the ball right with the right extension and everything else. It's helped."
Odom is now 8-for-10 for the season from downtown.
2. Another way to measure Odom's early-season success -- heading into Wednesday's game, Odom's +/- for the season was a +73, good enough for second best in the league behind the Miami Heat's Chris Bosh who had a +75.
3. With 4:46 remaining in the fourth quarter, Derek Fisher had attempted only two shots all game and the Lakers let what had once been a 20-point lead, dwindle down to eight. With 3:14 to go in the fourth, Fisher had attempted three more field goal attempts and three foul shots and the Lakers led by 13. The game-sealing sequence went like this: Fisher grabs a defensive rebound and forces the action on the other end, getting to the line; Fisher makes the first free throw; Fisher misses the second; Fisher gets a clean look at a 3 after missing the second when Gasol grabs the offensive board and feeds him; Fisher misses the clean look; the Kings cut the lead to seven points; Fisher gets another 3 from the corner which he buries; Fisher strips Carl Landry and streaks down the other end for an and-one layup; Fisher demoralizes the home crowd.
"I felt like I missed an easy, open 3, so that next one out of the corner I was shooting it before it even touched my hand," Fisher said. "I already knew I was going to shoot it and it was going to go in."
He didn't even think he'd be going back in the game because L.A. was up by 14 headed into the fourth, but he said, "Phil went back [to me] and I was just glad I was able to help."
Said Odom, an avid New York Yankees fan: "The Yankees got Derek Jeter. We got Derek Fisher."
(This, a night after Bryant compared himself to closer Mariano Rivera. Sheesh. Does that mean Rudy Garcidueñas is Don Zimmer?)
4. After Kobe finished with 30 points, 10 rebounds and 12 assists (more on the triple-double later), a reporter asked if his stat line settled the back-and-forth with PJax once and for all whether he was 100 percent healthy or not.
"I don't give a [expletive] whether it settles it or not," Bryant said. "I'm 100 percent. It is what it is."
In nicer terms, Bryant explained: "I feel fine. I feel normal. I just feel better."
5. My media seat was kind of behind the Lakers bench and I got a chance to chat with a Kings season ticket holder whose had seats behind the visiting bench for years. He told me that the first time the Dallas Mavericks played the Kings in the playoffs back during the Chris Webber-Vlade Divac glory days, Mavs owner Mark Cuban literally bought back some of the home court advantage for the Kings at Arco Arena by offering $1,000 to every fan sitting directly behind Dallas for their cowbells. When the fans showed up in the same seats for the next game with their cowbells in hand again, Cuban made the same $1,000-per-cowbell appeal. Great story about Cubes.
6. Here's a connection between the two teams you probably didn't know about: Kings center Samuel Dalembert's younger brother and adopted son are playing on the basketball team at Kobe's old stomping grounds -- Lower Merion High School.
7. Whatever Kevin Garnett said to Charlie Villanueva on Tuesday -- whether it was "cancer patient" or "cancerous" is up for debate -- provided a perfect time to examine the role trash talk plays in the NBA.
"I guess it's been part of the game for a long time," Jackson said. "Tex Winter used to tell me that Jackie Robinson used to trash talk really bad on the basketball court, so that's a long time away. So it's been going on as long as I know ballplayers. It's a close-contact game, you're right in your opponent's face half the time, so things go on."
Jackson said the best trash-talker he's ever been around was former teammate Dick Barnett and not former player Gary Payton.
"Gary didn't have the subtleties that Dick did."
Asked if there are some things that are just plain off limits, even in the heat of battle, Jackson said there is and when they're said, stuff like this happens.
"We've seen an occasion where Kobe and Reggie [Miller] met at half court at the end of a ballgame and went after each other, so obviously something had gone on during the course of that game and I don't know exactly where the barrier was crossed, but somewhere or other, barriers get crossed."
8. Hard to decide on the best random moment in the locker room after the game. There was Ron Artest shouting from the shower over and over again to nobody in particular, "Is there any soap?" causing Pau Gasol to interrupt his train of thought while conducting an interview and replying in a deadpan voice to the reporters surrounding him, "No soap, Ron. No soap. No more soap." There was a reporter asking Bryant in earnest what his thoughts were about Luther Head holding him to five points in the fourth quarter and Bryant staring the guy in the eye and replying, "Are you kidding? Is this a joke?" Both are strong candidates, but the scene that won it for me happened when Matt Barnes ushered his young nephew around so the kid, how had to be about 6-years old, could collect autographs from the team. When they got to Fisher, Fish got his sneakers out of his locker and said, "Do you want these?" Without missing a beat the kid goes, "No. I can't fit in them."
9. Quotes of the night: "The Lakers don't even know who we are right now. We would like to build a rivalry with the best team in the world but to answer that question as if there's a rivalry, that'd be an insult to them." -- Kings coach Paul Westphal lending credence to Bryant's response to the Luther Head question.
"We'll need a miracle" -- a Kings player who would rather not be named, to me about what it will take for the league to avoid a lockout this summer.
10. Stats of the night: Bryant's triple double was the 17th of his career and his first since Jan. 21, 2009 at the Staples Center in a "road" game against the Clippers … The six turnovers by L.A. was a vast improvement after averaging 19.5 miscues in the last two games. Six ties the Lakers' season low from the 2009-10 campaign … Bryant and Gasol have now both scored 20-plus points in all five games the Lakers have played to start the season.
Dave McMenamin covers the Lakers for ESPNLosAngeles.com. Follow him on Twitter.