Before the game, Steve Blake acknowledged he delivered all the inside information at his disposal to his new teammates and coaches before Sunday's game against Portland, where he spent nearly three seasons before being traded to the Clippers last year.
Fair to say the man formulates quite a scouting report.
Seen as the first big test of the young season, the Lakers throttled the Blazers, controlling the pace of play on both ends. Offensively, L.A. was in an absurdly good rhythm, particularly in the first half. Everything -- and I do mean everything -- broke in its direction, whether it was a Pau Gasol pass on the interior tipped high, but still finding Matt Barnes underneath for a bucket, or a Ron Artest layup partially blocked by Marcus Camby but still falling for two.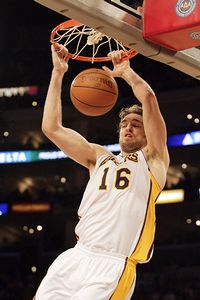 AP Photo/Francis Specker
Kobe Bryant picked up a triple double Wednesday in Sacramento. Sunday night, Pau Gasol registered his second as a Laker.
Not a bad way to enter the work week. Here's how it broke down ...
Three Up:
1. Pau Gasol -- For the second time in three games, a Laker earned a triple-double. Wednesday, it was Kobe Bryant. Sunday was Gasol's turn. He was locked in from the start, as the Lakers orchestrated their offense through him in the high and low post. The assists came in all shapes and sizes. He found Blake wide open in the right corner as he came off a high screen, then a few trips later made a great pass from the top of the key to Derek Fisher in the left corner. Both earned the Lakers easy 3-pointers. He put the ball on the floor, drawing the defense before sliding a nice feed to Derek Caracter for an easy dunk, and for his 10th dime delivered a perfect pass to a cutting Artest.
One game after going nearly three quarters before grabbing his first rebound, Gasol was all over the glass, and Gasol tied it all together with his typically understated-but-creative offensive game. When matched up with LaMarcus Aldridge in the post, Gasol used his superior size to drop any number of baby hooks. When pitted against Marcus Camby, Gasol moved higher on the floor, where a weakside shot blocker like Camby is reluctant to go.
Final line: 20 points, 14 rebounds, 10 assists, plus three steals.
"He made incredible plays out of the double teams. He made all the right plays [depending] on what the defense is doing. You pick your poison with us and you got to make a choice," Bryant said.
2. Artest -- There are teams out there against which he doesn't have a natural matchup. Groups that'll go small, or work at a particularly high pace, trying to limit half-court sets. Over the first six games, L.A. has faced a few of those. Tonight, though, Artest's mission was clear: Brandon Roy. And as it was last season when he swallowed Carmelo Anthony and Joe Johnson whole during the regular season before silencing Kevin Durant in the playoffs, when given a clear, linear, uncluttered thing to shut down, Artest did some serious shuttin'. Roy went without a field goal until about halfway through the third quarter as Artest kept Portland's star away from the rim, forcing him to either give up the ball or shoot from less-than-ideal locations.
Give his teammates credit too. Defending Roy requires good work coming off and around screens. The primary defender obviously has a big role, but if the other guys aren't on the stick, breakdowns happen. There were few for the Lakers, particularly in the first half, when Portland scored only 36 points on a wonderfully symmetrical 36 percent from the floor.
Even better for Artest, he was frequently able to use his size advantage against Roy on the other end, getting himself down on the block against Roy to create opportunities for the Lakers.
Interestingly, both Phil Jackson and Artest downplayed Ron Ron's work work on Roy. "I'm not so sure that's all our making," Jackson said of Roy's subpar game. It looked to me like he was not ready to attack as much as he normally is. It looked like he was a little hesitant out there... I thought the team defense was good." For his part, Artest thought Roy's problem was physical. "I think he was hurt. I think he was hurt. Back, or knee or something," he said. "He wasn't himself. I've played against Brandon Roy a lot of times. He wasn't himself."
Either way, a limited Roy can still be dangerous, and the Lakers took him completely out of the game.
3. Defensive Rebounding -- It's the only true weakness the Lakers have had through their first six games, but Sunday they were rock solid in that category. In the first half, as they pushed out to the big lead, the Blazers had only one offensive rebound. This against the team that, at least heading into Sunday's game, had the best offensive rebound rate in the league.
On the night, Portland managed only six ORB's as the Lakers, beat handily on the glass Friday night against the Raptors, got back on the right side of the ledger, outboarding the Blazers 49-25.
Three Down More Good Stuff:
Seriously, after a game like this, what is there to complain about? Derrick Caracter missing a layup late in the fourth? Actually, the kid played pretty well. As soon as he slows down a little bit, those baby hooks will start dropping. But he's getting some decent looks, and working hard on D.
So with that in mind, here are more good things from Sunday's win:
Lamar Odom -- 21/12/3, bouncing back well from his worst game of the season two nights ago.

Turnovers -- The final number (15) swelled as the game loosened up over the final quarter, but overall the Lakers again took good care of the ball. Only six giveaways in the first half. Hold on to the ball, don't give up offensive rebounds. This is a formula for limiting another team's points.

24:49 -- The number of minutes and seconds Kobe played Sunday.

Balance -- There was a point in the second quarter when the Lakers had six players scoring between six and 10 points. Overall, in the first half nine players scored, and all five starters had at least seven points. When the offense is this egalitarian, the Lakers are extremely hard to beat.

Classic Sasha -- With under a minute to play in a blowout, Sasha Vujacic was hit on the elbow -- or so he said -- on a 3-pointer. After the make, he went back down the floor slapping his elbow angrily at the official. Had the game not been nearly over, he'd have been T'd up, then roundly mocked by his teammates.
Early postgame quotes:
Nate McMillan, L.A.'s play- They're playing great basketball, leading hte league in scoring and hitting on all cylinders it seems like. [They're] shooting the ball extremely well. They were coming off a game where they played OK, they didn't play really good, so you knew they were going to come out tonight. They just came out and jumped on us... They're the world champs. They play great basketball."
McMillan, on Odom- "Lamar Odom right now is playing [like] he's an All-Star. His numbers and what he's doing for that team, shooting the ball, rebounding, handling the ball- he's playing great basketball for them."
Phil Jackson, on pushing for the best record- "We're not going to do anything like that. The season is too long, the travel is too difficult. We're just going to try and step out and handle people in our division and our conference, and play as it comes along. We have a relatively good schedule here early in the season. Denver will be a tough game early this week. We have multiple contests coming up, we'll go out on the road for three games soon. We'll see how we do out on the road."
One final note: The Blazers are considered, at least in some circles (including this one) to be a prime contender in the Western Conference. Don't let tonight fool you- if Portland gets healthy, they'll be a tough opponent. But the big thing making them a tough matchup for the Lakers is an abundance of length... and much of that wealth is still in street clothes. Assuming Joel Przybilla and Greg Oden heal up (not necessarily a safe one), Portland will be tough. But until they come back, guys like Aldridge are forced to play the five, something that just won't work against the Lakers.
Much more to come, including another episode of Lakers Late Night. Stay tuned for the details.