"I think it will help us as a team to do that," Phil Jackson said Sunday of the value of road play. "I think it just helps a team focus on themselves, get themselves together, understand their defense, and the importance of playing defense together."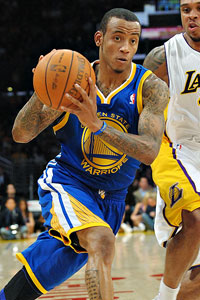 Jayne Kamin-Oncea/US Presswire
The Warriors and Monta Ellis are looking to make their current burst of competence something more permanent.
Good thing he's so keen on the experience, since L.A. heads out for a three game trip starting Tuesday in Milwaukee. A cheerful attitude always helps.
Here's your weekly primer...
Game of the Week
Sunday vs. Golden State, 6:30 pm PT
It's not often the Warriors represent a genuine G.O.T.W. option, but for the time being, they do. At 6-4, Golden State is second in the Pacific Division, and by achieving merely below average stats defensively and on the boards have actually made themselves into something resembling an actual basketball team (granted, one the Lakers still blew out in their first meeting of the season). I don't believe for a moment Golden State will make the playoffs -- I'm not sure they've even started mixing that batch of Kool-Aid yet -- but, perhaps thanks to their new uniforms (or more likely a more engaged head coach in Keith Smart) the Warriors are making progress.
One big sign came Saturday night in Milwaukee, when despite scoring only 72 points, they kept the game close late in the fourth. Granted, the Bucks don't exactly overexert the guy responsible for tallying their points on the scoreboard, but over the last few seasons the notion Golden State could score under 80 points and still be in the same ZIP code of the opposition would have been laughable.
Though David Lee will likely miss the game with an elbow infection, Monta Ellis and Steph Curry make the Warriors a team best taken seriously. Plus, given all the attention to teams finding success against the Lakers by going small, as Denver did Thursday and Phoenix does by definition, another game against a height-challenged team will carry a little scrutiny.
Other Games
Tuesday at Milwaukee, 5 pm PT
And now, as the Monty Python crew might say, for something completely different. Almost without exception, the Lakers have played up tempo and/or offensive oriented teams. The Bucks are neither of those things. Their pace (avg. possessions per 48 minutes) is in the league's bottom third, and they're bottom five in offensive efficiency. Meanwhile, they're a top five team in defensive efficiency, points allowed, and opponents shooting percentage. They're tenacious, and will make the Lakers grind for their points. Plus, with Andrew Bogut in the paint, Milwaukee has interior size to match with super-quick PG Brandon Jennings and Corey Maggette, who specializes in getting to the line.
The Lakers are a better team than Milwaukee and can certainly win the game, but it won't be a pleasant experience.
Plus, it's probably the only building they'll see on the trip filled more with fans of the home team. "Milwaukee has a real exciting home audience. They get those boosters-- it's kind of like a soccer crowd. They have a real energy on their home court," Jackson said Sunday night.
Wednesday at Detroit, 4:30 pm PT
On the other hand, "Detroit's been an empty Palace for the last couple years on their home court," Jackson says. It won't be on Thursday, but unfortunately for the Pistons, many of the fans who fill the building will be wearing purple and gold. Such is life for the Lakers in many arenas in which they play. Not all of the opposing crowds are hostile, some are actually pretty accommodating. As for the team itself, as you might suspect from a 3-6 team, the Pistons are bad at a wide variety of things. And don't be fooled by that relatively decent mark in points allowed- it's only because they play fairly slowly. From an efficiency standpoint, the Pistons are appropriately wretched.
Deeeeeetroit basketball- or what remains of it- is no longer driven by Rip Hamilton and Tayshaun Prince. Instead, Rodney Stuckey- who has had some success against the Lakers in the past- is the leading scorer. Ben Gordon and Charlie Villanueva are next in the pecking order, from a scoring standpoint. For me, the game holds some intrigue, as I've been offered Villanueva as part of a trade in my hoops fantasy league. I hope he doesn't crack under the piercing gaze of my scouting eye.
Friday at Minnesota, 5:00 pm PT
We all know what happened the last time these teams played. It satisfied few with any sort of rooting interest in the Lakers. I'd like to believe the Lakers will put forth some sort of redemptive effort.
Still, seeing Kevin Love snag 31 rebounds Friday against the Knicks makes the 24 he grabbed against L.A. seem pretty reasonable, right? Right?
Player to Watch
Ron Artest
Artest hasn't exactly blossomed in the offense 10 games into the season. It's not all bad- Artest is finding his way in to the post with more frequency and is shooting a reasonable-if-not-exciting percentage from beyond the arc. The numbers aren't, generally speaking, vastly different than they were last year. But whether you're talking Joshua or Shannon Brown, the goal is always to see an upward tick in comprehension and decision making. It happened in War Games for the former, and is clearly taking place this year for the latter. Over the last few games, it hasn't been there for Artest.
He'll always do strange things on the floor from time to time, it would just be nice to see him bend the curve a little faster.
Other Notes
-With three road games, keep an eye on how the Lakers start. They have been, to say the least, a rock solid first quarter team. So much that the 25 points scored last night against the Suns is their season low for an opening frame. Their season average for first quarter points heading into Sunday's game was 29.9. Even in the relatively benign buildings in which they'll be playing this week, opening a game strong has wide-ranging positive benefits. Of course, the Lakers need to make sure they're paying attention to the other end of the floor, as well.
The other guys have scored 27 points (at Phoenix), 33 (at Sacramento), and a more reasonable 24 against Denver. None of the teams the Lakers play on the road trip are high scoring. An early lead will put enormous pressure on each.
-Jackson talks all the time about how benches play better at home. For the Lakers, adding Steve Blake and Matt Barnes into the rotation has helped even out the home/road performance of the reserves, but this will represent the first time the unit plays a stretch of games together on the road. I suspect they'll be fine, but it'll be worth watching.