I'm not saying this game was a snooze-fest. I'm just saying, if medical science seeks to discover a cure for insomnia, scheduling the Lakers and Pistons on a daily basis could do the trick.
Three good
Kobe Bryant
In October against the Kings, Kobe Bryant notched a triple-double arguably most remarkable in how absurdly casual he made it look. So little sweat outwardly expended, he could have played the game in a coat and tie without needing a trip to the dry cleaners. Tonight's performance against Day-Twah didn't produce quite the same numbers --although 33/9/4 is hardly chopped liver -- but the easy control displayed was just as remarkable.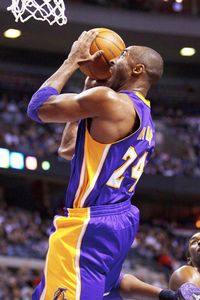 Rick Osentoski/US Presswire
Kobe's baskets generally felt this easy.
Bryant racked eight of the 10 unanswered points in an early run that prompted Pistons coach John Kuester to call timeout and announced from Jump Street who was in charge of this contest. Rodney Stuckey got tossed around like your baby sister's rag doll as Kobe backed his way down to the baseline for easy baskets. Turnaround J's and step-back fadeaways were splashed like he was taking pregame warmups. The 33 points were reached via an economic 20 attempts (11 good), and eight free throws were drained in as many tries.
Kobe's best play, however, may have come while saving a loose ball along the sideline. After snagging the rock, Bryant went behind the back to feed a streaking Lamar Odom, who ended up earning a pair at the stripe for the Mamba's troubles.
Again, he made it all look very easy.
Pau Gasol/Lamar Odom
A masterful tandem isn't necessarily required to dominate the Piston frontcourt, but the Laker bigs nonetheless decided to play like one. A combined 40 points and 26 rebounds, the latter number besting the tally from Detroit's entire starting five. When El Spaniard and LO own the paint in such fashion, the Lakers are darn near impossible to beat. This was no exception.
Putting this bad boy to bed early
I'm not referring to the pride experienced by a player or fan. Sure, it's a sweet feeling, but similar to what Chris Rock said about taking care of your kids, the Lakers are supposed to dominate the Pistons. They're very bad, spend more time bickering with their coach than trying to improve and sport the body language of a crew hankering to quit in ten minutes. There are no bragging rights in beating Detroit. But what this contest does offer, other than a theoretical automatic "W," is the chance for a starter to get hurt by being on the floor too long or having to expend more effort than legitimately necessary.
All Lake Show pride aside, the desire to quickly make this a laugher is more pragmatic than emotional. You want a win and everyone exiting the building in one piece. No more. No less.
Well, the Lakers finished the first frame up by nine, and one brief hiccup early in the second quarter aside, steadily increased the gap. No starter played 33 minutes nor looked terribly taxed in the process, despite some often flawless execution. The final spread rounded out at 13, but that was entirely the result of sloppy garbage time. For all intents and purposes, the Lakers might as well have won by 113.
Three bad
Rip Hamilton getting tossed five minutes into the game.
After Kobe drew an early foul against The Man in the Plastic Mask, Hamilton offered a few words of opinion to the official. At first, complaints were presented in argumentative form, which earned Rip a technical and prompted audible grumbling to himself. Before you knew it, the UConn legend was assessed a second T and told to hit the bricks. The episode was jarringly "Bam! Bam!" and everyone on the court appeared in disbelief as the latest victim of the "Respect the Game" policy was seemingly claimed.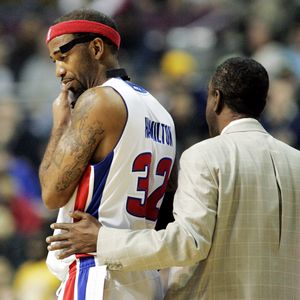 AP Photo/Duane Burleson
On the plus side, Rip got all the hot water
in the shower.
Look, Brian and I don't travel unless it's the postseason, so I don't know exactly what Hamilton said. But unless the verbage was not safe for work even if you happen to earn a living as a sailor, you can't toss a star (by the Pistons' standards, if nothing else) that early in the first quarter. You just can't. Beyond how the ejection may affect a game's outcome, it's not fair to the fans, especially in an area like Detroit where folks willing and/or able to pony up for NBA tickets are dropping like flies. This episode was every bit as bad for business as the excessive complaining David Stern seeks to eliminate.
The bench in the first half
I'm admittedly being picky, mostly in an effort to maintain some "three" symmetry. Going here is splitting hairs in the grand scheme of things, or even the scheme of things ten minutes from now. But full disclosure, the reserves didn't come close to replicating their performance the night before against Milwaukee, save Matt Barnes.
Then again, any blow back was minimal at best and easily forgotten.
What were we talking about again?
Punt
I pushed it for a second entry. A third means wearing a leather jacket and water-skiing.