In the very early going, it looked like Friday's game against Minnesota might look a little too much like the first meeting between these teams back at Staples Center on November 9. The Lakers (8-of-24) managed to miss enough shots and turn the ball over (four times) enough to give the T-Wolves a one point lead despite holding the home team to 21 points. Weird things were happening, it seemed. Darko Milicic (eight points, four boards, three blocks in the first quarter) looking like the second coming of Wilt Chamberlain, for example.
But thanks to strong play from the reserves, the Lakers managed to assert themselves in the second quarter, opening up a 10 point lead by halftime that could have been bigger if not for some loose play from the starters near the break. Either way, the Lakers had clearly gained control of the game and weren't about to let it go.
This despite a very lackluster performance over the first 24 minutes from L.A.'s A-listers. How often do you see Kobe Bryant and Pau Gasol combine to make five of 22 field goals? In that context, a 10 point lead sounds a lot better. When both improved after halftime, the lead ballooned.
The Lakers polished off their first extended road trip at a perfect 3-0, cruising to three easy wins. Hard to complain about anything, really.
Here's how it broke down...
Three Up:
1. Matt Barnes- In a first half where most of his teammates weren't exactly in top form, Barnes (along with Shannon Brown) was the major catalyst for positive results for the Lakers. Barnes produced 10 points, including a corner three, and two free throws generated off a strong drive from the free throw line. Among his four assists was a great look in the second quarter, when Barnes rose for an open jumper but instead rifled a pass to a wide open Lamar Odom under the basket. As he always is, Barnes was aggressive going to the glass (four rebounds) and with his hands (two steals). Add it all up, and Barnes was responsible for creating 18 points, plus creating two more trips off the takeaways. No surprise he was a plus-18 over that time.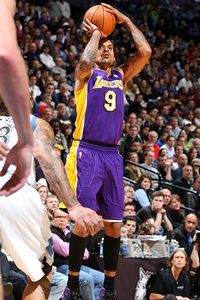 David Sherman/NBAE/Getty Images
Matt Barnes had his best game as a Laker, making every shot he took Friday night in Minnesota en route to 24 points.
Did I mention "that time" amounted to about 10 minutes? Pretty impressive.
Barnes continued his strong play in the third quarter, hitting three more triples, first from the top of the key, then from the right wing (absorbing a foul in the process for a four-point play), and one more from the right corner in transition. He' d finish with 24 points, making all seven shots from the floor and each of his five free throws, plus seven boards and six assists. But good as he was after the break, his play early was particularly valuable to a Lakers team needing a boost.
"I've had a couple of these where you just get hot," Barnes said of his blemish-free night. "I got a good rhythm, Phil gave me some good minutes tonight* and my teammates found me, and I knocked shots down."
It's just that easy, I guess.
*Like Jackson had any choice but to leave him on the court? How many smashed TV screens would there have been in L.A. had PJ sat Barnes?
2. Ball Movement- It's always tougher to pile up assists on the road, but the Lakers managed to create a great deal of their offense off rock solid ball movement. Through three quarters, 25 of the team's 34 assists came off dimes. Overall, the Lakers would finish with 30 helpers on 40 makes, and the team wide nature of the passing was particularly impressive. Of the nine players seeing more than 10 minutes of action, eight logged an assist (learn to share, Derrick Caracter!). Odom, Gasol, and Bryant did their close quarters, tic-tac-toe passing out of doubles, flashing to the paint, sliding through open spaces near the hole. Not everything resulted in buckets (thanks in part to some active defense from Darko) but the instincts were there.
If anything, the Lakers were occasionally guilty of overpassing, trying to force the ball to a place it wouldn't fit, or hoping to make the merely beautiful play into a work of art. Still, when the instincts to share are this strong, it's hard to complain.
3. Defense- The Wolves were limited to 41 points in the first half, and while they scored 30 in the third quarter, most of the damage came after a strong push from the Lakers put the game away. Minnesota didn't hit the 50 point mark until nearly six minutes had gone by in the second half. Overall, the Lakers held the Wolves to just under 40 percent from the floor, and were particularly effective against Kevin Love, held scoreless over 34 minutes of burn. Michael Beasley was a manageable nine-of-22, and Wes Johnson missed seven of his nine shots.
Honorable Mention: Odom was very active, posting a near trip-dub with 11 points, eight rebounds, and seven assists, and finished a plus-26 in 39:34 on the floor.
Three Down:
1. Scary things- The primary goal in games like these is to win with the chance to sit players down the stretch (check) and do it without anyone getting hurt (check, but not by much). Gasol turned his right ankle in the third quarter, while Brown was poked in the right eye trying to finish on the break. "I couldn't see the rim when it first happened," Brown said, noting he shot his free throws in that sequence with his stinging eye closed. Both left briefly and would return, but just like Theo Ratliff's knee surgery and Lamar Odom's MRI, the scares emphasize how a team's fortunes can change on a dime in the NBA.
The Lakers are rolling along. Fans might want to keep knocking on wood, just to be safe.
2. Efficiency- Pau managed to pick things up a little in the second half from an offensive standpoint, moving away from the basket and exploiting Darko's unwillingness to venture away from the basket to challenge Gasol's mid-range game. Kobe, however, took a blowtorch to his season's shooting percentage, finishing an ugly eight-of-27 from the floor.
Gasol would finish with 16 points, plus 14 rebounds, six assists, and a pair of blocks, but it wasn't his best game. Or even his most mediocre. He was pushed around too much by Darko, and had five shots blocked. Basically, nearly every moment of Milicic's 2010-'11 highlight reel came at Pau's expense, which is never a happy thing for a player to absorb.
Fortunately, it didn't matter, since the Lakers won in a walk.
3. Punt. Perfect trip. No need to pick nits.