Friday, the Lakers lost in Utah, but in a way leaving fairly little about which to complain. The offense generated good looks that simply didn't fall, helping goose Utah's attack. Obviously the Lakers could have done better work against Deron Williams, but overall it wasn't a bad game, just one they lost. Sunday, the Pacers came to town, and the story was different. Don't toss this in the same category as the now infamous "MinnesotaGate." The Lakers were invested from the start tonight, playing hard but without any effective flow.
I noted in the pregame breakdown how effective the Pacers are defensively, and the visitors proved the numbers right. Indiana took them out of their game early, and the Lakers weren't able to find it. Either Kobe was going to bail them out, or he wasn't, and tonight he couldn't quite do it.
Here's how it broke down ...
Three Up: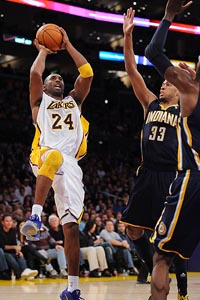 Noah Graham/NBAE/Getty Images
Kobe Bryant had his first 40 point game of the season, but it wasn't enough to lift the Lakers Sunday against Indiana.
1. Kobe Bryant -- I didn't like his first quarter (see below) and the tone set early and the final line won't show a great percentage (14-of-33), but it's impossible to ignore what Kobe did in the second half. In the third quarter, Kobe scored 15 of his team's 24 points, on four-of-eight from the floor, with two 3-pointers and five free throws. In the fourth, he continued to pour it on, adding another eight points, all within the last 4:30, and mixing in an assist on a critical three from Ron Artest, as well. He was taking and making some freaky tough shots, as he's capable of doing. But honestly, these aren't my favorite types of Kobe games. While the skill is obviously impressive, when the Lakers as a group get into Kobe Hero Mode (I'll leave aside the arguments about how it happens for another night) it means collectively they're not performing as they should.
Phil Jackson said after the game the Lakers didn't have time to wait to get the offense going and Kobe's hand was forced. It's better if the Lakers don't make it to that point.
2. Fourth-quarter defense -- They didn't get a couple critical stops late, but it's hard to argue with what the Lakers did over the final 12 minutes defending their bucket. Indiana scored 18 points, on 35 percent from the floor. They missed all six of their threes, and the Lakers forced some key turnovers. It looked as if the home team would pull out a game almost purely on the strength of their defense, which would have been a welcome sight for coaches and fans alike. Had the offense executed with more proficiency throughout or late in the game, it would have happened.
3. Punt, at least for now. Maybe when I watch the game again, I'll change my mind. Lamar Odom was pretty strong, scoring 15 points on six-for-10 from the floor, including a pair of threes in three tries. Add in 11 rebounds, a pair of assists, and a block, and it's hard to pin this one on him. So maybe I'm not punting after all?
Fake punt! Special teams magic.
Three Down:
1. Balance -- The Lakers are at their best when ball and player movement are at their highest, and when the full range of the lineup is put to use. Particularly early. Tonight, it didn't happen. By the end of the first quarter, Kobe had 11 of the team's 22 field-goal attempts, and had three more trips resulting in free throws. That he made only four isn't necessarily the point (though it isn't ideal). When the ball is dominated so much by one player early, the rest of the offense stagnates. Odom and Pau Gasol shouldn't finish the opening 12 minutes with four shots between them.
Before anyone freaks out, I'm not blaming Kobe for the way the Lakers struggled offensively for most of the night (obviously he was dynamic in the second half, and lifted the Lakers down the stretch -- see above). It's a team game, and guys need to keep moving and involved even through stretches where they aren't getting the ball. But a poor tone was set early, turning the offense more into a series of isolations than a free flowing entity, and when things fall out of balance Kobe bears responsibility as well.
Give Indiana's defense some credit, too. I noted before the game the success they've had this season on that side of the ball. Wasn't making that up.
2. Gasol -- When he got his touches, Gasol didn't take advantage, missing a lot of clean jump hooks inside along with many of the mid-range jumpers he typically buries. But more than the 5-for-15 shooting line, the five turnovers hurt. That's a lot of empty possessions, whether with errant shots or giveaways, and the turnovers in particular make it hard to develop a strong game out of the post.
He did some decent things on the other end, hauling down 12 rebounds, blocking three shots, and playing a role as the Lakers climbed back in the game with solid work defensively in the fourth quarter, but even that was mitigated by an uncharacteristically high foul total. It hurt in the last three minutes, as Brandon Rush scored and T.J. Ford both scored on plays on a play Pau couldn't effectively contest without risking his sixth foul. Plus, he lost Roy Hibbert on Indiana's critical last possession, failing to recover quickly enough as Hibbert dove off the high screen (nobody rotated to help, though).
One obvious mitigating factor was his workload -- Gasol played 45 minutes 30 seconds against a team with good interior size, which is too much and it showed as the game went on. Still, based on the standard to which he ought be held, it was a poor game.
3. Perimeter shooting -- Shooting generally, really. But as it was in Utah, the Lakers were again deficient from beyond the arc, making only 7 of 23 (30.4 percent), and having to rally to get there. L.A. was at 20 percent (1 for 5) after the first quarter, and 27 percent (3 for 11) at the half. The mark was distorted slightly -- slightly -- by a few late hoists, but it was not an effective night from the perimeter for the Lakers. As it was in Utah, many of the shots were open and available, but unlike Friday's loss, tonight I thought the Lakers settled a few too many times for open shots without working to find a better one.
Looking for an honorable mention? Shannon Brown followed up a bad game in Utah with another clunker Sunday, missing seven of his nine shots, and while he was strong on the glass (seven rebounds), and never stopped working (witness a fourth-quarter block on Darren Collison where he was the lone man back for the Lakers), there was a lot of volume shooting without much by way of results. In fairness, his bench brethren didn't help much with only 14 points combined. Steve Blake made only one shot (attempted only two), and Matt Barnes was less impactful than normal.
Oh, the rebounding. Indiana won the battle 48-45, and generated 19 second chance points. Not good.
More to come.