The relatively smooth waters around Gilbert Arenas this season haven't translated to a bump in the win column. At 6-13, the Wiz are paced to replicate last season's 26-56 finish.
To get a better idea of what's hindering D.C.'s finest, I tossed a few questions the direction of Truth About It's Kyle Weidie. Check out the excellent skinny provided by the TrueHoop Network member:
Andy Kamenetzky: When you look at the Wizards from the standpoint of individual components, there are theoretical ingredients for a decent defense. JaVale McGee is third in the NBA for blocked shots. John Wall is second for steals, demonstrating his ability to disrupt. Kirk Hinrich has always been known as a good defender. Instead, the Wizards are allowing 105.6 ppg with a defensive efficiency (108.4) fourth-worst in the league. Why the bad showing?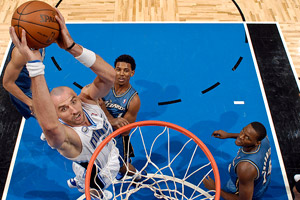 Fernando Medina/NBAE/Getty Images
Baskets like these probably look very
familiar to Wizards fans.
KW: Some of those individual defensive abilities are nice, but they fall far short in making the sum of the team's parts into a solid defensive unit. Starting with the last line of defense, the Wizards' big men simply aren't paint presences. Sure, McGee has swatted a lot of shots and intimidated even more, but a blocked shot doesn't always mean a precious change in possession. McGee also has a very low basketball awareness on both ends of the floor, but especially when it comes to help-side rotations and placement in the matchup zone defense that Flip Saunders occasionally implements. McGee will just as quickly dazzle with his ability to catch alley-oops and finish out of nowhere as he'll make fans face-palm themselves because of frequent MIA spells.
The rest of the lot doesn't provide much substance: Andray Blatche has been notoriously lazy on defense this season. Yi Jianlian has shown impressive footwork when healthy but still looks lost to aggressiveness. Hilton Armstrong tries hard and sets good screens, but is rail thin (with no offensive ability). Trevor Booker and Kevin Seraphin are big, bruising bodies but often succumb to the ways of a rookie.
In terms of guard play, Wall has quick hands and can adeptly play passing lanes without gambling too much, but his ability to limit the effectiveness of pick-and-rolls is suspect, as demonstrated best by Steve Nash on Sunday. Guys like Brandon Roy also have made Wall look his age with crafty footwork and pump fakes. Wall has the tools to be Gary Payton but is far from that point. Hinrich can defend because he's smart and he has moxie, but he'll turn 30 in January, and his body is starting to catch up with him. Arenas is Arenas on defense -- not as bad as the old Arenas so far, but still a defensive liability.
Capabilities are one thing, but working as a team is vastly different and a mirage in the distance for the Wizards right now. It's worth noting the Wizards are among the top five at forcing opponents into turnovers but are also among the top five in most turnovers per game. So, giving easy opportunities to the other team certainly has a big hand in the Wizards' defensive inefficiencies. But in the big picture, it's not always a winning formula when some of the more talented players (Arenas and Blatche) are also some of the worst defenders.
AK: It's crazy to think, but Arenas' 60-point performance at the Staples Center in 2006 also marks the last time he has actually played against the Lakers in L.A. How would you assess his play and effectiveness as a sixth man this season?
KW: From trade rumors to vehement owner denials of such, to making $18 million to come off the bench while everyone says "It's cool," Arenas will always have curious surroundings. But as a basketball player, at least he's earnestly trying. Arenas had a slow start to the season. He appeared to be out of shape and dealt with an ankle injury, so his jumper is struggling as a result (38.5 percent on the season, although his 34.9 percent from 3-point land is decent). Arenas has occasionally tried to attack the basket and earn trips to the line, and the Wizards need him to be that offensive player, but he's also trying to create for others as well.
The biggest story or "issue" people seem interested in is if Wall and Arenas can coexist. Overall, Arenas is coming off the bench because that gives him more opportunity with the ball in his hands, just as Hinrich in the starting lineup does the same for Wall. But they will be paired on the court a great deal, so keep an eye on who is handling the ball and creating, and how they pass it to each other. Something seems to be developing. I'm just not quite sure yet whether it's good or bad.
Being back home in L.A., expect Arenas to be on his game Tuesday night, but don't expect him to drop 60 or even 40. Not that Arenas isn't capable of scorching the nets. It's just that Eddie Jordan doesn't coach the Wizards anymore.
AK: Having seen bits and pieces of Wall and judging by certain stats (low field goal percentage, high personal assist rate, low number of assists for the Wizards as a team, the team's overall struggles to score), the best strategy for the Lakers appears to be making Wall a scorer rather than a playmaker. Agree or disagree?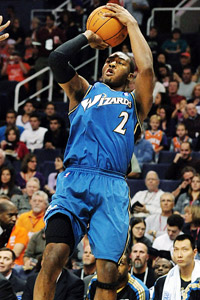 Jennifer Stewart/US Presswire
Is it better for Wall to shoot or dish?
KW: For Wall to be the biggest threat he can be, the Wizards need to get defensive stops and secure the boards to get the rook going in the open court, where he really can't be contained. Unfortunately, those defensive stops have been hard to come by for the Wizards. In theory, yes, it would would best to make Wall a scorer rather than a playmaker, but what type of scorer? Teams have tried the Rajon Rondo defense -- going under picks and playing off, tempting him to shoot -- but Wall doesn't freeze like a deer in headlights when left open. He confidently takes the shot. Check the rookie year (and beyond) shooting three-point stats for Rondo and Derrick Rose, and you'll see Wall's shot is far more advanced.
I actually think if Wall is allowed to develop his offense early -- and we're talking about low-risk opportunities, not forced action -- he can be more effective, attracting the focus of the defense that will later open things for his teammates. The Wizards are 3-2 when Wall scores 18 or more points. If the Wizards struggle to score as a team, maybe that has something to do with Wall's imprint on the game that given night, but usually it's because of guys like Blatche, McGee and Nick Young taking poor shots.
-- Like I said, good stuff from Weidie. Beyond those thoughts, I listed a few more items to keep an eye on once the ball is jumped ...
Can Ron Artest find a way to impact the game?
As mentioned in Brian's report card and themost recent podcast, the small forward isn't just struggling with offensive inconsistencies. The impact of his calling-card defense isn't being steadily felt.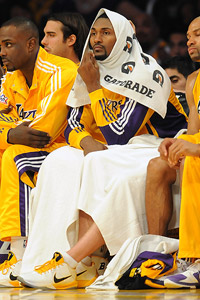 Win McNamee/Getty Images
Between his uncertainty and Matt Barnes' play, Artest has been sitting a lot this season.
For every game in which he limits Rudy Gay (in Memphis) or Michael Beasley (in Minnesota), there's another game in which he's as ineffective as the next Laker trying to slow the Derrick Roses of the world. And unlike last season, the overall force of Artest's energy has been diluted in games in which a marquee name isn't lined opposite him. Which takes us to Tuesday night's game, when the Wizards start Alonzo Gee. Or, as the average NBA fan calls him, "some dude named Alonzo averaging 2.8 points a night."
What will Artest do to make his two cents felt? Will he pick up Wall at times and use his bulk to wear down the kid? Flip-flop positional assignments with Kobe and disrupt Hinrich's prowess as the team's secondary assist man? Pick his spots as a demon in the passing lanes while guarding a decided nonthreat?
Or perhaps the lack of defensive responsibilities will allow him to find some comfort with the ball in his hands. No matter which Wizard guards him, Artest should be able to bully his way to the rim. He successfully worked through some indecisive periods last season by taking residence on the block as either a scorer or playmaker. Washington's ship isn't the tightest defensively, so this could be an ideal place to begin getting his bearings back.
Whatever the case, I just hope Artest doesn't maintain his current vibe, which is often that of a hardwood ghost.
Nick Young
Arenas is the biggest name and scorer on the Wizards' bench, but as Weidie mentioned, those 17 points come at the expense of efficiency. When 15 attempts are typically required to reach that tally, the results are generally easy to live with. His protege Nick Young, however, feels like another story. Even acknowledging the occasional chucks Weidie referenced, the kid is nonetheless shooting 48 percent from the field and has failed to drain half his attempts only four times since Nov. 10. Young's also made a career out of killing his hometown Lakers. Arenas and Young both deserve the full attention of Matt Barnes, Steve Blake and/or Shannon Brown as the reserves do battle, but the less-established player makes me considerably more nervous.
Shot locations for Washington
It's often said the long 2 is basketball's least desirable shot, in that it is essentially as low percentage an attempt as one fired behind the arc, but worth merely two points. A Hoopdata breakdown of the Wizards' shot locations reveals the second-highest number of 16- to 23-foot shots in the league (25.5 per game) and a 39 percent success rate. Is this a primary reason for their sixth-worst offensive efficiency in the league (100.5)? I can't imagine it helps matters. Either way, if the Wizards have designated this area of the court as their "sweet spot," the Lakers should go out of their way to oblige.