With the Lakers and Bulls squaring off for potentially the last time in Phil Jackson's career, we thought a look at Phil's time with these two squads would be appropriate. ESPNLA.com's Andy and Brian Kamenetzky and ESPNChicago's Nick Friedell swap thoughts on The Zen Master's career.
Which city do you think will most define Phil's career?
Brian Kamenetzky: In the end it's Chicago, but that the question can be reasonably answered either way is an incredible testament to what Jackson accomplished in LA He's reproduced (more or less) his championship success in Chicago, but it can be argued he displayed more of his skills with the Lakers. Managing the Shaq/Kobe thing, downsizing expectations to teach a young roster during uncharacteristically lean years, then winning again with a Kobe-centric roster and helping Bryant evolve as a leader after repairing their relationship post-three-peat/post-"didn't think I'd be coaching him again" book. Kobe gets credit, Jackson gets credit. Carve it up however you want, it's impressive stuff.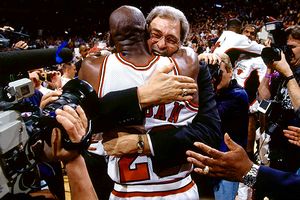 Andrew D. Bernstein/NBAE/Getty Images
At the end of the day, we'll always remember
Phil most often as a Chicagoan.
Andy Kamenetzky: Chicago. It's where he grabbed our attention as a coach and his personality/persona emerged. Plus, the Bulls were an organization with no great history before him. Only four 50-win seasons in 23 years before he took over, and obviously no titles. He put the Chicago Bulls on the map in a way even MJ hadn't yet pulled off.
In the meantime, the Lakers were already iconic, with titles in the '70s and '80s and the Minny era. Pat Riley and John Kundla and Bill Sharman had already coached the franchise to titles. Not that Phil hasn't necessarily eclipsed all of them, save perhaps Riles, but still, he's IT in Chicago. He's not just the gold standard. He presented fans the gold.
Nick Friedell: Chicago. Everybody will point to the fact that he has won one more title here than he did in LA, but that's not what I'm basing this on. I think that if you asked 100 random basketball fans which team they associated Jackson with the most, a majority would say the Bulls.
Why?
For starters, Jackson was the man credited with getting Michael Jordan, the greatest player of all time, over the hump as far as NBA titles go. I also think people forget just how good the other teams were that the Bulls had to beat in order to win titles. The Lakers with Magic Johnson in 1991, the Blazers with Clyde Drexler in 1992, the Suns with Charles Barkley in 1993, the Sonics with Shawn Kemp and Gary Payton in 1996, and the Jazz with Karl Malone and John Stockton in 1997 and '98.
Aside from the Celtics this past season, who exactly have the Lakers had to knock off in the Finals that posed such a serious challenge? The Nets, Pacers and Magic weren't exactly world-beaters.
Best championship in LA/Chicago?
BK: For illustrating how effectively Jackson's teams typically rounded into form for the playoffs, the '01 team can't be beat. A ho-hum, injury-influenced regular season finished with eight straight wins, then a 16-1 run through the playoffs. Sick. But at the risk of giving too much weight to the freshest events, I'll say June's Finals against Boston, his fifth in LA. Traditionally, Jackson's teams build momentum and cohesiveness over the course of a season, melding into a finely tuned machine by the playoffs.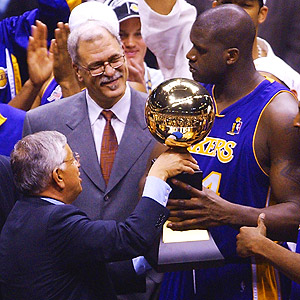 Henry Ray Abrams/AFP/Getty Images
MJ isn't the only iconic player Phil helped
lead to the promised land.
In June 2010, thanks primarily to injuries, the Lakers had all the continuity of Spinal Tap's drum lineup and the flow of the Dead Sea. Instead of finding their groove, the Lakers basically made things up as they went along. No question, when the playoffs rolled around, the bracket broke their way. Denver disintegrated, the Spurs were swept away by the Suns, Brandon Roy's injury effectively ended Portland's chances, and Boston's run in the East gave the Lakers the home-court advantage they didn't have over Cleveland. Came in handy during Game 7 of the Finals, I'd say.
After the failure of '08, the rematch represented a great psychological battle for the Lakers. When Kobe spoke after the season about how the Lakers, over time, had adopted the personality of Jackson, the results showed in Games 6 and 7. There was always calm, and great determination. Even when Bryant himself freaked out in Game 7, there was enough of both with and around him to get the job done.
AK: In LA, it's a toss-up for me between 2000 and 2010. 2000 was amazing in how fast it came about. There had been so much drama and disappointment with the 1997-99 teams. Underwhelming playoffs and sweep losses. Kobe air balls. Rodman. Del out, Rambis in. The Glenn Rice trade not paying immediate dividends. Shaq and Kobe fighting. Shaq taking heat for not being able to win a title after seven seasons in the league. Then Jackson arrives and everything clicks. Despite having to learn the famously difficult-to-master triangle on the fly. Despite just a few relatively minor but smart roster additions (A.C., Harp and Shaw), they enjoyed a 67-win season, then the epic Game 7 comeback in the West final against a stacked Blazers team en route to a championship. A mythical start to unbelievable run.
But for all the reasons Brian mentioned, 2010 was pretty special, too. It's the title Kobe said means the most to him, for what that's worth.
NF: 1998. The final one in Chicago. There was so much speculation as to whether the Bulls would break up after that season. Would Jordan retire? Would Phil decide he'd had enough? Were the Bulls good enough to topple the Jazz one more time? Jackson once again got his team to focus on what was important and overcame everything else in their path. It's yet another credit to his ability to always get everyone on his team to buy into the game plans that he put together.
Which of PJ's Chicago three-peat stints did you find more impressive/Which of PJ's two LA stints did you find more impressive?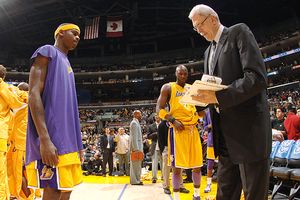 Andrew D. Bernstein/NBAE/Getty Images
Would you wanna coach Smush Parker? Didn't
think so.
AK: For me, it's the second LA stint. As incredible as the 2000-04 run was -- immediate success, getting Kobe and Shaq on the same-ish page, four finals appearances in five seasons -- the second time around meant overcoming tougher obstacles. Kobe and Phil not only had to rebuild their relationship, but do so while working with a team anything but championship-caliber. They forged a bond while figuring out how to get the best out of Kwame Brown, Smush Parker, Brian Cook, Vlad Radmanovic, etc. Then came the radio tour chaos, during which Kobe's being able to confide in PJ made a difference. Then, with Derek Fisher back and Andrew Bynum suddenly legit, the Lakers suddenly looked like a championship-caliber team -- Kobe's words, not mine -- even before Gasol arrived. From there, mutual good fortune continued to follow.
For so long, Phil and Kobe co-existing felt impossible. Now it's impossible to picture them apart.
NF: I actually found the second one more impressive given all the hoopla which surrounded it. You've got to remember that Jordan came back toward the end of the '94-95 season and the Bulls actually lost to the Magic in the Eastern Conference finals. Jackson had to put the pieces back together on a team that no longer had guys like Horace Grant, Bill Cartwright and John Paxson, stalwarts of those early years. He had to manage the egos of people like Dennis Rodman and put them in the right places to succeed while getting Jordan back to a level where he could absolutely dominate once again.
In the context of his titles with the Bulls/Lakers, address the "Jackson only wins because of great players" criticism.
BK: Jordan, Kobe, Shaq -- no question, PJ has been gifted three of the most dominant players in NBA history. Add in Pau Gasol, arguably the league's best big and almost certainly a future Hall of Famer, and the rich get richer. Jackson readily admits how he's benefited from good fortune. At the same time, the notion he's merely a guy lucking into some good rosters is so patently ludicrous, it's almost not worth entertaining.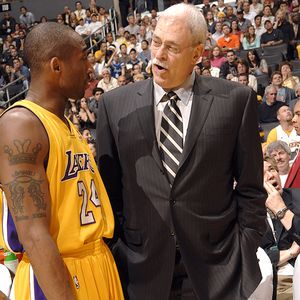 Andrew D. Bernstein/NBAE/Getty Images
Yeah, Kobe is good. So is Pau. And so was MJ. And Scottie.
And Shaq. And Rodman ... so what?
News flash: No coach in the past 30 years has won without having great players. Gregg Popovich had Tim Duncan, David Robinson, Manu Ginobili, and Tony Parker, among others. Riley had Magic, Kareem and James Worthy, then Dwyane Wade and Shaq. Rudy Tomjanovich had Hakeem Olajuwon, then Clyde Drexler, too. Nor was it different in the short-and-belt days. Red Auerbach had entire lineups filled with Hall of Famers. His mop guy at the Garden probably could have averaged 10/8/5. It's not a knock on any of them, but a testament to the type of talent required to win titles at the NBA level.
In Chicago, Jackson took a team Doug Collins couldn't quite get over the hump and then won six titles in eight years, and probably would have at least one more if MJ hadn't picked up a baseball bat. In LA, the Shaq/Kobe pairing wasn't championship-caliber until Jackson arrived. He's won two more titles guiding a different Lakers team with a much different dynamic. Jackson has coached great players but also possesses an amazing and unique ability to mold teams and create a true group dynamic, while trusting his players enough to cede control at key moments. He's been wildly successful because he's wildly good at his job. There's simply no denying it.
NF: You're always going to have to deal with this criticism when you have Michael Jordan on your team. My argument to that is this: Doug Collins had basically the same team and he couldn't get past the Detroit Pistons and push the Bulls into the Finals. Whatever Jackson did on the court, or maybe more likely what kind of mental tactics he used off it, can't go overstated. Like he did in Los Angeles with Bryant, he got Jordan to trust the rest of his teammates and he made the Bulls believe that they had the ability to beat anyone. I think when you ultimately look back on Jackson's legacy, it will be defined by two things. First, the triangle offense, which nobody has truly seemed to figure out over the years. But most of all, it will be his ability to bring together a team full of different egos and get his players to push those egos to the side. Aside from 1995, 2004 and 2008, Jackson and his team have delivered almost every time they've gotten a chance to win a title. Over time, he has become the type of closer in the coaching ranks that Jordan and Bryant were, and continue to be, as players.
Phil coached Kobe, Jordan, Pippen, Shaq and so many more-- pick a guy you'd have loved to see Jackson coach during his career, but never did.
AK: Names pop to mind like a young Grant Hill (so much versatility and intelligence), Arvydas Sabonis before his knees were shot (incredible passing big man) and Rasheed Wallace (the ultimate test for Phil as a coach/psychologist). But in the end, I went with Magic, because he's unlike any player on Jackson's rosters. The triangle's interchangeable nature lessens the need for a ball-dominant point guard, but it's not like PJ would have turned his nose up at such ridiculous talent. Watching Jackson (and maybe even Johnson) adjust would have been fascinating.
NF: Charles Barkley. I would have loved to have seen Jackson get Sir Charles in a circle to meditate. I bet he could have written another entire book about coaching Barkley and Jordan alone. If there is a character in the NBA who truly wants to win (here's looking at you, Ron Artest), I've always thought there was no better person for them to play under than Jackson.