For many Laker fans, Friday's loss to the Chicago Bulls was viewed as a missed opportunity for a statement win against an upper-echelon Eastern Conference team. A win against the 6-17 Nets, however, wouldn't constitute much in the way of bragging rights. Still, it would be reassuring for the Lakers to not just win this one, but forge a fourth quarter where the starters mostly sit with ice on their knees. If Devin Ebanks isn't presented a legitimate shot to establish career highs in several categories, something likely went wrong.
Here are a few items to keep an eye on once the ball is jumped:
Jordan Farmar playing against the Lakers for the first time
As I mentioned in our week in preview, I'm endlessly fascinated by games featuring players doing battle against a former team; particularly the first time around and especially when the new player is on his second team. Farmar -- who could end up starting for an injured Devin Harris -- fits the bill on every level, with a "didn't see eye-to-eye with his old coach or role" B-plot for good measure. I wouldn't characterize his offseason exit as "ugly," but it nonetheless felt impending since roughly 2008. Farmar sporadically attempted to play good soldier, but made no secret of an opinion the triangle and Phil Jackson were preventing his evolution as a player.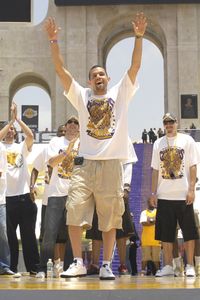 Andrew D. Bernstein/Getty Images
Jordan Farmar used to celebrate championships with the Lakers. Now he'll battle them.
Being motivated at the chance to prove that opinion correct would be human nature, and I can't picture Farmar immune to this urge. Balling with a chip on ones shoulder, however, has a dangerous history when it comes to effectiveness. For every player focused properly by the circumstances, you have many others too jacked up to shine.
I have no idea whether Jordan will listen to the angel on his left or right shoulder, but should he choose the devilish version, Laker fans have seen how this movie ends. The inconsistency of last season's bench isn't entirely on the Bruin's shoulders, but a greater share of fingers will (and should) point in the direction of the quarterback and his proclivity for ignoring the playbook. If Farmar's too fixated on "lighting up" the Lakers, as opposed to executing the game plan, not only will his performance likely suffer, but I imagine those on the court with him will follow suit. It's not a particularly impressive crew to begin with, much less talented enough to offset a point guard going off the grid.
Ball security
When you're playing on the road, any margin for error shrinks by definition. Heading into Friday's loss against the Bulls, the Lakers were averaging a solid 13.6 turnovers on the season, but only 11.7 on the road, the best care in the league. Well, the win-loss record wasn't the only set of numbers taking a beating after the loss in Chicago. The Lakers coughed up the rock 19 times, often in spectacularly careless fashion. The lowlight was an octet in the second quarter, but four during a 90 second fourth quarter stretch was certainly nothing to write home about.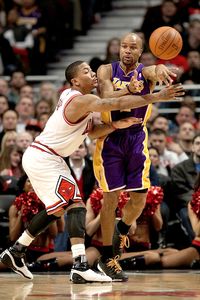 Jonathan Daniel/Getty Images
If this pass met a Lakers' hands against Bulls, consider it a rarity.
Granted, the Bulls are a top-10 team in the league at forcing turnovers, but at the risk of dismissing the victors, their defense was often terrific, but the Lakers were aiming guns at their own feet. Unnecessary home run passes were intercepted. Luke Walton sailed an alley-oop pass too high for Shannon Brown if he'd been aided by a trampoline. Carelessness in general littered the outing. It's not that the Lakers did a terrible job moving the ball altogether -- Kobe Bryant, Pau Gasol and Lamar Odom in particular enjoyed highlight reel-worthy moments -- but the damage from a turnover has a funny way of trumping the benefit of a dime.
As I mentioned earlier, the Lakers have been exceptionally good at taking care of the ball outside of Staples Center, so perhaps Friday's gaffes represented little more than a temporary hiccup. But if they experience a repeat performance against the Nets, NBA cellar dwellers in turnovers forced and opponent turnover rate, forgive me for being concerned about a trend for the entire roadie.
Early start
Most folks don't like getting up earlier than usual, and NBA athletes are no exception, Kobe's dawn workouts notwithstanding. PJ has joked before about energy lacking during 12:30 pm contests at Staples Center, and according to Elias, the Lakers notched a 1-2 record last season during that time slot. Well, this game begins at 10 am California time, and the Lakers likely aren't acclimated yet to an east coast clock. Whether it's a matter of going to bed early or downing an extra cup of coffee, the Lakers can't allow sleepy heads to be the equalizer against an inferior opponent.