The most important thing is the Lakers secured the victory. The NEXT most important thing, however, would be to tighten up all that ails the team at the moment. Even as someone letting the panic button collect dust bunnies, there's no question the play at the moment is less than inspiring and legitimately concerning. A tight game against the New Jersey Nets simply shouldn't happen. Period.
Three good
Kobe Bryant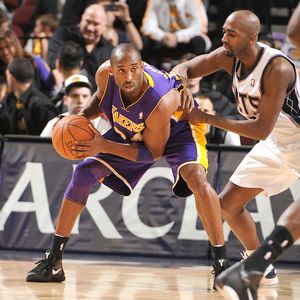 Andrew D. Bernstein/Getty Images
Kobe turned it on in the second half.
Like his mates in general, Kobe experienced his share of early struggles uniting ball and net. At the half, Bryant was sitting on 7 points (one-for-six shooting), with four turnovers against just two assists. I'm not sure what was in the halftime Gatorade and orange slices, but the second half was an entirely different affair for the Mamba. Kobe racked 25 points over the final 24 minutes, canning eight of 13 attempts from the floor.
Beyond his effectiveness filling up a bucket, Bryant was often brilliant setting up his teammates for success out of double teams. The floor was surveyed with patience, Kobe found the cutter, then created opportunity. During a critical stretch deep in the fourth frame, six points were netted by Pau Gasol and Lamar Odom, all due to Kobe's table-setting.
This half was the epitome of what Kobe refers to when he talks about making teams pick their poison: Kobe the scorer or Kobe the play-maker. This afternoon, the Nets got a taste of both versions, and I doubt they liked either.
With 12.1 seconds remaining on the board and Bryant at the line, "MVP" chants were heard, even as guests in the house. This kind of love is common for Bryant, and on this occasion, totally earned.
Lamar Odom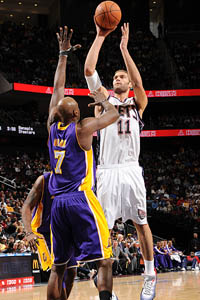 Andrew D. Bernstein/NBAE/Getty Images
Lamar Odom worked hard on both sides of the ball.
According to what I was hearing via Twitter, the New York native had a lot of family and friends on hand. Nice to see he didn't let the opportunity to entertain loved ones go to waste. Odom enjoyed a hot start -- a dozen points on five-of-seven shooting, two blocks -- and sustained his effectiveness throughout the evening, despite dealing with foul trouble. 22 points, seven rebounds and three dimes.
I thought Odom also had a nice game on the other side of the ball, highlighted by a pair of noteworthy sequences. He forced Kirk Humphries to put the ball on the floor, which led to a turnover and an eventual score for Derek Fisher. There was a stiff challenge against Brook Lopez at the rim, creating a miss and another score for Fish in trans. Defense creating offense, which is often necessary when a team can't seem to find a rhythm.
Three-point shooting
As many easy looks as the Lakers missed, they managed a quality showing on lower percentage makes. Nine makes on 16 tries from behind the arc, and on a day where the close looks were stubborn, the bombs were gladly accepted.
Three bad
Pau Gasol's energy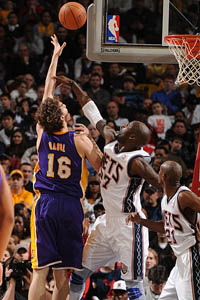 Win McNamee/Getty Images
Nothing came easy for Gasol all game.
Mo' minutes, mo' problems for El Spaniard. Friday against the Bulls meant 45 minutes for the Lakers big man, and despite the heavy PT, Gasol managed to acquit himself rather nicely. Unfortunately, that concerning wear and tear appeared to cause problems against, despite a canceled Saturday practice. Pau finished the first quarter with a goose egg in the "field goals" and "scoring" columns, and by and large, what came next followed suit. Gasol missed 12 of his 19 shots en route to a very inefficient 15 points, and while he did grab 11 rebounds and a pair of swats, the drain of pushing against Lopez's big body was evident. Moreover, this was a game where the refs were letting guys play, placing Pau in an even more physical setting. A string of no-calls led to some justifiable dissatisfaction, along with a protest of sorts. After he finally got a whistle upon absorbing contact while driving against Humphries, Gasol waved off a teammate's hand to remain seated on the ground with a smirk on his face. The message to the referees was clear: "It's about time, dude."
To his credit, Gasol did some nice work over the last few minutes on both ends of the floor and his determination to push through the fatigue was clear. Another 40+ minute showing, and with Andrew Bynum's return potentially delayed, the light at the end of the tunnel just grew a little dimmer. Hopefully, he'll get some solid Z's on the plane to D.C.
Ron Artest
Ron made good on his first shot attempt, which I took as perhaps a good sign of an offensive slump getting snapped. I was incorrect. Artest proceeded to miss his next six shots, and more importantly, continued to look indecisive. The most glaring example was a sequence where he stood wide open at the arc, failing to commit to either the shot, a drive or a pass. Instead, he took a tentative step just inside the arc, firing an off-balance jumper basically as low percentage as a trey, but worth only two points. The unwise call was indicative of just how out of sorts Artest appeared with the ball in his hands, a few nice passes aside.
Offense
They say defense wins championships and it's not just a cliche. But you still must score. The Lakers didn't just complete a scant 41.5 percent of their shots against a Nets team not particularly heralded as a defensive force. They missed a ton of wide open looks. Shots that, quite frankly, professional basketball players need to make. This, by the way, comes on the heels of an 84 point performance in Chicago, and a few weeks where efficiency has come and gone.
To a large degree, I think this is the byproduct of Gasol's fatigue and struggles. The Lakers are often at their best running the offense through Pau and when he's not at the top of his game, the trickle-down effect is pronounced. But other guys have experienced shooting slumps as well, and bottom line, waiting for Bynum is a poor strategy at best. The Lakers need to figure out a way to rediscover their once-flowing offense on a regular basis.