Under normal circumstances, I might say four games against teams with a combined record of 34-57 would be a formality. A near-waste of virtual ink, so assured were Lakers wins.
These are not normal circumstances.
The Lakers have been positively ordinary since charging through the first eight games like a Real Housewife of Beverly Hills at Saks Fifth Avenue. Their 9-7 record since the hot start is at best underwhelming, especially considering the nonet includes a grand total of one win against a squad with a winning record (Nov. 23 vs. Chicago), and totally uninspired efforts like their squeaker against the Clippers and the tougher-than-required win over a poor New Jersey team Sunday afternoon.
The giddiness of early November, when some wondered if maybe this whole 70 win thing might actuallyhappen, has given way to questions about whether the Lakers will equal last year's 57. Sunday's victory puts them on pace for 58 -- basically a wash -- and as we've all noted, their schedule has been almost absurdly easy. Only four games (Denver, Utah, and two vs. Chicago) against teams opening Monday's action with a plus-.500 record. For the record, they lost three of those four. It adds up to the the league's easiest slate of games. The Lakers haven't played 20-3 San Antonio or 19-4 Dallas. Or Oklahoma City, New Orleans, Boston, Miami, Orlando or Atlanta.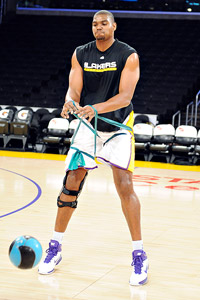 Jayne Kamin-Oncea/US Presswire
This week, Andrew Bynum should become more than a rubber band man.
Big picture, the challenge in front of them is stiff. All sorts of things are in question, not simply the NBA's best record and home court advantage throughout the playoffs. The idea that the Lakers would finish the regular season with the top seed in the Western Conference has since this summer generally been treated like a foregone conclusion. Given their current level of play and, more importantly, the brutality of their schedule over the final 58 games, it shouldn't be. In a very competitive league, the Lakers are in danger of letting a great many things slip away, or at the very least, making the process of holding on to said things a whole lot more difficult.
They can't afford to lose much more ground, particularly when matched up against the Association's weak sisters. A nice dovetail to this week's . . .
. . . Little picture, the challenge in front of them is stiff. All sorts of things are in question, most revolving around the team's ability to play with relative consistency for 48 minutes, whether against good, mediocre, or poor competition. "We're not finishing games," Phil Jackson said Sunday. "We're not finishing quarters."
Said Lamar Odom, ""That's the story of our last 10 or 15 games – having leads and losing it, not playing up to our potential . . . We can play a lot better than what we did today. We got to get through this lackadaisical spell that we're in right now."
He'll find trouble finding anyone who disagrees. Here's how the next seven days shake out:
GAME OF THE WEEK
Whatever Game In Which Andrew Bynum Finally Makes His Season Debut
In theory, it's supposed to be Tuesday in Washington. Unfortunately, Bynum, who last week expressed a desire to get a few more practices under his belt before engaging in the real thing, made the projection based on schedule including a full court run Saturday afternoon, one the Lakers canceled thanks to bad New York City traffic. A pain-and-complication free workout with his teammates would have removed much of the lingering doubt about the safety of his return. Now, his participation in Tuesday's game seems contingent on how he comes through Monday's practice. Hopefully, the scheduling snafu won't change the timetable, but it wont be totally clear until he's put on the active roster Tuesday night.
The Lakers will benefit a great deal from his presence, injecting 15 points and eight boards into the lineup, providing Pau Gasol with more protection (and rest), and a massive body capable of changing shots around the rim. Among the more underrated points of impact? Providing easy points (whether off weakside offensive rebounds or alley oop opportunities) to a flagging offense.
Still, the "Wait 'til Bynum returns!" mania has at times seemed a little strong, as if Bynum not only cures the team's shortcomings on the defensive glass, but also our nation's trade deficit with China and ratings problems for Hasselhoff's reality program. He's not a cure-all, and shouldn't be treated as such.
THE GAMES
Tuesday at Washington (4 pm PT)
When they met last week at Staples, the Lakers overwhelmed the Wizards in the first quarter, and finished the half up by 13. They managed to push the lead out through the first half of the third quarter, before a terrible final 3:30 erased a game's worth of good work. From there, (as has been their custom), the Lakers found themselves in a tougher battle than they should have, gaining control but never quite delivering a knockout blow. As a result, Washington was within four with a minute to play.
While the Lakers probably don't need to worry about Nick Young dropping 30 on them again -- he does his best work against L.A. in L.A. -- they'll need to do a better job on John Wall and Gilbert Arenas, who combined for 45 points and 18 assists on 31 shots. Washington's frontcourt will also be strengthened with the addition of Andray Blatche, who expects to play Tuesday after missing the first meeting due to hip and knee problems.
On the other hand, if the Wizards take 27 shots from beyond the arc, as they did at Staples, there's a good chance they won't hit on nearly 41 percent of them, well above their 33.7 percent season average.
Wednesday at Indiana (4 pm PT)
Indiana delivered the Lakers the second of their now-infamous (locally, at least) four straight losses, and while they sit at 11-11 on the year have a very capable team thanks to Danny Granger and an improved Roy Hibbert. The Pacers are a top 10 squad in terms of defensive efficiency, and held the Lakers to their third-worst game of the year offensively (measured by efficiency). Given how they've looked of late, it's not a given the Lakers will pile up points.
The Lakers should get a boost from Bynum's return (I'm assuming it happens no later than Wednesday, though there's a need after Monday for one more full run, Friday becomes the day), helping patch up what was a poor effort on the glass in the first go round (the Pacers outrebounded the Lakers 48-45, and snagged some key offensive boards, including two monsters from Josh McRoberts over the final four minutes, both of which led to points).
The good news? No way the Lakers aren't taking this game seriously.
Friday at Philadelphia (4 pm PST)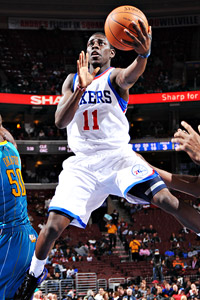 David Dow/NBAE/Getty Images
In his second season, former UCLA and Campbell Hall product Jrue Holiday has made major strides.
Yes, the Sixers are 8-15, but have won four of six since a 4-13 start, and are 7-5 at home, where they just beat New Orleans and lost in the final seconds to Boston. Philadelphia isn't a good team, but clearly aren't currently as wretched as their record might indicate. While they operate without a true ace, the Sixers have plenty of pretty good players, starting with a resurgent Elton Brand (15.5 points, 8.1 rebounds, 1.3 blocks a night), currently sporting his highest PER since the '06-'07 season. From there, former UCLA point guard Jrue Holiday has improved in his second season, averaging just under seven dimes a night. Thaddeus Young is shooting nearly 60 percent, and Jodie Meeks is shooting 65 percent beyond the arc in four games since joining the starting lineup.
Lou Williams is capable of lighting up the scoreboard (or shooting 17 percent) on any given night, and while Andre Iguodala has seen a major drop in his production, he's still a pretty good player.
Scroll around the season's statistics, and the Sixers show themselves as both awful and outstanding at very little. In a bunch of statistical categories, they're either average or average-adjacent.
From L.A.'s perspective, look for Kobe Bryant to play an aggressive game in front of his hometown squad. While he doesn't always get the best reception from the Philly faithful, he'll have just had his high school's gym re-dedicated in his honor.
Sunday at Toronto (10 am PT)
The final game of the swing, always a tough moment in any road trip if for no other reason than teams often get impatient, and want nothing more than the trip to be over. The light at the end of the tunnel can make it tough to focus on the job/oncoming train at hand. Swinging into Canada and another early start only adds to the challenge.
In this case, thought, it's the externals, not the team they'll play, providing most of the obstacles. Unlike the Sixers, improving as the season goes along, Toronto is regressing. Since running up a four-game winning streak in mid-November, the Raptors have lost six of nine and are among the worst defensive teams in the NBA.
They do, however, hit the glass, sporting a top-end total rebound rate, though they've lost leading rebounder Reggie Evans for the time being thanks to a broken foot, and gave the Lakers trouble when the teams met in Los Angeles last month.
Again, I don't think the Lakers will look past these guys, though it's tough not to board the plane mentally before the game has ended.