Back-to-back domination. Now that's the two-time defending champs we've all come to know and love. Excellent offensive execution. Balanced contributions. Stifling defense throughout the first half. Not to mention, a strong sign the post-Vujacic era can in fact be survived.
Three Good
Pau Gasol
Over the last couple of weeks, I've incessantly beaten the "Pau Gasol will immediately look like a very different player upon Andrew Bynum's return" drum, if for no other reason than Drew's presence adds another seven footer to the mix. Physically, a load is lifted off Gasol's shoulders, but that's arguably secondary to the psychological lift benefiting his mind. Knowing games won't require him slog 40+ minutes means eased concerns about conserving energy, fouls, or aggressiveness. Tuesday in D.C. featured an exceptionally springy Pau, and on the second end of a back-to-back, that bounce didn't wane.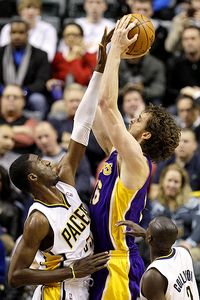 AP Photo/Darron Cummings
Pau Gasol is looking like a new man with Andrew Bynum back in the fold.
The timing is anything but coincidental.
From minute one, the showdown between Gasol and Hibbert was decidedly "Advantage: El Spaniard," a total 180 from their meeting on Nov. 26. True, Hibbert was five-for-21 for just 12 combined points over his last two games, but these struggles don't account for how thoroughly he was dominated. Gasol added 21 points in the first half (28 in all), snared seven rebound and the triangle was run effectively through him. For his part, Hibbert notched just 12 points and spent the game in foul trouble, largely due to personals drawn by Pau.
I'm of a strong belief these two performances are a sign of things to come. The Pau Gasol garnering MVP talk over the first 10 or so games will become a more familiar sight
Ron Artest
He's been struggling over the last few weeks, but recently, there have been signs of life. Defense played against Blake Griffin, Carlos Boozer and Kyle Korver, plus some buckets created by cuts against the Wizards as his shot refused to fall. Tonight, Artest was hot from the start, setting an early tone for the beatdown in the works.
Three shots were canned in as many tries during the first quarter for six points, plus a pair of steals and another deflection. As for All-Star wing Danny Granger, Artest's protege as a Pacer rookie, the guy was in for a long night. The small forward was limited to just a bucket in the first twelve minutes, and required thirteen shots for his eventual thirteen points. Granger could barely breathe without his chest hitting Artest's, and the aggressive defense clearly bothered him.
This was the most complete two-way game we've seen from Artest in a while. Hopefully, it's all part of the gradual progress I've sensed.
The first half built with a quiet Kobe
To clarify, "quiet" is often basketball lingo for "didn't play well," which wasn't the case for Bryant. He actually played quite well, racking six of the team's 17 first half dimes. But the assumption, correct or not, is that a 22 point halftime lead will feature a scoring rush from Kobe. Or at the very least, aggressiveness to get his shot.
Instead, there were just four attempts launched by the Mamba -- two made -- as his mates carried their share of the scoring chores. It was indicative of the group effort put forth by the Lakers, where everybody found ways to shine during the opening 24 minutes.
Matt Barnes couldn't get shots to drop, but he grabbed four boards and kept the ball alive on several occasions where he couldn't corral it. Lamar Odom connected on five of seven shots for a dozen points, with seven rebounds tossed in for good measure. Steve Blake added seven points off the bench. In just four minutes, Luke Walton snagged three rebounds, drew a charge, sent back a shot from Jeff Foster, and even drained a three-pointer. (No. Seriously. He did.)
And everybody did their part put the defensive clamps on Indiana. 35.9 percent shooting for the hosts and a rebounding battle won 27-11.
And since he can't possibly be shut out of the fun entirely, Kobe put on a scoring clinic in the second half. 25 in all, eight more than the nearest Pacer over the entire game.
Honorable Mention
During the halftime TV update, KCal 9's John Ireland offered an interesting little factoid: Assistant coach Chuck Person was given the rare task of scouting Indiana (usually left to the more experienced staff members) because the Rifleman's deep ties to the franchise. I have no idea how much Person's game plan truly swayed this outcome, but I'll tip my hat in his honor anyway.
One Bad
Phil Jackson
With 5:56 remaining and and a 19 point lead, I expected a timeout to conclude with Derrick Caracter and Devin Ebanks removing their warmups for the first time, joining forces with a barely dusted off Walton to get as many core players on the bench as possible. Instead, Jackson opted to put Kobe, Pau and Ron back on the floor, with Kobe and Pau lasting the quarter's duration. What followed was a fun display of fireworks from Bryant, but I couldn't help but picture The Mamba blowing out an Achilles during meaningless minutes.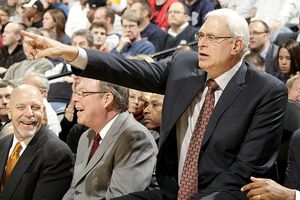 Ron Hoskins/NBAE/Getty Images
Phil pointing Kobe, Pau and Ron to the court late in the fourth quarter was very strange.
I also couldn't help but wonder what the whuh Phil was thinking.
KCAL 9's postgame television show included Jackson asked about the decision, and for a second, he seemed like the victim of a senior moment:
"I don't think I ever had the starters back in the fourth quarter. [Derek Fisher] sat out. He only played about 18 minutes."
From there, specifics were recalled, then elaborated upon in a way still providing little clarity in my mind:
"Kobe came back. Pau came back. Drew was tired. He was exhausted… And I thought it was good time to Kobe to get back and stabilize the game. We didn't want them to score 100 points after a 37 half. You don't want a team to explode like that."
Um, if Drew's tired, how about letting Caracter do something other than collect a DNP-CD? I also realize the 100 point threshold referenced by Phil was jeopardized in part because of 32 points allowed in the third quarter. But a victory itself was nowhere close to being threatened. If the Pacers eventually did hit triple digits as the result of a fourth quarter manned mostly by third stringers, in the grand scheme of things, who cares? I'd much rather have that outcome than Kobe icing a turned ankle instead of his knees.
I realize Jackson's got eleven rings and I'm limited to the one commemorating my wedding (and I had to buy it), but that's just goofy to me. Unless you're a soothsayer and have a strong vision of a startling comeback for the ages afoot, you simply can't risk those guys hurt in garbage time. Period. Scream at them until you're blue in the face about a slack second half lockdown, but don't lose sight of the bigger picture. This was not a decision I liked at all.