I realize I'm mixing my sports here, but bear with me, because Monday afternoon in El Segundo, Andrew Bynum once again proved he is probably the athlete on the planet least compatible with the Belicheckian concept of disguising injuries to the media.
If Tom Brady was wheeled into New England's training facility encased in a full body cast, he'd claim everything was fine. If he acknowledged the plaster at all, likely Brady would chalk it up to some sort of advanced moisturizing treatment. ("The wife says the layers really let the Neutrogena do its work. She was right about the hair, why not this?") As for Belicheck, he'd probably pretend he didn't know who Brady was in the first place.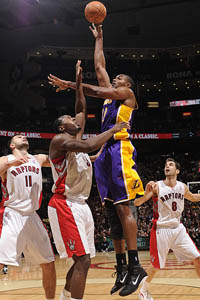 Win McNamee/Getty Images
Andrew Bynum is well on the way to regaining top form, though he might hospitalize a few Lakers fans in the process.
Kobe Bryant, to swing things back to basketball, is of the Belicheck school. He's the Black Knight -"It's just a flesh wound!"- of the NBA.
Bynum, on the other hand, will tell you exactly what's happening with his body, in a way uniquely able to sound all at once alarming and soothing. This afternoon, Phil Jackson was asked about a report from the L.A. Times following Sunday's game in Toronto in which Bynum said he felt soreness in his surgically repaired right knee. "I didn't hear any report about it. It's news to me," Jackson said. "He came out and practiced today. He got a little stiff during practice and we took him out for a second to kind of get himself together again. He's still tiring, and that'll happen as he gets into game condition."
No worries then, right Andrew? You're not feeling any real pain, perhaps a sharp pain, that might alarm Lakers fans, right? "Basically, that's just it. A sharp pain on certain moves," he said.
(Uh oh.)
Don't be frightened. "It's just something that I have to deal with," he said. "As long as the swelling stays down, stays minimal, it's going to be ok." And fortunately, Bynum reports swelling hasn't been an issue. He played this afternoon, will play tomorrow against the Bucks, and is looking forward to challenges presented by Miami, San Antonio, and beyond. Bottom line, Bynum hasn't yet made the connection between words like "sharp pain" and increased blood pressure readings among Lakers fans.
Words matter, Andrew.
Jackson said he's pleased with what Bynum has done in the four games since returning to the lineup last week in Washington. Sunday marked Bynum's best statistical output- 16 points and seven boards in over 17 minutes of burn- but isn't necessarily an indication of an ability to return to the starting lineup. "I just can't tell you [when that will happen] until he's got that kind of bounce in his step that says he can now play 30, 35 minutes," Jackson said. "Then he can go out, play eight minutes and get into that four rotations that you want from a starter. A couple rotations each half, so that he can have the influence on a game. Right now, we're content with how we're doing it."
So is Bynum. "I think I'm a ways away from being able to play at the level I was at before. I'm just going to keep practicing and keep playing, and hopefully I'll be able to play myself into that role." For the Lakers, there's no rush, because with Lamar Odom averaging 16 points on nearly 59 percent shooting and 10 boards a night (with 3.2 assists and a block thrown in for good measure) they clearly don't lose anything in the exchange.
Other topics for the day:
1. The road trip: Jackson was pleased with the team's 6-1 mark, though as coaches will do found plenty to criticize:
"I think the Indiana game we played a really good half. That was probably our best defensive moment. We had some offensive times we played relatively well, but that was our best defensive moment... The bench I thought played really well. They played themselves into some really good moments. I wasn't happy with our starters. I thought they played some good defense at times. Offensively, I didn't find them very stimulating or very exciting at all... We've got some strides to make defensively if we're going to be a good team. We have to make some adjustments…. Our zone offense seemed to be a little bit weak, especially with the starters. With our guys off the bench, they played it really well.
Derek Fisher was a little more charitable, noting the Lakers did a lot of adjusting on the fly. "I think [the trip] was a little bit different, because we had the change in the middle of it. Losing Sasha [Vujacic] and welcoming Joe [Smith]. People may consider that a subtle thing, but Sasha has been here for six years and is a part of our team. Getting Andrew back in the middle of this trip. So there were some things that made it a little bit different of a trip, so it wasn't just about coming together with the guys that you had," he said.
"It's tough for me to ever feel bad about playing seven NBA teams and winning six of them on the road. I don't care who it is you play against, if you can beat six out of seven NBA teams, you've done a pretty good job."
2. Tuesday's game against Milwaukee: And specifically, how do the Lakers avoid looking past a Bucks squad struggling generally and now without Brandon Jennings for the next month-plus, in anticipation of Christmas vs. Miami. No worries, Fisher said. They have plenty on their plates. Practical, nuts and bolts, stars-they're-just-like-us stuff.
"Saturday is a long way away. I can probably speak for everybody that there isn't anybody on the team who has his Christmas shopping done. We want Christmas to stay as far away as possible for now, because we still have some work to do on that front," Fisher said. "As far as looking a past the Bucks, I don't think it's something that we've done much at all this season. I can't think of one game- maybe one [Ed. Note: Call it a hunch, but I believe he means this one...]- where we didn't respect our opponent and didn't come out and try to do things we were capable of. I think it will be the same tomorrow night."