There's a natural tendency in sports, as in many things, to find absolutes in situations inherently fluid. What does it mean? What does it prove? The urge is always to fast forward to the end of the movie.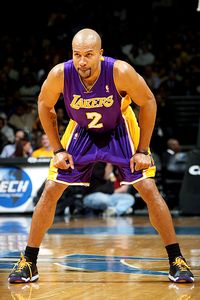 Ned Dishman/NBAE/Getty Images
Derek Fisher has played in many Christmas Day games, and says he doesn't see Saturday's game as a measuring stick for the Lakers. Maybe, maybe not... but the Lakers might want to win just in case.
The regular season, for the Lakers a process of prepping to reach and win a Finals, is one in which everything matters in the aggregate, but for an individual game to have season altering significance is absolutely the exception to the rule. The Lakers had one two seasons ago, when they beat Boston on Christmas Day in a rematch of the previous June's NBA Finals. "We were embarrassed," Phil Jackson said Tuesday on the importance of that day. "It was an embarrassing final game in that playoffs, and guys wanted to prove something."
Wanted to? Needed to.
This year, the Lakers have no such questions of self-worth to overcome, no need to establish championship mettle. True, in basketball and the stock market alike past performance is not an accurate measure of future earnings, but the idea consecutive titles doesn't give the Lakers flexibility to keep one game against an Eastern Conference foe in proper perspective seems like a stretch.
Certainly it would for Derek Fisher. Asked after Tuesday's loss if Saturday represents a measuring stick game for L.A., he was blunt. "No. I think it's a big game in terms of excitement and anticipation and the marquee matchup in terms of the star power," Fisher said. "That's what makes it a big game. I don't know if it's about using it as a measuring stick. It may be different in their locker room, but in my opinion, for us, no."
The good news for fans? They hype isn't all for naught. The game still matters, on a couple levels.
The first is practical. The Lakers woke up Wednesday morning five games behind San Antonio in the loss column with 53 games to play. They're 2.5 games behind Dallas, and only a game ahead of both Oklahoma City and Utah. This despite playing the easiest schedule in the NBA. Christmas marks the proverbial first day of the rest of their lives. Over those 53 games, the Lakers play 35 against playoff-established or playoff contending teams. Playoff adjacent, if you will. (My count leaves dangerous-but-erratic teams like Memphis and Philly out.)
If the idea is to win the Western Conference and earn home court advantage accompanying it- players and coaches alike still say it is- the Lakers need to crank it up, and fast. A loss Saturday sets up Tuesday's game against the Spurs in San Antonio to be as much of a must-win as any game in December can be. Fall (potentially) six games behind Timmy D. and Co., and the Lakers are in a place where catching them becomes dependent on something going wrong with the Spurs. Even if the Lakers play far better basketball over the final few months of the season (and I absolutely believe they will), to close that gap in the face of such a good schedule is a tall order.
The need to improve begins immediately. Miami presents a perfect opportunity to start that ball rolling. That a game in late December can have so much practical impact is a major change for the Lakers, at least relative to the last few seasons. To me, at least, it adds a very cool layer to the game.
(Note: The importance of their seed is another debate for another day. I think it matters, and we'll have plenty of time to argue about it as the season goes on.)
The second gets to what can make the regular season- the journey Jackson (and increasingly Kobe Bryant) talk about so often- fascinating to watch. A game in December need not determine who will hold the Larry O'Brien in order to be significant. It matters because it's Bryant, Pau Gasol, and the two-time champs against arguably the most high profile, star-driven experiment in roster building in modern sports history. It's a game with all sorts of fascinating matchups, points of strategy, and more. Because it's Christmas Day, and (despite early season hiccups) these are two of the best teams the NBA has to offer, because it will be a major signpost in the endless debates between now and the playoffs, because it will raise more questions than it answers.
Players and fans want to win for the sake of winning. At the risk of going completely overboard with the cliches, that matters.
And when it's over, we'll all try to figure out what it means, what we learned, and where the Lakers go. Big picture, Saturday is one game of 82, now 53. A good show doesn't finish the process of building towards the ultimate prize, and a bad one doesn't stop it. Little picture, it's a big deal. A game doesn't have to matter to matter. Saturday advances what should be a very compelling story going forward for the Lakers.
This is all the fun stuff, right?