ESPNLA.com wanted four of basketball's greatest minds to analyze Saturday's Christmas Day matchup. Heat Index editor Kevin Arnovitz and Heat Index contributor Michael Wallace fit the bill. The Kamenetzky brothers were available and work cheap. Every matchup, storyline and A-List personality get peeled like layers of an onion. And with that, let's begin the roundtable!
Brian Kamenetzky: The Heat looked unbeatable to start the season, then became very ordinary, and now are again playing great. What have they discovered along the way shaping how they need to operate in order to be successful?
Mark J. Rebilas/US Presswire
After a slow start, Dwyane Wade has been a house of fire for the Heat.
Michael Wallace: Well, if the Heat looked unbeatable at the start of the season, then someone might need to have their vision checked. Not only were they clearly "beatable," they were actually beaten by the Boston Celtics in the season opener and started 9-8. Miami has been vulnerable for much of the season, and is just now starting to really hit any sort of stride. At least two things are clearly different for the Heat now in comparison to a few weeks ago.
First, Dwyane Wade is playing at an MVP level after missing all of the preseason with a hamstring injury. Second, LeBron James and Chris Bosh have settled into a comfort zone that didn't exist during their initial transition to Miami. Above all else, there seems to be a higher level of accountability in the locker room and between the players and coach Erik Spoelstra these days.
Kevin Arnovitz: There were long stretches during the Heat's early struggles when they looked like a bunch of guys who'd never played together on a basketball court.
We all scratched our heads. Alarms were sounded. Glaciers would melt. Heads would roll.
Then it became apparent. The reason these guys looked like they'd never played together was because they hadn't!
In a lightning-fast pro game in which split-second decisions are made on instinct and trust, familiarity with your teammates is vital. Establishing that on-court rapport takes time. LeBron James, Dwyane Wade and Chris Bosh are three guys who have each been the focal point on just about every possession they've played since they were old enough to dribble. To expect that adaptation process to occur immediately was unreasonable.
That 20-games-to-jell trope sounded like a lot of spin, but it turned out to be a pretty fair prognosis. As James and Wade learn how to play off each other and use Bosh as a tent pole in the offense, success has followed.
Headed into the season, many of us thought this was the deepest Lakers team in years. The Lakers have been good, but appear mortal most nights, especially on the defensive end. What's the source of their problems?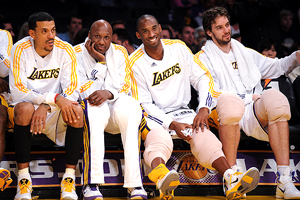 Noah Graham/NBAE/Getty Images
These guys are just waitin' for April.
Andy Kamenetzky: To some degree, I think doldrums are the issue. Derek Fisher has already lectured the team twice about slack attitudes, but even he has admitted in the past about it being impossible to fake a playoff urgency -- or even an elite regular-season matchup -- day in and day out over 82 games. The Lakers have been to the Finals three straight times, won two consecutive titles and, save Matt Barnes and Steve Blake, its core owns anywhere from one to five rings. This time of the year, while containing a tangible purpose, feels anticlimactic by comparison.
I say this as neither excuse nor condemnation, but rather a partial explanation. The Lakers' relatively high loss count (eight) against a soft early schedule has raised eyebrows, but I think tougher competition would have created a better record by virtue of being more interesting and requiring more consistent execution and focus.
Having said that, there have been legitimate issues on both sides of the ball. Defensively, they've obviously missed Andrew Bynum as a rim protector and on the defensive glass. And believe it or not, Theo Ratliff's absence was a huge problem with Bynum out. He averages only eight minutes a game, but that scant PT kept Pau Gasol fresh. With the old man out, the physical toll for Pau (and to some degree, Lamar Odom) grew increasingly taxing. A thin front line also prevented both from defending aggressively at times for fear of racking fouls. The Lakers' first loss coincided with the first game Ratliff couldn't dress, and while the cause and effect aren't literal, the timing isn't random.
Brian, Bynum is now back, but at considerably less than 100 percent conditioning and effectiveness. How quickly do you think these issues will begin to iron out?
Brian Kamenetzky: To some extent, the process started even before Bynum's return. While the Lakers have certainly laid a few defensive eggs over the last few weeks, overall they've been trending in the right direction. Since a three-game stretch in mid-November in which the Bucks, Nuggets and Suns effortlessly racked up points, the Lakers have clamped down with greater frequency, holding opponents to fewer than 100 points per 100 possessions in 11 of 17 games (via HoopData.com). It's a performance roughly equivalent to what the Heat, a more consistent defensive team this season, have done over the same stretch of time, though it should be noted Miami has played a better schedule.
That the Lakers might improve their performance over time shouldn't really surprise, either, because (a) that's been their history, and (b) as Andy notes, it's really tough to play with your hair on fire from moment one when you know the important stuff is still to come, and the season will last a while.
Bynum's presence also increases the versatility offered Jackson on the defensive side of the floor. He's already shown a willingness to use Matt Barnes over Ron Artest when the matchup is favorable or Barnes outplays L.A.'s starting small forward. Gasol is an underrated defender, but whether he's more or less consistent than Bynum is beside the point. What matters is the stylistic difference between the two. Bynum provides a different look and demands different stuff from opposing offenses. Put the two of them together, and the equation changes again. Then it changes again when Lamar Odom is injected into the mix.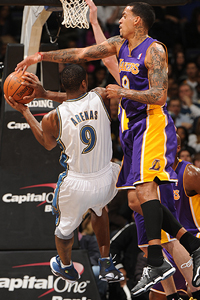 Andrew D. Bernstein/NBAE/Getty Images
Matt Barnes offers defensive options for the Lakers.
Saturday, though, the challenge is a little different. The Heat's frontcourt doesn't frighten me, but if Miami can get James and Wade into the lane or speed up the game, it'll put pressure on L.A.'s bigs and the team's transition defense. Limiting Miami's opportunities in the open court with good shot selection at the other end will be paramount.
Kevin, which of Miami's Big Three do you see as the most important in a matchup with the Lakers? Can it be broken down that cleanly?
Kevin Arnovitz: It's difficult to break down and, in some respects, the Heat are at their weakest when the Big Three operate as individual parts instead of a cohesive unit. But for the purpose of the exercise, let's say LeBron James because he's been the least predictable of the three for better or worse.
Chris Bosh has set up shop at the high post, where the Heat run much of their offense early in the game through him. He's been exceptionally consistent using pick-and-rolls to pop out to space and drain face-up jumpers. When he's crowded, he's shown a greater willingness to attack. So that's what you'll get with Bosh.
Wade is perpetually in attack mode, though he'll occasionally launch a 3-point attempt as a weakside option. Either way, you're generally seeing him choose high-efficiency spots on the floor for his shot.
But James has been tempting fate offensively, even during the winning streak when his jump shot was lethal. He went through a stretch during the winning streak when he hit 28 of 49 on long 2s (57 percent), but that's not sustainable even for the best jump shooters in the league, of which James isn't. There are nights when LeBron is a paint monster -- aggressive off the dribble and looking to draw contact. But there are others when he goes searching for fool's gold at 21 feet. When he finds it, the Heat are unbeatable. But it's a real gamble.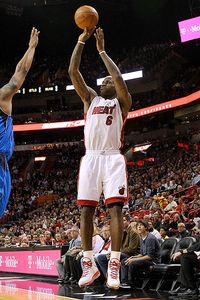 Mike Ehrmann/Getty Images
If LeBron does a lot of this, he's doing the Lakers a favor.
Against the Lakers, James will have a decision to make. Does he want to isolate against Ron Artest, shoot over a Derek Fisher if he gets a switch off a high screen, or does he want to attack the Lakers from the top of the floor? If he does the latter, the Heat are really tough to beat.
Next question: The Lakers have been only average defensively. The Heat aren't always the perfect portrait of offensive efficiency, but how do you prepare the Lakers to stop a Heat attack that's been pretty stellar of late?
Andy Kamenetzky: In a general sense, this needs to be a chatty game. Constant communication, with everyone on the same page. Typically, when the defense is less effective, we hear various Lakers talk about either a lack of focus or talking. I'm guessing the former issue won't be a problem, but the latter requires a conscious effort.
Individually, I would look for specific ways to disrupt the three-headed monster into a more (relatively speaking) manageable foe. I'd start by forcing Bosh to defend and hopefully get into foul trouble. The drop in frontcourt talent past him is pretty dramatic. I imagine he'll be in the disadvantageous position of defending without help for most possessions. Assuming that's the case, the situation must be milked for all it's worth.
From there, I'd try to slow Wade and James as scoring options as much as possible, but with the bigger goal of eliminating assists. Smother the supporting cast, stay at home against penetration whenever possible, and try to force the iso-ball we've seen bog down Miami this season. Artest loves to remind people LeBron has been held to zero assists once: Feb. 26, 2009, against the Houston Rockets. Guess who spent much of the day checking the King? If Artest can limit James to even 2-3 assists, the difference would be felt.
Brian, I just talked defense with regard to the Big Three, but is there an underling on the Heat who makes you nervous?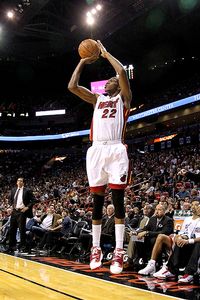 Mike Ehrmann/Getty Images
James Jones doing this, however, is scary for the Lakers.
Brian Kamenetzky: James Jones. As I noted earlier in the week, Jones is someone who can generate points very quickly with very few possessions. He's not going to wow you with any skills other than shooting 3-pointers, but given who he's playing with, Jones doesn't have to. His skill from behind the arc gives him, by far, the best true shooting percentage the Heat have to offer. This could very well be a game in which points are hard to come by, and if Jones drops a couple of bombs in quick order, it could be a major momentum swinger.
When he's good, the Heat are tough to beat. Before it lost to Dallas, Miami had yet to drop a game in which he hit three or more triples. The Lakers have done a good job covering the 3-point line, so if Jones can poke holes in that aspect of L.A.'s D, Miami gets a big advantage.
OK, guys, let's wrap this up. Describe one thing about this game you're particularly interested in seeing: A matchup? An X's and O's thing? Let your imagination run wild. And, of course, a prediction of the final score ...
Andy Kamenetzky: Ron Artest versus his emotions. This game carries a huge spotlight, with the lights shining even brighter on Ron as he tries to check LBJ. The same two-time reigning MVP, by the way, who enjoyed success twice last season against Artest. And beyond the day's matchup and hoopla, Artest's championship ring will be raffled off, with the proceeds benefiting mental health charities.
We've seen Artest come through in a Game 7 pressure cooker, but there were also a fair amount of hiccups leading up to that point.
As for the score, I'm thinking 96-93 Miami.
Kevin Arnovitz: I'm interested in seeing what kind of game LeBron James fashions for himself against the Lakers. Is he going to rev up the engine and attack the Lakers' long interior defenders in the paint off the dribble? Will he half-heartedly use high screens to step out and launch 21-foot jumpers? Does he act as the facilitator early, passing out to Zydrunas Ilgauskas and Chris Bosh on those pick-and-pops, or kick the ball out to a teammate on the perimeter when he makes that foray into the middle on the drive?
The answer is almost certainly "some combination of the above," but how James chooses to use his touches -- particularly against Ron Artest, who loves nothing more than the task of defending James one-on-one -- will dictate what kind of offensive flow the Heat establish against the Lakers.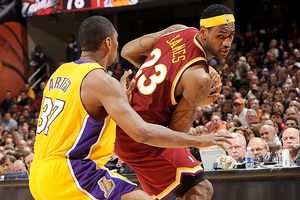 Andrew D. Bernstein/NBAE/Getty Images
LeBron vs. Ron could tip the scales one way
or the other.
How Artest performs and the body language exhibited will be fascinating to watch and potentially game-changing.
In a perfect world, James' collection of highlights will look something like this 363-day-old montage -- aggressive moves to the basket, early posts and seals down low and, above all, smart movement off the ball. For whatever reason, James has been slow to embrace these parts of his game this season. Christmas Day would be a nice moment for him to return to those mainstays.
With that in mind, Heat 97, Lakers 93.
Brian Kamenetzky: The Lakers certainly have the advantage inside, with Gasol, Bynum and Odom matched up against Chris Bosh and Miami's menagerie of centers. Kobe is masterful in the post, even against bigger guards like Wade. If the Lakers can get the ball down low, there's a very good chance they do damage.
Except it may not be that easy. After Tuesday's loss against Milwaukee, Derek Fisher was asked why the Lakers seemed to get away from the post offensively as the game went on. His answer? The Bucks made it tough to get the ball down low. Milwaukee isn't a bad defensive team by any stretch, but it's not Miami. And lesser squads have effectively packed the paint, praying on the team's inherent impatience when it comes to running the offense.
The Heat are extremely effective on the perimeter, pressuring the ball and interrupting passing lanes. They're among the NBA's leaders in fewest paint points allowed as a result. Led by Wade and LeBron, the Heat have a great deal of length and speed on the outside able to gum up the works of even the most efficient offenses.
As for a prediction, I always tend to lean toward L.A., all things being equal, because when the Lakers are on their floor and playing at their best, they should beat any team they see. Of course, they haven't been at their best this season, and have a terrible track record on Christmas. I'll still say they pull out the game in a squeaker, and help erase the bad taste of last year against Cleveland. 97-93, Lakers.
Michael Wallace: Despite all of the perimeter star power that will be on display at Staples Center on Christmas Day, the matchup that might most decide the outcome will be in the post, between Pau Gasol and Chris Bosh. We know that Gasol will do most of his work within 12 feet of the basket, and give the Lakers a true inside-outside punch to complement Kobe Bryant. It will be critical for Bosh to do the same for the Heat.
At times, Bosh has been reluctant to truly get his hands dirty inside the painted area. If Bosh shows up Saturday as the player who routinely fades his game out to 18 feet from the basket and settles for jumpers, it will be a long night for the Heat, regardless of what they get from LeBron James and Dwyane Wade. But if Miami gets the Bosh who takes the "soft" label personally and gets offended -- and takes his game inside and puts pressure on Gasol, Andrew Bynum and Lamar Odom to defend his dynamic arsenal of up-and-under moves -- then the Heat might just neutralize the Lakers' size advantage in the post.
At the end of the day, the Lakers have two great advantages in their favor that should contribute to a victory. They've essentially got four days to prepare for the Heat, and they'll be at home. Miami faces the Lakers less than 48 hours after Thursday's game against the Suns.
Lakers 108, Heat 104