As the saying goes, the first step in extricating oneself from a hole is to stop digging.
This is the task facing the Lakers, loyally lugging shovels through the first 30 games of the '09-'10 season, tonight in San Antonio. Already five games back in the Western Conference to the 26-4 Spurs, even with 51 regular season games still to play following Tuesday's tilt, the Lakers can't afford to drop to six assuming they're still interested in securing the conference's top seed. (As noted Monday, there's certainly value in the number one spot.) Not facing a schedule littered with playoff caliber opponents and what appears to be a more competitive top five (San Antonio, Dallas, Utah, L.A., and Oklahoma City) in the Western Conference doing no favors for the twice-defending champs.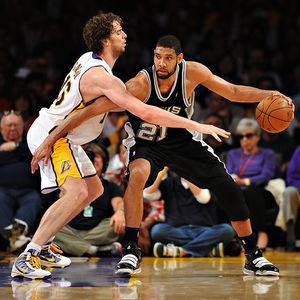 Noah Graham/Getty Images
Phil Jackson says Pau Gasol has been playing without a base of late. He might want to find one before facing Tim Duncan in San Antonio.
After Saturday's debacle, the Lakers were back on the floor Monday looking to right some wrongs and find a little fire. The expectation is a better performance come game time, a requirement if the Lakers want to knock off the Spurs, owners of a 17-2 record at home.
To get a better feel for what has made San Antonio so dominant this season and the challenges they pose for the Lakers, we hit up Timothy Varner of 48 Minutes of Hell, a killer Spurs blog and member of the TrueHoop Network, asking him four questions about tonight's game. Read his answers, and become a smarter person for your trouble.
(While you're at it, take in this statistical breakdown of the game from 48MOH's Scott Sereday, and get even smarter. Feel free as well to hit my responses to Tim's questions about the Lakers, though they could very well dumb you down again.)
1. The Spurs seem to have reinvented themselves this season. What has been the most profound change, and how surprised were you to see Gregg Popovich switch gears like this?

The Spurs are scoring more often than in the past and their offense might be described as a departure, but not in the radical reinvention sort of way. They're running the same motion and pick and roll sets as they've used in the past, but are focusing more on those plays creating action for the guards rather than the post.
If you want to focus on two newish wrinkles, then I'd draw your attention to the Spurs' outlet passes (particularly those generated by Tim Duncan) and the number of offensive players the Spurs have on the court at one time.
With regard to the first wrinkle, the Spurs are pushing the ball off the rebound, and San Antonio will often advance the rebound to the timeline, where a guard likes to receive the ball on the wing. From there, Tony Parker, Manu Ginobili or George Hill will attempt to push the ball to the basket, if possible. If not, they set up and run the same stuff you've seen for years. But basically, San Antonio's transition offense is predicated on their outlet passing.
In should be noted here that many of San Antonio's fast breaks are simply Parker contra mundum, and the only difference between last season and this season is that Parker is healthy this year.
The second wrinkle is that Gregg Popovich has always favored 5-man units with at least one perimeter stopper on the floor, and he was willing to live with said players offensive liabilities so long as they delivered on the defensive end. Bruce Bowen became Ime Udoka became Keith Bogans. When the defender was Bowen, the Spurs were wildly successful and bit the bullet that was playing four on five, offense to defense. But as Bowen began to fade, and as the Spurs discovered that finding Bowen's replacement was something of an impossible task, the Spurs learned playing a defender with tremendous offensive limitations was not a workable option.
That brings us to this season: the Spurs no longer feature a perimeter defender. Instead, they play five capable offensive players for 48 minutes. Typically, they feature four three point shooters, and occasionally they'll play five guys who can all gun from deep. San Antonio leads the league with a 3P% of .408. In this sense, the Spurs offense seems much more of a drive and kick operation than in past years. In actuality the Spurs have always had these options built into their offense, but they haven't always had the personnel to effectively execute them.
In addition to new shooters Gary Neal and James Anderson, Hill and Ginobili are letting it fly, mostly to the good of the team. Parker, who is still adding to his game at the tender age of 28, has finally made himself a sideshow in the three point act, averaging a career-high .381 from the arc. Matt Bonner is shooting an insane .511 on three point attempts. Richard Jefferson is crushing his career numbers by shooting .448 from deep, thanks, in large part, to a rebuilt jumpshot. And although the Spurs still love the corner three, their newly-realized offensive-mindedness is willing to catch ad shoot from anywhere. It's a big difference from a lineup that may have previously featured, say, Bowen, Fabricio Oberto and Kurt Thomas.
2. Barring significant injury, how much backsliding would you expect over the final 50-ish games? And how likely do you think it is the Spurs escape the season without the injuries hampering them over recent years?
I don't expect backsliding, unless the Spurs are broken by injury. But that kind of response requires a little explanation.
To my mind, the Spurs have caught every conceivable break this season. Couple that with an uptick in the coming SoS and more road games, and one would obviously expect them to win less frequently over the remainder of the season. But, health provided, the Spurs should continue to play dominate basketball. In fact, despite what you've heard about the Spurs' offensive re-invention, team defense remains Popovich's top priority. And Spurs team defense typically peaks in April and May. Right now, much like the Lakers, the Spurs are not what you'd expect them to be on defense.
Here's something else to file away: Popovich is more stingy than ever with his best players' minutes. Duncan, for example, is averaging a 28.9 minutes a game this season, easily his career low. On a per minute basis, he's still a force, but Popovich is hellbent on keeping his best players healthy for the postseason. He won't wear them down prematurely.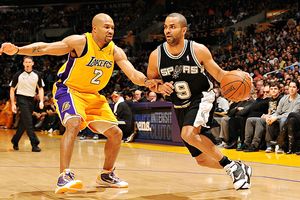 Noah Graham/Getty Images
The Lakers have had moments of success against Tony Parker in the past, but he's been a monster for the Spurs this year.
Finally, San Antonio's supporting cast is younger than in past years. Neal, Hill, Anderson (who was much more productive than his replacement, Udoka, prior to an almost-healed foot injury), DeJuan Blair and Tiago Splitter make up, perhaps, the youngest bench of the Popovich-Duncan era. Parker is entering his prime. And even though Jefferson is 30, he's eons younger than Bowen was at the same position, playing the same minutes, in the same system.
It all adds up.
3. The Lakers were BBQ'd by the pick and roll on Christmas Day, struggling both to contain penetrating ball handlers and spot up shooters. As you noted last April, the Spurs have hurt L.A. in the past with the set-- In what P and R forms and combos do you expect them to attack the Lakers Tuesday?
Absolutely. Everything I've already said applies in terms of spot up shooting.
In recent years, the Lakers have done a masterful job of packing the lane against Parker. I expect them to do that again tonight, but I'm curious to see how much ground they cede to the Spurs' shooters. In short, they might have to completely re-think their approach to Parker given San Antonio's love affair with three-point shooting.
Bonner is always a big consideration for the Lakers, mostly because someone will have to stay home on him. Bonner, in something of a humorous quirk, has added a keep-them-honest dribble drive to his game. Don't laugh, but he'll blow past Andrew Bynum on the perimeter, assuming Bynum plays him close. The Lakers will have to guard Bonner with Pau Gasol and/or Lamar Odom. How much driving space will this create for San Antonio's guards?
Finally, look for the Spurs to run a lot of unfamiliar action for Richard Jefferson. They have an oft-utilized play placing Tony Parker in the corner and provides a strong side backscreen for RJ, who cuts down the middle of the lane for an alley-oop. They also run a lot of side screens for RJ, who is good at catching along the baseline and finishing near the hoop. Given that none of this stuff worked last year for the Spurs, the Lakers have never really needed to account for a Spurs small forward in this way.
4. What explains Richard Jefferson's vast improvement this year? And how has it impacted San Antonio's hot start?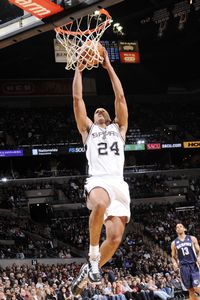 D. Clark Evans/Getty Images
One major reason the Spurs have lost only four games: The resurgence of Richard Jefferson.
Ah, RJ.
Jefferson spent the summer working on his game. He spent a couple weeks with Popovich working on fundamental stuff, like cutting and defensive rotations. As I mentioned above, Spurs shooting coach Chip Engelland rebuilt his shot, making him much more of a jumpshooter than in previous seasons. And he worked with other assistant coaches on various stuff, kicking off the rust, so to speak, from a once good basketball player.
Having said all this, Jefferson's improvement has helped the Spurs, but his contribution to their success is sometimes overstated. Forgive me for the cliche, but the Spurs' hot start is very much a team effort. The team is getting more from everyone, save, possibly, Tim Duncan. What's going in San Antonio is that every position straight down the rotation is more productive. It's not that Jefferson is 100% better than last season, though it sometimes seems that way, it's that nearly every Spur is, say, 10% better than his 2009-10 mirror.
Spread that kind of improvement across an entire roster and it feels like a bomb detonated.
Thanks again to Tim for his great insight. Make sure to check out all the pregame offerings on 48 Minutes of Hell before tonight's game, and throughout the season. The Spurs aren't going anywhere.