The skeptic would dwell on how unpleasant the Lakers have become to watch. The optimist would note how things can only improve in a competitive setting, which makes four games over the next seven days an ideal opportunity.
Game of the Week
Sunday vs. Knicks, 6:30 pm PT
Even as someone expecting the Knicks to improve this season, this rebooted franchise has surpassed my expectations. A Sunday victory over the Pacers marked New York's 19th win, one month ahead of the pace from last season's 19th win. They've been winning on the road (albeit not necessarily in the toughest contests outside of their house). Ray Felton is playing like an All-Star. Landy Fields is playing, despite arriving to the Knicks as a ho-hum 39th overall pick. And victories are coming without Anthony Randolph playing at all, despite landing in New York as arguably the centerpiece of the David Lee trade.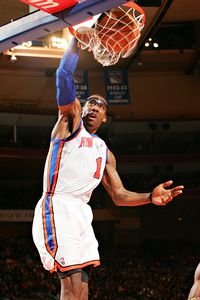 Jeyhoun Allebaugh/Getty Images
Will Amare throw down on the Lakers?
But at the end of the day, the turnaround is about Amare Stoudemire, the consensus second choice (at highest) during The Summer of LeBron. Peg him an overpaid booby prize if you prefer, but there's no question S.T.A.T. has in fact been standing tall and talented in the Big Apple. 26 points a night (including nine straight with 30+). Nine rebounds. A shade over two blocks. These are numbers placing him in the MVP conversation, reflective of an ability to get it done without Steve Nash.
Although, as ESPN's LZ Granderson notes, Stoudemire is defending exactly the same way he did while teamed with Nash. (i.e, he's not.) Along these lines, nine rebounds is nothing to sneeze at, but Charles Barkley recently criticized him for failing to average double-digits. All of which takes us to Sunday's game.
In last season's Western Conference Finals, Amare managed to get his points against the Lakers, including a honkin' 42 in Game 3, but failed to do much else. Only one game with double digit rebounds (and three held below five boards). The infamous "lucky" assessment of Lamar Odom's 19/19 effort Game 1, which came back to shove a foot in his yap. And defense atrocious enough to unify all of Twitter against him.
As well as Stoudemire has played for New York, his head should theoretically be spinning while pitted against Andrew Bynum, Pau Gasol and Odom. Of course, all things have been anything but equal for the Lakers these days. Thus, it's hardly impossible for Stoudemire to emerge the tallest and most talented, even while outnumbered in the battle of All-Star caliber big men.
Tuesday vs. Pistons, 7:30 pm PT
Tracy McGrady has been asked to take on more point guard duties as Detroit's season has progressed. He even got the starting nod in recent games with Rodney Stuckey sidelined by a stomach illness. The reviews have been pretty positive, whether you're talking the blogosphere (Need for Sheed and especially Piston Powered) or Coach Kuester, whose endorsement counts the most. Q likes T-Mac's basketball I.Q. and savvy, and it appears the veteran is carving out a larger role for himself in Day-Twah.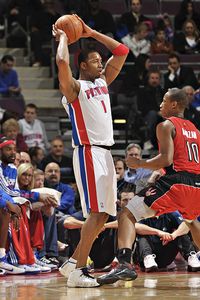 Allen Einstein/Getty Images
How will T-Mac the play-maker fare against the Lakers?
How big a role against the Lakers, however, remains to be seen. Stuckey should be back in the lineup by Tuesday and T-Mac's minutes have generally been reduced on the second end of a back-to-back. But as someone intrigued last July at the prospect of a flier on T-Mac as a play maker off the bench, I'm genuinely curious to see how McGrady looks running an offense.
Wednesday at Suns, 7:30 PM PT
It's not just a back-to-back, but a back-to-back against cousins! Vince Carter is now in uni for the Suns, and the results have thus far looked familiar. Vinsanity is averaging 18 points in three games for Phoenix. He's also averaging 18 shots, keeping the pace with the generally shooting percentage over his last few seasons. And as Bright Side of the Sun reports, the lack of clutch or defense cited by detractors remains intact.
These are the reasons why, despite his being the biggest name jettisoned to Phoenix in December's three-team blockbuster, Carter isn't the biggest concern. Instead, I'll take Marcin Gortat, probably the guy least familiar to the casual NBA fan. The Polish Hammer has spent a career backing up Dwight Howard, which places an inherent ceiling on chances to shine. In Phoenix, however, he's averaging nearly 30 minutes per game off the bench, turning Robin Lopez into a starter by title only. He's also been ripping his Phoenix's defense, which shows some guts coming from both a newbie and a career reserve.
He'll get a chance to put his money where his mouth is against the Lakers. And between Gortat and Lopez, Phoenix is now among the few teams with bulk at the starting and reserve five spot. For Bynum, this means little if any time spent milking the typical stretches in a size mismatch. I'm curious to see how he fares in this scenario. (For that matter, given his listless play of late, I'm curious how Gasol fares as well.)
Friday vs. Hornets, 7:30 pm PT
On December 29, the Lakers enjoyed their most decisive win what lately feels like 100 years. 103-88 against the Hornets... a team above .500... in their house. On both sides of the ball, it was a massively one-sided triumph. Kobe Bryant notched an economic 20 points (only 14 shots) despite foul trouble. The bigs dominated. Derek Fisher rediscovered his shot. And save Chris Paul, no Hornet was able to get much going on the offensive end. (Trevor Ariza, Marco Bellinelli, and David West combined for 27 points on the same number of shots.)
That the Lakers managed this feat despite the turning the ball over 20 times couldn't have done wonders for the psyche of a Hornets squad mired in struggle after a scorching start.
Of course, the Lakers' own collective psyche is in a fragile place these days. Will the Hornets recognize this and the take the court at Staples Center with swelling chests, or do they still view themselves as the team pummeled by the two-time defending champs? Do the Lakers even still see themselves as the two-time defending champs?
This game could emerge quite the psychological chess match before the ball is even jumped.