Following the shellacking at the hands of the Grizzlies Sunday night at Staples, Phil Jackson said the following about how and why the game went off the rails:
"The game got to a point where we didn't use our strengths, which is our inside players. Pau [Gasol] gets nine shots in the course of a game. Some of it is his own responsibility, but we didn't use that focus that we have in a ballgame... As a result [of not effectively using interior play], we get behind early in the third quarter on some stupid plays. Poor passing, poor transition defense, and then Kobe has to screw up the game and start energizing the team by going one-on-one. That takes the rest of the guys out, and as a consequence that didn't bring us back in, but it did give us a little run. We got the game back a little bit, but we couldn't sustain it. We just went right back and made the same mistakes again."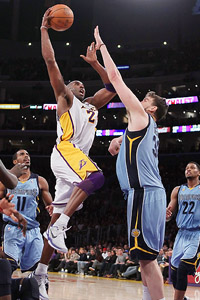 Jeff Gross/Getty Images
Kobe Bryant tried to rescue the Lakers in the third quarter of Sunday's loss, then became the subject of interesting, if misunderstood, words from Phil Jackson.
The magic words, tailor-made to prick up the ears of sports media and fans like a snapping twig in the forest does deer, were "Kobe has to screw up the game." Via the Internet Telephone Game, without context the quote quickly morphed into "Kobe screwed up the game," meaning Jackson pinned the loss on Bryant, specifically. By the time I got down to processing and posting video after the game, maybe two-plus hours after the buzzer, a "Kobe screwed up the game" Google search produced pages of chatter. Today, I found about 230,000 matches.
Like a lot of people in the room, I took P.J.'s comments to mean Bryant was forced to exit the game plan- "screw up," scramble, jettison, whatever- in order to give his teammates a jolt and try to get L.A. back in the game. There were consequences, as usually is the case when Kobe goes into Hero Mode, and this time they weren't uniformly positive. What he didn't do was blame Kobe for the loss.
Given the stir his comments caused, that Jackson was asked to clarify Monday in El Segundo wasn't surprising. "When a game starts getting out of hand- rightly so- Kobe will crank it up, not screw it up. I used that term "screw it up," but not in terms of being an error or a mistake," he said, "but crank it up. He'll go to another notch to try and get us back in the ballgame. That's something we do in the fourth quarter. That's our fourth quarter action, that's how we win ballgames. And to have to crank it up and do it in the third quarter, we didn't have much left in the gas tank after that."
Bryant said he'd heard Jackson's comments, and appeared totally unbothered. "He was right. I totally broke the offense, but I did it intentionally because I felt like we needed to get something started. Because what we were doing, it just wasn't working, so I tried to kick start it. Sometimes it works out, sometimes it doesn't. But that's my responsibility. When it works out, great. When it doesn't, you take the criticism for it, but I have thick enough skin to be able to do that."
Kobe then hit at the heart of the constant push-pull between Bryant and Jackson, when it comes to his offensive game. "Phil doesn't really care how many shots I take, he just wants me to take shots in our offense."
Sometimes, though, the game forces him in another direction, and as far as I can tell, Jackson and Bryant were on the same page. Not the same thing as liking either the circumstances prompting Kobe to take action, the consequences of such a long stretch of KobeBall, or the results of the game, but not a controversy, either.
The more interesting part of Kobe's response actually comes at the start of the video below, talking about how Jackson likes "coaching publicly," and the difficulty some players (he mentioned Gasol and Ron Artest, specifically) have adjusting to it.
Gasol was asked about Jackson's willingness to use the media in the manner Kobe described, and while he didn't rage against the machine, it's pretty clear he's not a huge fan.
"Sometimes it works, sometimes it doesn't. Sometimes it has a good effect, sometimes maybe it doesn't. For me, I try not to pay too much attention to it," he said. "I'll find out from you guys when you say, "Phil just said [insert comment here]," and it's like, "ok." That's just part of his coaching strategy, or mindset. That's the way he does it. Guys, I think, respect him and understand why he does it. He doesn't try to create trouble, he just tries to motivate guys to do better."
Asked if he's been able to measure when Jackson's style has been effective and not, Gasol did reveal a little more of his personal spin.
"It depends. I can only speak for myself. Last year, when I had the hamstring issue, I was really upset that I couldn't play. I was the first one that wanted to be out there, but he was joking around with it a little too much. To me, I'm unhappy when I'm not playing, and I'm not helping my team. It wasn't a time for me to joke around with that, but I can't control what other people say or talk about."
I sympathize with Gasol, because (despite how much easier it makes my work) I often don't consider the media a great medium to communicate with players. There have absolutely been times when P.J. calls out Gasol, and gets the big Spaniard angry. Angry Pau is often Productive Pau. On the other hand, sometimes it just feels mean and counterproductive. The challenge for Jackson using us the way he does is finding the balance.
The track record says it's been pretty productive, but eggs certainly break en route to the omelet.