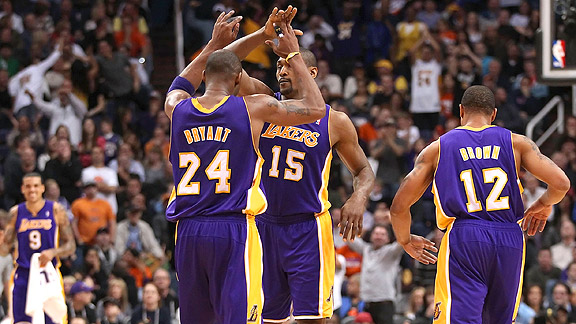 Christian Petersen/Getty Images
Kobe Bryant high-fives Ron Artest after Artest's late 3-pointer.
Here are your 10 additional things to take away from the Lakers 99-95 win over the Phoenix Suns on Wednesday ...
1
The play, in terms of the players involved, margin on the scoreboard and time on the clock, was nearly a carbon copy of Ron Artest's most legendary moment as a Laker.
With the Lakers up by three points late in the fourth quarter of Game 7 of the Finals last June, Kobe Bryant had the ball in his hands at the top of the key and passed it to Artest, who was set up behind the 3-point arc. Artest let it fly, the ball fell through the net with 1:01 remaining and the Lakers lead doubled from three to six, providing the necessary cushion to take home the win.
Wednesday in Phoenix, the Lakers were up by three late in the fourth, Bryant drove baseline and found Artest in the corner. Artest shot the 3 after hesitating ever so slightly and the Lakers suddenly were up by six with 1:30 remaining, on their way to victory.
"I knew he was over there," Bryant said. "We're always supposed to have a guy over there, always."
Artest had all the space and time he could ask for and lined up his feet.
"I had a lot of time, it wasn't hesitation," Artest said. "I didn't have to rush it because I was wide open. There was really no sense rushing it, I just set it up."
Bryant saw it another way. "He told me he was looking at me because I was open under the basket," he said. "He was looking at me trying to pass it and I kind of turned [my shoulder to him] because I wanted him to shoot it. I think it was a big shot for him."
But the point wasn't that Artest thought about passing it back to Bryant for a split second. The point is that Bryant passed it to Artest in the first place when Artest had just checked into the game 34 seconds earlier after sitting the whole fourth quarter.
"He's made big shots before when the money is on the line, when the big money is on the line," Bryant said. "So I have all the faith in the world he's going to knock it down."
Said Artest: "This is the first time I've been in in the fourth quarter in a long time in meaningful games since like last season."
He then corrected himself, remembering that he played down the stretch in a loss in Memphis earlier in the season, but in that game Bryant passed to him for the final shot and Artest was blocked and the Lakers lost.
"Even though I don't play a lot in the fourth, I stay ready," Artest said. "Once they call my name, I'm up right away."
A day after the week-and-a-half old spat between Artest and Phil Jackson became public (a team source described the incident as "no controversy" and said the team was surprised when Artest apologized for it a week after it happened), the coach had some nice things to say about his player.
"Ron was very active," Jackson said. "I thought he did some very good things."
Coincidentally, the pair were in sync when asked about how the confrontation has been smoothed over since it went to the media.
Said Artest: "I don't remember what happened yesterday."
Said Jackson: "Refresh my memory, I can't remember exactly what we talked about."
Bryant supported his teammate.
"I'm sure it was frustrating to him," Bryant said. "I've been in that situation myself, but I think the good thing about Ron is he focuses on the game. He's not thinking about things that are going on outside. Nobody is. He's focused on the game and he came out tonight and had a very good one."
Even with the parallels between Game 7 and the game against the Suns, Artest admitted that there is another Finals game he likes to remember.
"I always go back to Game 3 in Boston when I had two points, but we played together, we played the right way and we won the game," Artest said.
Coming off the championship, Artest assumed his role would be solidified this season and was caught off guard when he found himself searching for an identity with the team again this year with all that experience under his belt.
"I wasn't prepared for that, but that's my fault because I should be prepared for everything," Artest said. "You should always be prepared for everything. But it was an easy adjustment once I sensed a little bit things being a little bit different. I adjusted right away. I had to change the way I think about the game and just stay ready."
A lot has been made about how he has the lowest scoring average of his career this season and how he looks lost in the offense and even a step slow defensively, but with the Lakers facing a crisis of a three-game losing streak all in blowout fashion, he stood tall.
Jackson credited his defense for blowing open the Pistons game and the next night, on the second half of a home-road back-to-back, Artest finished with 11 points, four assists and four rebounds -- one of the boards coming on the offensive glass with 1:02 remaining that led to a Derek Fisher jumper that put L.A. up seven with 45.4 seconds to go.
"Good or bad, just move forward," Artest said. "Things will happen and it will work out."
2
Let's do a bit of rapid fire for thoughts Nos. 2-10 ...
Lamar Odom took a nasty fall in the second half, landing with all of his weight on his left arm after getting his legs tangled up with Mickael Pietrus on his way down after a layup. The team diagnosed the injury as an ulner nerve contusion (a.k.a. a sore funny bone) and Odom shrugged off the pain after the game.
"[After I fell] I was just trying to find myself or whatever, take my time [on the floor]," Odom said. "I hurt it pretty good, but being hurt and playing hurt is part of being an athlete so I'll come in and get some treatment on it [Thursday] and we'll go on."
Odom finished with 12 points and 10 rebounds, his 14th double-double on the year.
3
Speaking of Odom, he and wife Khloe Kardashian pulled the trigger on a reality TV show deal with E!.
4
Led by Bryant's 24 points on 9 for 17 shooting, the Lakers placed five players in double figures and also had five players attempt 10 shots or more.
"It was some good ball movement," said Pau Gasol who scored a season-low six points (more on him later). "I think if you see the boxscore, Ron, Andrew [Bynum], myself got 10 shots each and Fish had seven and Lamar got 12. That would be pretty balanced. It was a good all around team game."
5
Even if the offense was balanced, Bynum (14 points on 6-of-10 shooting) felt like it wasn't being run correctly.
"We're still not running our offense [but] defensively we're doing a little bit better," Bynum said.
Asked what he wanted to see the team do on offense, Bynum said, "Run."
"Get into actual sets, triangle operations, PJ likes to call them 'sequences,' we don't have any of those. There are hundreds of options that we have and we're just not running them," Bynum said. "We're just kind of standing around. I call it 'five around the perimeter.' We got maybe one guy in posting up and that's it, then we just stand and watch."
6
Back to Gasol. He was terrible on offense, going just 3 for 10, but he did chip in nine rebounds, six assists, two steals and two blocks, including a rejection on a Vince Carter 3-pointer with 10.9 seconds left and the Suns only down by four.
During the Lakers' slump of four losses in six games, Gasol struggled offensively, but seemed to break out of it with 21 points on 7-of-11 shooting against Detroit.
"Obviously I always like to play well but I think I contributed in other areas," Gasol said. "In the other aspects of the game I did well, I just couldn't knock down the shots and couldn't get a call either."
7
One call Gasol did get was a technical foul called against him. Fisher had one whistled on him as well. In the last eight games since the Lakers started their slump against Milwaukee, they have racked up a whopping 12 Ts as a team.
8
Next up for L.A. are two home games against New Orleans on Friday and New York on Sunday.
Jackson expects similar styles from both, saying, "we know what's the diet."
"We have two teams that are going to be running a lot of screen-roll, very similar to what we saw [against Phoenix]," Jackson said. "I think our screen-roll defense is inadequate and we're in some habit-forming things that are costing us a little bit on the 3-point line."
Odom agreed there is work to be done. "Of course we try to take the good things out of a win and carry them over to the next game, but we try not to get too high on ourselves right now at this point of the season," he said. "We're just trying to stay even keel, take it game by game and hopefully keep getting better and better and better just so we can improve."
9
Quote of the night: "Oh, we're a powerhouse now." -- Lakers coach Phil Jackson sarcastically assessing his team's two-game winning streak.
10
Stats of the night: The Lakers' lead in the Pacific Division is now 9 1/2 games over second-place Phoenix. They are 7-1 (.875) overall against the Pacific this season and 4-0 on the road. ... Bynum shot 6-for-7 on free throws in his last three games after going 2 for 8 in a loss to San Antonio, but slumped again Wednesday going 2 for 7 from the charity stripe. ... Artest went 3 for 5 on 3-pointers. He hit three 3s in each of the three games L.A. has played against Phoenix this season.
Dave McMenamin covers the Lakers for ESPNLosAngeles.com. Follow him on Twitter.