The newest round of returns in (still semi-) early voting for February's All-Star Game at Staples show Kobe Bryant leading the way with over 1.4 million votes, about 200K ahead of Orlando's Dwight Howard for the overall top spot in what is, quite literally, a popularity contest.
But as it was after the second batch of figures were released, Carmelo Anthony remains, now by about 40,000 votes, ahead of Pau Gasol for the second spot among Western Conference forwards (Kevin Durant leads the pack with just shy of a million votes). Only the top two vote getters gain automatic entry into the big extravaganza, meaning should current trends hold Pau would need to be added to the squad after polls close. A month ago, this sort of thing would have seemed academic: If Gasol didn't get a single vote (not even from Marc!), his performance made him a shoe-in. In 15 November games, Gasol averaged 20.3 points while shooting over 54 percent, plus 12.3 rebounds, 3.9 assists, and two blocks. Then December rolled around, and those figures dropped to 16.3 points and 9.5 rebounds, while Gasol's shooting percentage dropped below 50 percent. He has only six double-doubles in his last 18 games after racking up 15 in his first 18.
In three January games, Gasol is averaging 12.3 points and eight rebounds. To slightly paraphrase Sick Boy, Pau's good games of late have been blips on an otherwise uninterrupted downward trajectory.
Why his numbers have fallen is a matter of debate. Chalk some of it up to fatigue brought on by hefty minutes piled up in Andrew Bynum's absence, which sapped Gasol's legs and may still be. Why, though, isn't the point. The All-Star team is (or at least should be, save a few select players fans have the right to vote in based only on the idea these are guys they want to see) a performance based honor.
If rosters were finalized today, would Gasol still deserve a spot?
Slump notwithstanding, his overall numbers remain very strong. (He's performed poorly relative to his own talent and the proper expectation it creates, as opposed to performing poorly relative to Hilton Armstrong.) Pau enters Friday's game against New Orleans averaging 18.9/10.4/4.0, plus two blocks, remains just a hair behind Bryant for the team lead in PER (where he's still top 15 in the league), is tops among Lakers in Win Shares, grades out very well in the 82Games.com metrics, and by a fair margin has the team's best raw plus-minus figure (+267, though he's also played the most minutes).
Except Gasol's numbers are front-loaded, and the competition among W.C. power forwards is incredibly stiff.
Start with Dirk Nowitzki, who has played MVP caliber ball and is a lock assuming he's healthy.
If consistency over the course of the season is of primary importance, Lamar Odom is a better choice to represent the Lakers. His raw numbers (15.6 points on 57 percent from the floor- good for third in the league- 9.5 rebounds, 3.1 assists, with nearly a block a game) are outstanding despite third-banana status, and he has, despite a history of ups and downs in his performance, been metronome-predictable for the Lakers this year. If anything, his numbers have actually improved over the course of the first two months and change.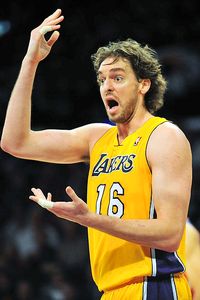 Gary A. Vasquez/US Presswire
"No Pau Gasol on the All-Star team? Outrageous!"
Down the hall from the Lakers' locker room, Blake Griffin just polished off his 22nd straight double-double in the LAC's win Wednesday over the Nuggets. He's averaging nearly 22 points a game, shooting 52 percent, hauling down 12.7 boards a night... and appears to be getting better. (Plus, as Andy notes, he's managed to make Baron Davis give a [hoot], in and of itself worth of All-Star consideration, if not induction into the Hall of Fame.) Forget his rookie status- these are big numbers for anyone. Meanwhile, Kevin Love is averaging 21 points and 15.6 rebounds for Minnesota. His raw shooting percentages aren't as strong as Gasol, Odom, or Griffin, but his game also extends further away from the basket and Love's True Shooting Percentage (which takes into account two and three point shots, plus free throws) and PER are comparable-to-higher than the competition.
Basically, since Kurt Rambis decided to, you know, play him and stuff, Love has been a freakin' monster. How do you keep him off the roster, even if his team is horrible? Does playing on a better team mean Gasol should get in over Griffin? As long as we're tossing names out, guys like Luis Scola and Paul Millsap deserve a look, too.
The team is finalized in less than a month (starters are announced Jan. 27, reserves Feb. 3), still plenty of time for Gasol to rebound and shore up his candidacy (assuming he doesn't catch Anthony for the second automatic spot, making all of this moot). Looking at his body of work for the season and trying not to get too bogged down in recent results, I still think he deserves a spot on the team... but it's hardly a lock, and not ahead of Love. Unless he picks it up, Griffin will pass Gasol, too. Fortunately, he'll likely be aided by the general absence of All-Star caliber centers the West has to offer, and the tendency of coaches voting to fill out the roster to reward players on elite teams.
Unless he reverses recent trends, though, there's still time for him to play his way off the roster. Or at least to deserve to be left off.
Given where he was at the end of November, for the question to even be viable is pretty amazing.
What say you?