We all knew it would be an uphill climb for the Cavaliers, losers in 20 of their previous 21 games, Tuesday at Staples. They've been rocked by injuries, and their roster of available players is anonymous enough to make even last year's New Jersey Nets cringe. (Before the game, Phil Jackson said he was looking forward watching the Cavs, because it would give him a chance to see a bunch of players he's never heard of. Clearly Samardo Samuels hasn't landed on P.J.'s radar, yet.)
But still, you say to yourself, undermanned as they might be the Cavs can't be that bad. They fly in a charter jet and have NBA uniforms and get fresh headbands every night, just like every other NBA team. Even the best of teams put on their shorts one leg at a time, right (except these guys, when they play ball)? Of course the Cavs have a chance! This is why they play the game!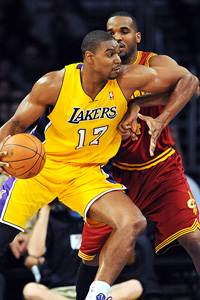 Jayne Kamin-Oncea/US Presswire
Andrew Bynum had an effective game Tuesday against Cleveland. You would have too, had you played.
Or not.
Since the advent of the shot clock (lest you think it recent, it's been around since the '54-'55 season), the fewest points allowed by the Lakers was 66. Tonight, they flat dusted that mark. Cleveland scored 12 points in the quarter, then 10 in the second. Coming out of the break, they EXPLODED for 16, and managed to repeat the feat in the fourth. Was it great defense? Incompetent offense? Something in the water?
I will say I witnessed quite simply the worst play I've ever seen at the NBA level, when Ryan Hollins, after blocking Kobe Bryant underneath led the Cavs up court, flanked by teammates on each side. He proceeded to more or less hand the ball to Pau Gasol, stationed about three-quarters of the way up to half court. Gasol flipped it to Kobe, who popped the ball off the backboard to Andrew Bynum for a dunk.
Effectively, Hollins turned a five-on-two break into a three-on-oh the other way as James Naismith flopped like a landed trout in his grave.
When that happened, I wanted to walk over to the bench, give Byron Scott an encouraging slap on the back, and to keep his chin up. When Shannon Brown buried a three from half court to end the quarter, I wanted to upgrade it to a sympathetic hug.
Hide the women and children.
Here's how it broke down...
Three Up:
1. Taking care of business. The Lakers will play in Golden State Wednesday night, then again Friday and Sunday against the Nets and Clippers, respectively. Weak opponents, yes, but it's still a lot of basketball over six days. It was imperative thy not screw around with the worst team in the NBA, and they didn't. Four minutes in, the Lakers were already up by 11. They stretched it to 15 at the end of one, and didn't let up in the second, which hasn't exactly been a habit for this bunch. By halftime, they were up by 32.
This, it should be noted, with almost no work in the scoring department from Kobe Bryant, who took a grand total of two shots before the break.
2. Defense. The Cavs don't have good players. Those good players, even by their standards, still missed a lot of looks, but I don't care what's happening, holding a team to 57 points and 29.9 shooting has to mean they're doing something right. Perhaps the most impressive thing about the defense: only seven offensive rebounds allowed in the first half (off 28 misses), despite a huge lead (when players frequently lose focus) against a Cavs team that's actually pretty good on the offensive boards. Nor did the Lakers turn the ball over -- only six in the first half, and 12 overall (five coming in the fourth, when the game was, to say the least, decided). If they didn't do Cleveland's work for them, it seemed nearly impossible for the Cavs to score enough to keep up.
The Lakers didn't, and the Cavs- and this could be considered more than a mild understatement- didn't.
3. Ron Artest. I realize it's against a bad team playing horribly, but Artest continued his turnaround tonight, with 15 points on six-of-11 shooting and three-of-five from downtown, plus six dimes, five boards, and a steal (though he made some other good defensive plays). He needs positivity, in any form.
Three Down:
1. Phil Jackson. Why were Lamar Odom and Gasol in the game six minutes into the fourth quarter? Worried the lead might shrink to 45?
2/3. Punt. 112-57, people. Let's not split hairs.
More to come.