At no point did you get the feeling the Lakers might actually give away Friday's game against the moribund New Jersey Nets, but they didn't exactly seem in any particular hurry to put the game away, either. It was one of those nights when the Lakers, like a bored big brother, do that thing where they put their collective hand on New Jersey's little brother head while the Nets tried to swing at them over and over again.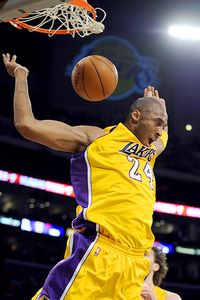 AP Photo/Mark J. Terril
Don't blame Kobe Bryant for the team's sluggish first half. He had 15 of his 27 before the break, and continued a streak of hot shooting.
Sure, Jersey landed the occasional glancing blow, but the Lakers were generally free to use their other hand to play video games or work the remote and change the channel on the flat screen.
Here's how it broke down ...
Three Up:
1. Ron Artest. He hit the first shot of the night for the Lakers, a 21-footer off the wing, and made more positive contributions from there, including a pair of 3-pointers in the second quarter, both the type of almost fully conceded corner jumpers he needs to make. But as is always the case with Artest, how he performs defensively is just as, if not more, important. On Friday he was active with his hands, tipping a bunch of passes and generally being a nuisance, the best example coming at the 1:43 mark of the second quarter when he flat pilfered a sideline inbounds pass. (An extra trip earning the Lakers three points at the other end, supplied by ... Ron Artest! Like paying it forward to himself.)
After his 10-point first half, Artest was quiet in the second half offensively (not surprising, given how Pau Gasol and Lamar Odom came alive -- see below), but for him to be engaged in the game early is important for the Lakers, who need consistent impact from Artest. Particularly with Matt Barnes on the shelf.
2. Kobe Bryant. He scored 15 of L.A.'s 45 in the first half, on a very tidy 6-of-11 shooting utilizing all sorts of stuff in his toolbox. Perimeter jumpers, great post play with his patented upfakes and step-throughs, a trio of trips to the line, and a nice baseline drive-'n'-stuff. In the third, Bryant came out hot, setting up Gasol for a pair of midrange jumpers before finding his own offense. In all, it was enough for nine more points, a total he'd add to in the fourth, the highlight coming with just more than five minutes to play, when he beat Sasha Vujacic clean off the dribble, absorbed contact at the rack from Travis Outlaw, and still managed to elevate the shot enough to score, and-one. An eight-point game became 11, and that was basically that.
He'd finish with 27 points on 10-for-19 shooting, and four dimes in 36 minutes.
3. Shannon Brown. Without Barnes on the floor, the Lakers lose a potential source of offense off the bench, making Brown's production that much more important. On Friday he definitely came through. He made six of his 10 shots, the most spectacular being a first-half drive from the left corner he finished with a vicious two-handed, double clutch hammer dunk that briefly energized a crowd collectively put to sleep by the slow action in the first half. It was nice to see Brown make his contributions from inside the arc, too. He missed all three triples he attempted but knocked down six of seven 2-point attempts. There were multiple occasions when he passed up a 3 for a better shot, closer in.
Brown did have three turnovers, but overall was a positive force.
Honorable Mention: Turnovers. Only nine on the night, always the best way to keep an inferior team from earning the sort of easy points that might lead to them stealing a game.
Three Down:
1. First-half bigs. Looking for a reason the game seemed sluggish early, with the Lakers scoring only 45 points on 39 percent shooting over the first 24 minutes? Start with the tall folks. Andrew Bynum played only 11 minutes thanks to foul trouble, missing the only two shots he attempted in the process. Odom didn't make a shot in four tries, and converted only two of his six free throws. Gasol wasn't much better. Sure, he scored six points, but was 2-of-9 from the floor and in the process had a few of what viewers of our Lakers Late Night show recognize as "baby giraffe" moments, all floppy limbed and uncoordinated.
As a rule, eight points from three of the team's four best players isn't going to cut it.
Gasol would recover, scoring 10 points in the third quarter on 4-of-5 shooting. He hit a few early jumpers, and was much more active inside, particularly late in the third driving hard on Kris Humphries to earn a trip to the line. Plus, he booked a pair of blocks, the second coming on a nice recovery in the lane as Devin Harris drove on Jersey's final trip of the third. Gasol finished with 20 points, nine boards, three assists and four blocks, a perfectly productive stat line. Odom had a strong second half as well, finishing with 14/11/2. Things didn't turn for Bynum, though. He'd start the third with a baby hook over Brook Lopez deep in the paint for his first -- and only -- basket of the night, but four minutes into the half again found himself strapped to the bench after picking up his fourth personal.
Two points, five boards and five personals over 22 minutes make it easily the worst game he's had since returning to the lineup.
And it should be noted nobody did a particularly good job on Lopez all night, as Jersey's pivot lit up L.A. for 35 points, and missed only six of his 19 shots from the floor, earning 11 free throws to boot.
2. Steve Blake. It wasn't all bad -- Blake picked up five assists in 16 minutes -- but he didn't take a shot, and for the third time in five games didn't score. I realize he's not in L.A. to do a Vinnie Johnson impression every night, but against better competition the Lakers are going to need him to provide a lift from time to time. All told, L.A.'s PGs combined for six points and four shots. That ain't much.
3. Energy. They picked it up after the first half, but the Nets were scrappy and forced the Lakers to play until the end. While New Jersey didn't do all that much damage in transition (six points) or along the arc (5-for-19), the Lakers still had too many moments where they were slow getting back, or didn't close on a shooter. At the other end, it seemed like Kobe spent the first 24 minutes begging people to move a little quicker, cut a little harder.
All told, the lack of energy probably contributed to the 45-38 rebounding advantage for the Nets. It'll be interesting to see if any extra effort spent Friday night comes back to bite them in Sunday's early start against the Clippers, or Monday when they finish off a tough back-to-back against Oklahoma City.
Honorable mention: Free throws. The Lakers, not exactly a group who wear out the path to the free throw line, got to the stripe a very healthy 35 times, but only managed 25 makes. They call 'em free for a reason, people.
Much more to come...