The week is relatively light on games. Only three on the slate, and one is gotten out of the way early. However, it's a trio of potentially explosive contests. Remember, people. Quality, not quantity, counts.
Game of the Week
Monday vs. Oklahoma City, 7:30 pm PT
I doubt any basketball game is truly capable of "honoring" Dr. King's exceptional legacy, but certain matchups at least boast a puncher's chance. The two-time defending champs vs. OKC, in the first meeting since a thrilling first round 2010 playoff series, feels like one of those games.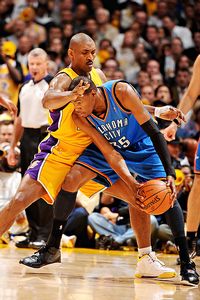 Andrew D. Bernstein/Getty Images
Durant found absolutely zero room to operate against Ron-Ron in the playoffs.
With a formal game preview accompanying this post, I won't get so deep into X's and O's to risk redundancy or stealing our own... Thunder. (Good night everybody! I'll be here all week! Don't forget to tip your waitress!) But one matchup I'm particularly interested to watch is Ron Artest vs. Kevin Durant.
Artest had a difficult time against Eric Gordon last night, but of late, his defensive energy and effectiveness has been trending in the right direction. He also did a number on Durant during last season's playoffs. The scoring champ of 2010 (and thus far, 2011) only reached his 30 point average once and was held below 40 percent shooting in four of the six contests. Having said that, Artest is on the second end of a back-to-back and Durant has been filling buckets even by his standards these days. Since December 5, he's failed to reach 20 points just once and has shot below 50 percent seven times in 20 games.
In a game with no shortage of quality mano y mano's, this one feels potentially juiciest.
Other Games
Wednesday at Dallas, 6:00 pm PT
January's 19 point loss to Memphis has been described -- by us, if nothing else -- as the point where the Lakers hit rock bottom. The defeat came on the heels of embarrassing losses to the Milwaukee Bucks, Miami Heat and San Antonio, plus a questionable tongue lashing and subsequent performance against the Spurs from Kobe Bryant. Immediately afterward, you had controversies (albeit overblown) with "Screwupthegame-Gate" and the confrontation between Artest and Phil Jackson. The fallout from that home loss, easily the worst of the season, appeared to be the catalyst prompting the Lakers to truly acknowledge the need to get their acts together. Sunday's late collapse against the Clippers notwithstanding, they've been moving on a steady, positive path.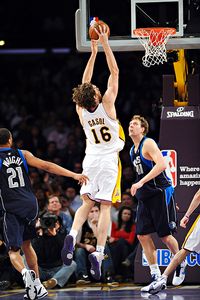 Noah Graham/Getty Images
The Lakers need to maintain their typical dominance against a Mavs squad out of sorts at the moment.
Well, a 19-point loss to the Grizzlies is apparently the ticket for pushing everybody to seek the metaphorical "12 steps." After getting stomped by that same total, this time in Graceland, Dirk Nowitzki described his Mavericks at "rock bottom." It was their fifth consecutive loss and the eighth in the last 10. Granted, there were extenuating circumstances. Caron Butler missed eight of those games with a season-ending injury, and Nowitzki himself was absent in all but the "rock bottom" game (where he played under 15 minutes before getting ejected). Still, it's been an MVP-level season for Dirk and his team had appeared capable of pushing the Lakers and Spurs for ownership of the West. You don't want something special to slip away no matter who's healthy or hurt.
Clearly, Nowitzki feels the Mavs have a lot to prove at the moment, and it'll take more than a presumed victory today against the Detroit Pistons assuming (ironically, the same team the Lakers played following their Griz debacle) to convince him the ship is righted again. Beating the Lakers, however, could qualify as proof positive.
Similarly, the Lakers remain a team in need of wins over quality teams, particularly this opponent. The Lakers are 8-3 against the Mavericks since the 2007-2008 season. Even when his own squad was lousy, Kobe managed to outscore Dallas over three quarters. There have been a couple of bad losses, but generally speaking, the Lakers have been the Mavs' daddies for some time. Continuation of that trend would go a long way towards convincing fans the sluggish start is truly a thing of the past.
Friday at Denver, 7:30 pm PT
I realize "Will Carmelo Anthony be in uniform for his game?" has evolved from "topical" to "cliched" to "borderline lazy" as a storyline, but recent reports force the question to be addressed.
It's being reported 'Melo has been granted permission to talk formally Tuesday or Wednesday with the New Jersey Nets, the team pursuing him like Sam Gerard with Dr. Richard Kimble. Anthony claims no interest in being a part of these conversations, but whether he attends this powwow or sends a member of "Team 'Melo" with a detailed list of demands, the latest chapter of this never ending story could affect his participation. Whatever progress has been made between Jersey and Denver could be scuttled by an injury. Our man Benjamin Hochman (Denver Post) tweeted his gut feeling Melo won't be playing on Wednesday against the Thunder. The same thing crossed my mind, and if a potentially imminent trade hasn't gone down by Friday, the skeptic in me wonders if 'Melo will actually take the court.
Regardless of whether #15 is part of the festivities, the Nuggets, if held to the standards held by Lakers fans, haven't been terribly impressive of late. Yes, they're a solid enough 6-4 over the last 10 games, but as the purple and gold criticism often goes, take a look at the competition. They've beaten just one team above .500, and it was the Miami Heat on the second end of a back-to-back roadie without LeBron James. Those specific and fluky circumstances aside, the Nuggets have only beaten bad teams and were actually blown out by the Sacramento Kings.
It's impossible to believe the 'Melodrama hasn't taken its toll, and if it's not concluded when the weekend arrives, it's imperative the Lakers take advantage of this soap opera.